Glamping on a Working Farm


Need to get away from the noise and bustle of the city? Dream of open countryside, green things and fresh air? Want to take a few days to live life at a slower pace?
If so, then a few days glamping on a working farm may just be the remedy you need.
Think about it. You could explore a part of England that is new to you, get lashings of fresh air, and stay in a large cosy tent on a beautiful farm in glorious countryside. You can go for walks and - should the mood take you - meet some farm animals. And as for the slowing down... well, what about going off-grid?
Feather Down Farms offer their guests the chance to slow down life's fast pace and to experience a simpler, slower, less hectic day. Their glamping sites have no electricity or wi-fi, so this is a real chance to disconnect and forget about all the gadgets that add stress to your everyday life. Just imagine:  no phone, tablet, laptop, TV, or games consoles. I wonder how we'd survive! ;-)
Probably surprisingly well after a day adjusting. At the heart of your near 500 square feet of glamping tent is a wood-burning stove, which can be used for cooking, heating when the English weather isn't in the mood for camping, and turning your tent into a cosy oasis as the evening darkens, with candles alongside to set the mood. Imagine a family playing a friendly board game with the orange-red glow from the wood-burner keeping them toasty warm, and the candles flickering gently. It sounds very peaceful and reminds me of the electrical power cuts we had back in the 1970's!
With 26 Feather Down farms across England, there is a good chance that you'll find one in your favourite part of the country, and they suggest "that over 80% of them are in or near a National Park or Area of Outstanding Natural Beauty".
One thing I really liked about the search and book function on the website was that you can choose your break either by location or by a particular farm animal. This is a great feature if your children have a favourite animal. For the rest of us... we're all going to choose the alpacas or donkeys!

Glamping on a Working Farm - The Tents
We have recently tried our hand at glamping and stayed in a pod in the very north of Scotland while on a driving tour. The pod was isolated, had beautiful views, and cows and sheep in the neighbouring fields would come and be nosey. It was also kitted out to the nines, especially for such a tiny space. We were well impressed! We did cheat a little though, as our pod had electricity, which meant we could switch the heater on to get warm - which, in the middle of October - was an excellent thing!
The Feather Down Farm philosophy is different from our experience. Here you come to stay, slow down and lead a much simpler life. Survival becomes more of a team effort. Someone must bring the firewood to keep the log-burner or cooking fire going. Cooking is slower and everyone must join in to prepare, stir, or keep a watchful eye. Then there is the shopping, which will not require a trip to the supermarket as local fresh ingredients can usually be bought from the farm shop. This slower pace of life will draw people together to create new adventures, and encourage conversation, fun, and laughter.
Each farm never has more than a handful of glamping tents. The tents have a rustic look about them, with wooden floors, walls, and furniture. Each tent is large enough to sleep up to six people and has fresh running water, a fully equipped kitchen, comfortable beds, and a flushing toilet. Depending on the farm site, a private shower can be inside the tent, outside the tent, or an assigned cubicle in a shower block.
At some sites, there is even the chance to soak in a wood-fired hot tub. This sounds like a bit of adventure to me, and I didn't know they existed, but apparently heating the water by fire is quicker than electricity. It's just a shame for the fire builder on your team, as they will keep jumping out to check the fire!
And since you're on a working farm, don't forget to ask for a farm tour if they are offered at your chosen site. At most Feather Down farms, you can go and meet some of the animals and learn how farm life actually works.
It all sounds rather fun, and most of the farms have other activities such as cycle or boat hire, fishing and horse riding. It would be great for a young family seeing the animals and having adventures around the farm.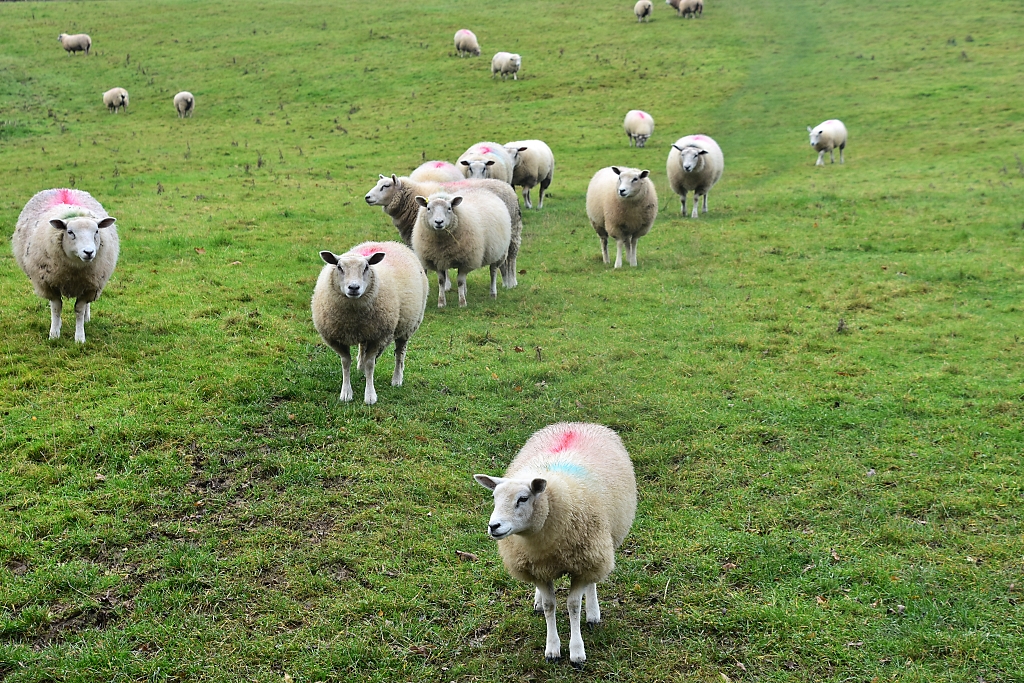 Sheep Player Follow The Leader © essentially-england.com
Cute Alpacas © essentially-england.com
This going off-grid adventure does sound rather tempting and a break in the countryside very inviting. I could see myself sitting around an outdoor fire with the aroma of dinner slowly cooking away whilst reading one of my favourite paperback books. Sounds blissful.
And if you were already planning your next holiday, but were thinking of going further afield, then there are farms in Wales and Scotland. Or if mainland Europe was on the cards, then how about France, Belgium, the Netherlands, Germany, or Switzerland? Wherever your travels take you, enjoy your glamping on a working farm!
For more holiday accomadation ideas return from our glamping on a working farm page to the England Holidays page.