Portmeirion

A Welsh-English Success Story
If you like beautiful table and dinnerware, you've surely heard of Portmeirion pottery, which is one of the best loved and most widely collected around the world.
The success story of this evocative dinnerware is closely linked to that of Susan William-Ellis, its Welsh designer.
She's the daughter of Clough Williams-Ellis, the creator of Portmeirion Village in North Wales, which is best known to most people as the setting of 1960s cult TV show The Prisoner.
Susan Williams-Ellis began designing ceramics for her father's souvenir shop in 1953.
By the start of the 60s her designs had become recognised and were in so much in demand that she and her husband bought two small pottery companies in Stoke-on-Trent and began producing pottery and china under their own label.
Now Susan Williams-Ellis could create not just fashionable patterns to adorn china, but also had control over the shapes of each item she produced.
The first collections of Malachite in 1960 and Moss Agate in 1961 were on a relatively small scale.
Next, she produced Pormeirion Rose and Tiger Lily.
The design that most remember, however, was the Totem, as demonstrated by this beautiful tea set.
This dinnerware had a unique raised pattern and became immensely popular. So popular, in fact, that a rash of copycat dinnerware turned up.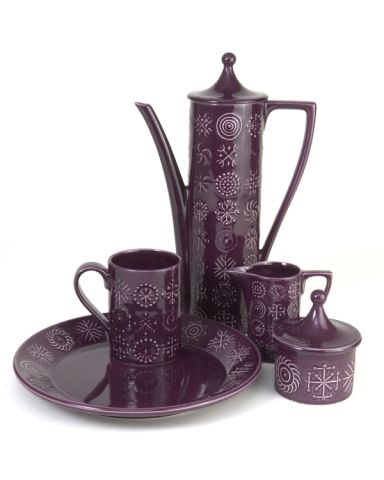 Portmeirion Totem Design © Portmeirion Potteries Ltd
Following the success of the Totem design, Susan wanted something different and then she happened on an herbal book illustrated in 1817 by Thomas Green.
The book inspired her 1970's signature dinnerware collection, Portmeirion Botanic Garden. For its time it was nothing short of revolutionary, as each item was different.
---
Visit the Portmeirion Homeware and Gifts amazon.com Store.
---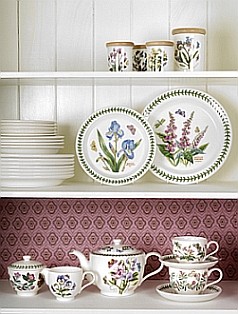 Botanic Garden Design © Portmeirion Potteries Ltd
In those years, people expected dinner plates to match exactly, but Botanic Garden had a different design on each plate and piece.
Stores refused to stock the collection at first because they felt that no one would buy such pieces, but Susan Williams-Ellis' design had caught the public's imagination. And the success of the range soon proved the store management wrong.
Botanic Garden has grown in popularity to the point where clubs and collectors around the world discuss their pieces as though they were children.
Again, copycat designs soon turned up, but an avid collector can recognise genuine Botanic Garden pieces by its backstamp.
Items made between 1972 and 1982 have a crest with botanicals surrounding it and the words "Susan Williams Ellis" on a ribbon on the left under the crest and "Made in Britain" on the ribbon on the right. The very first stamp on the botanicals didn't include Susan's name, but said "Copyright design" instead. From 1982 to 1999, the words Dishwasher and microwave proof were added to the copy and a very tiny 8 and 2. A few of the designs have an 8 and 4 instead. Today the laurel wreath is gone and a simple oval bears the name of the company.
The variety in the Botanic Garden design allowed the company to offer new pieces every year. When long-standing designs were retired, new ones could take their place offering collectors yet another opportunity to add to the art collection on dinnerware.
It's no wonder that collectors became avid about the pieces; it could take a lifetime of collecting to have all of the designs created by Susan Williams-Ellis.
---
Visit the Portmeirion Homeware and Gifts amazon.co.uk Store.
---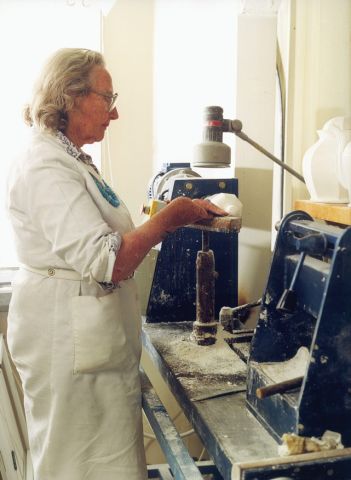 The late Susan Williams-Ellis at work © Portmeirion Potteries Ltd
And even though this inspired artist and female pioneer in the business world died in 2007, her company continues with other talented artists creating dinnerware, glassware, textiles and candles.
The range of new patterns is amazing and comes complete with the whimsical "very hungry caterpillar" to the beautiful Pomona pattern, the new Botanic Blue and - of course - new botanicals patterns.
Susan William-Ellis's timeless designs are loved and collected the world over. And the Portmeirion Collector's Club has over 10,000 members worldwide.
It matters little if you collect the early designs such as Magic City or Totem, if you like Botanic Garden or the comparatively recent Botanic Blue - the club caters for all lovers of Portmeirion pottery with news, events and special offers. And with so many different pieces created over the years by Susan Williams-Ellis and her team, you'll never know what you might not discover. Whether you're an avid collector or entirely new, you're bound to find a design you love!