Traditional English Recipes
Pickles and Preserves
I've caught the preserving bug big time over the last few years. To the extent that I've bought the largest jam making pan that I've ever had. And it's great.
Home-made jams, pickles and preserves are ever so useful to have round the house, be it for jazzing up a quick lunch of cold meat and salad, or to make speedy cakes or treats for unexpected visitors. And there are enough traditional English recipes around to satisfy even the keenest cook.
And best of all, once you've mastered the basic techniques - and they are basic - you'll find them all very easy to follow.
A couple of years ago I finally tried my hand at making proper English Marmalade. My husband declared the product such a success, that the following year I took a few days to make a quantity that would last longer than 8 weeks. And it still didn't last past Easter, not with me turning it into delicious cakes and biscuits as well as offer it at breakfast time.
I regularly make jams and - every once in a while - real Lemon Curd. And during late summer and autumn, pickles and chutneys are bubbling away frequently, filling the whole house with a wonderful spicy scent. Try the recipes for jams, preserves, sauces, chutneys and pickles below and see what you think
Traditional English Recipes for Jams, Pickles and Preserves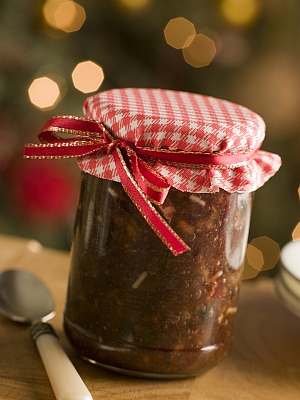 Mincemeat
So here we go, a small selection of recipes for jams, sauces, pickles and preserves - enough to stock your larder for a good long time. There'll be more as I discover them and try them out.

Done Cooking for the Larder?
Return to the Traditional English recipes page for idea of what to do with your bounty.