Kent

England's Gateway and Garden
The county of Kent, in South East England, shares its borders with Essex, Greater London, Surrey, East Sussex and with the French department of Pas-de-Calais, halfway through the Channel Tunnel! On a fine day, you can clearly see France from Folkestone and the famous White Cliffs of Dover.
Close to the continent, and with convenient landing places along its coastline, it has been the first part of England many visitors encountered. Romans, Saxons, Danes, Christian missionaries, traders of all creeds and colours... Kent has seen and welcomed them all, and been at the front line of many conflicts. Its ports have hosted traders, invaders, marauders, fishermen and warships, and its maritime history lingers long into the present day, providing many interesting attractions for visitors of all ages.
Kent is famous for producing fine local foods. Situated in the driest and sunniest part of England and known as England's Garden, its climate is ideal for the county's numerous orchards, fields and hop gardens. But fruit, nuts, vegetables and shellfish aren't the county's only produce and it's just as famed for its ciders and beers as it is for once providing iron ore and wood to fuel London's growing industries. And if you set out to explore the Weald or the Romney Marshes, the apparent isolation and remoteness will leave you speechless.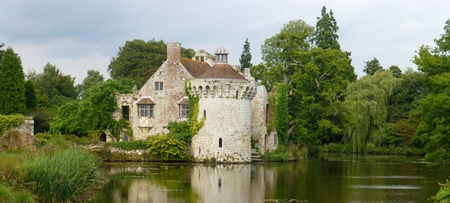 Old Scotney Castle © essentially-england.com
Travel Tips
Whether you are travelling by sea, road, rail or air, Kent is an easy destination to reach. Heading to London and picking up the M25 and then the M2 is the easiest route from the rest of the UK. Or simply take the train, connecting with South-eastern services from London. London Bridge, Charing Cross, London Waterloo East, Victoria and St Pancras International all have direct links.
Kent is a favourite with holiday makers, so it has a wide variety of places to stay. Whether a fisherman's cottage appeals to you, a traditional Oast house or a lighthouse, or you want to spend your holidays in a castle or converted church, Kent has it all. There are plenty of holiday cottages for you to choose from, plus hotels and guest houses, too, if you'd like to be looked after while exploring historical sites, stately homes and wonderful landscape.
Kentish History
Visitors to England didn't just pass through Kent on their way to other areas. Many stayed and settled, or left us evidence of their passing. A stunning collection of castles and standing stones, gardens, stately homes and shipyards makes the county an intriguing place to explore for anyone loving history.
Prehistoric and Roman History
Roman mosaic at Lullingstone Villa
© essentially-england.com
Lovers of standing stones and megalithic monuments should head to the Early Neolithic Medway Megaliths, a group of chambered long barrows and other megalith monuments. If Roman history is more your thing, then put Bigbury Camp on your to-do-list, an Iron Age hill fort that was the scene of British resistance against Caesar's invasion in 56AD. Bigbury was built in around 350BC and was continuously occupied until the invasion. The Roman Lego VII Claudia attacked the hillfort, perhaps under Caesar's personal command, scattering resistance.
Lullingstone Roman Villa makes a great day out if you love mosaics and want to see some very fine examples. Richborough Roman Fort and Amphitheatre near Sandwich is one of the most important Roman sites in Britain and art lovers shouldn't miss the Roman Painted House in Dover, which showcases the best preserved, in-situ painted Roman plaster on any site north of the Alps.
Norman History
William the Conqueror took care to secure Kent almost as soon as he took the throne and his descendants just kept on building. If you love Norman castles, make sure to check out Canterbury – one of the few places in England that actually has two. Eynesford Castle is in ruins, but well worth exploring. Rochester Castle sports one of England's largest Norman keeps, and Dover Castle is one of England's grandest castles and will keep you occupied for at least a whole day.
Dover Castle © essentially-england.com
Medieval History
The shrine of Thomas Becket in Canterbury Cathedral was England's most important pilgrimage destination in the medieval period and Canterbury is considered the religious centre of Christianity as it was here that St Augustine began the conversion of pagan islanders in 597AD. Beyond Canterbury, the county offers plenty of other castles to explore. Dover and Rochester, Leeds and Scotney, Sissinghurst, Knole and Hever – home of Henry VIII's second wife, Anne Boleyn –are just some of the places that invite exploration when you visit Kent.
Tudor and Georgian History
With its long coastline, Kent has a strong naval history going back to 1547 and featuring dockyards, shipyards, fishing ports and smugglers! Henry VIII built shore bastions like Deal Castle to guard England against invasion. Walmer Castle has served as the home of the Lord Wardens of the Cinque Ports for hundreds of years and Chatham Dockyards built over 400 naval ships including Nelson's flagship, HMS Victory.
Modern History
Much of the Battle of Britain during World War II was fought in the skies over Kent, and between June 1944 and March 1945, over 2500 V1 flying bombs fell on the county. The area became known as Doodlebug Alley. The Kent Battle of Britain Museum and The Battle of Britain Memorial are well worth a visit along with Winston Churchill's home, Chartwell, which offers some unique insights into this unquiet period.
Towns and Villages
Royal Tunbridge Wells: an historic spa town in the heart of the beautiful High Weald Area offers something for everyone from chic shops in the colonnaded Pantiles and on the High Street to the bustling bars, cafes, music and one of-a-kind shops, to Michelin-starred Thackerays.
Cranbrook: once known as the capital of the Weald, Cranbrook was the centre of the region's cloth industry and you can now visit the Union Mill, a bright-white, weather board, sail-topped, regency smock mill.
Canterbury: the jewel in Kent's crown and with enough to keep you occupied for a great day out. For those interested in religious history, Canterbury Cathedral, St Augustine's Abbey and St Martin's Church form a UNESCO World Heritage Site. Other attractions include Canterbury Tales, Canterbury Castle, historic river tours and boutique shops.
Whitstable: Whitstable is also called the Pearl of Kent being home to the famous Whitstable Oysters. With charming lanes, delis, artisan bakers, boutique shops, Whitstable Castle and art galleries as well as the Oyster festival each July, Whitstable is not to be missed on your visit to Kent.
Days out, Events and Things to Do
Dover Castle: spectacularly situated above the white cliffs of Dover, this castle has guarded British shores from invasion for 20 centuries. Explore the castle from the secret wartime tunnels to the richly furnished Great Tower. Enjoy re-enactments, exhibitions and the new visitor experience, Operation Dynamo: Rescue from Dunkirk.
Walmer Castle and Gardens: a lovely castle built during the reign of Henry VIII that has been home to the Lords Warden of the Cinque Ports. The castle grounds include the quiet Queen Mother's gardens.

Buckmore Park: For those looking for thrills and spills, world famous kart racing circuit Buckmore Park is the destination of choice. With karting experiences for ages 4 to 84, the track is open 7 days a week, day and night, whatever the weather!
Kent and East Sussex Railway: This railway is the finest example of a rural light railway in the country and was the world's first light railway. It opened in 1900 and today runs steam and heritage diesel engines along 10 miles of the preserved central section of the original line. The track takes you through the Rother Levels, a marshland valley that is difficult to appreciate in any other way but by train.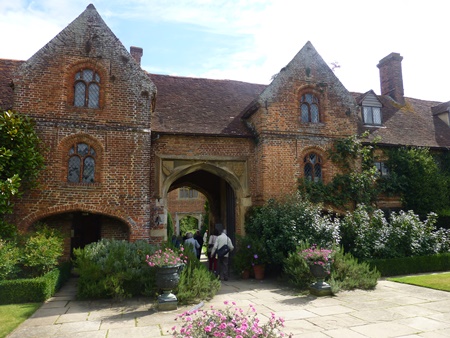 Sissinghurst Garden © essentially-england.com
Whether you're a history or nature lover, Kent will not disappoint you. The Downs and High Weald are Areas of Outstanding Natural Beauty, there are three RSPB reserves at Dungeness, Cliffe Pools and Elmley Marshes, Bedgebury National Pinetum and Forest is home to the world's finest conifer collection and there are more castles, stately homes and historical sites you can fit into one holiday. And as for the gardens... well, I suggest you start with Sissinghurst Castle, Vita Sackville-West's famous garden, and just follow where your exploration leads you!
To explore other English counties and areas, return from the Kent page to the Essentially England homepage.