Bakewell Pudding
Or Should That be Bakewell Tart?
Both actually. If you're visiting the market town of Bakewell in Derbyshire you'll learn that both have a longstanding place on the tea table. Bakewell Tart, which comes in various flavours, is very much as you'd expect, a pastry case filled with a ground almond and jam filling.
Bakewell Pudding is  a rather different kind of animal. The tasty puff pastry and almond creation has been a Bakewell favourite ever since it was invented. And that, apparently was due to a miscommunication in 1860. Or maybe the cook at the White Horse Inn had a bad day. Whatever the reason, a simple strawberry tart was turned into something rather sublime, when the cook added a topping made from sugar, eggs and almonds.
Even after all this time, it's is still a great pudding, especially when served still warm from the oven and with a pot of Earl Grey tea by the side.
Fortunately, you don't have to travel to Derbyshire every time you fancy a slice. The famous Old Original Bakewell Pudding Shop lets you stock up on both puddings and tarts online online. And if even that takes too long, you can simply head into the kitchen because the pudding is rather straightforward to make. You can cut down on prep time even more by using good quality bought puff pastry. Then, making this teatime treat is mainly an assembly job. Why not try it for yourself?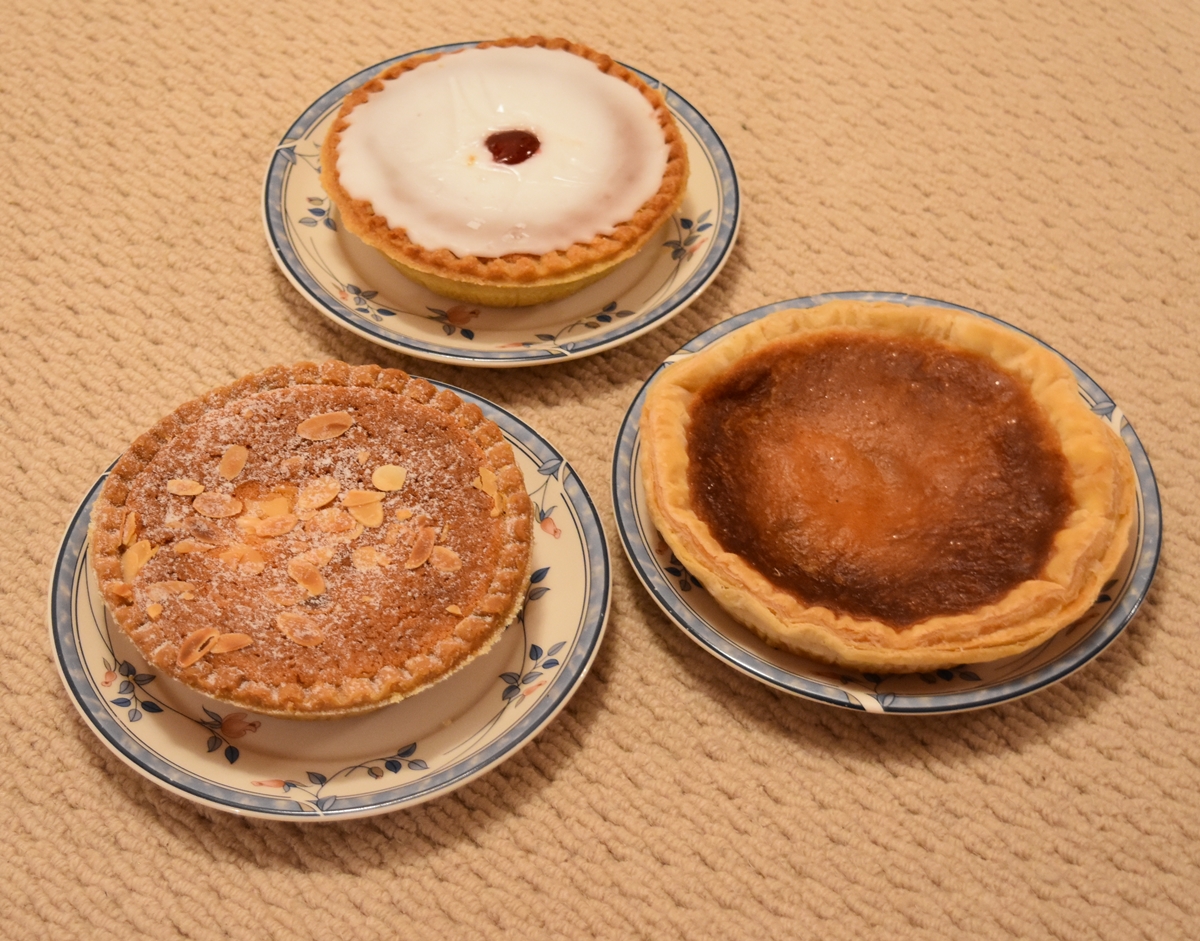 Bakewell Pudding (right) and two Bakewell Tarts
© essentially-england.com
Ingredients
250g puff pastry (ready-rolled if you must!)
75g (3oz) strawberry or raspberry jam
4 eggs, separated
pinch of salt
125g (4oz) unsalted butter
125g (4oz) caster sugar
75g (3oz) ground almonds
25g (1oz) fresh white breadcrumbs
a few almond slivers for decoration (optional)
How to Make Bakewell Pudding

Preheat the oven to 220°C / 425°F / gas 7.
Roll out your pastry on a lightly floured surface and use it to lin a 23cm / 9in flan tin. Neaten the edges, then spread the base with your chosen jam.
Whisk 3 egg whites (you don't need the fourth one) with the salt until stiff.
In a separate bowl, cream the butter and sugar until pale and fluffy. Add the egg yolks and incorporate well. Then mix in the almonds and breadcrumbs.
Fold in the beaten egg whites a little at the time. Use folding and cutting movements to keep as much air as possible in the mix.
Spread the mixture over the jam, before cooking in the centre of the oven for 15 minutes. Reduce the heat to 180°C / 350°F / gas 4 and bake for a further 20-25 minutes until risen and golden.
Remove from the oven and leave to cool for a little before serving warm.