Cheese Pudding

I don't know about you, but on Friday nights I want a comforting dinner, which to me means something with cheese and a nice bottle of red wine alongside it. And cheese pudding fits that requirement perfectly.
Don't let yourself be fooled by the name, either. This pudding isn't sweet. Far from it. Cheese pudding is the richly savoury, velvety, adult version of bread and cheese. Historically, it probably was a nursery pudding of sorts. Thriftily using stale bread and dried up cheese, easy to construct and bound to please even the pickiest youngster.
It's easy on the cook, made entirely from store cupboard items and I'm sure that modern kids won't object to having this served for dinner, either. With a fresh green salad, it makes a quiet end to a busy day - and that has to be a good thing.
Ingredients



The Chief Ingredient: Grated Cheese
lcb | pixabay.com

This recipe feeds 2-4 depending on how hungry you are. It's best if you use a shallow baking dish as the pudding will rise and brown evenly. If you only have a deep dish, then reduce the oven temperature a little and cook the pudding for 5-10 minutes longer, checking frequently towards the end.

100g / 4 oz. breadcrumbs
400ml milk
25g / 1 oz butter
2-3 eggs
200g / 8 oz. grated cheddar or Gruyere cheese
1 tsp mustard (optional)
salt and pepper
Making Cheese Pudding

Making this pudding is truly a doddle. It takes around 10-15mins of kitchen time, and then you can relax while it bakes and wait for delicious scents to waft from the kitchen. Just the sort of easy go lucky dinner I need on a Friday night.
Heat the oven to 200°C / 400°F
Place the breadcrumbs into a large bowl.
Warm the milk with the butter until the butter melts, then pour the mixture over the breadcrumbs and leave to stand for 10 minutes. Most of the milk will be absorbed by that time.
Beat the eggs with a little salt and then whisk into the breadcrumbs.
Stir in the cheese before adding the salt, pepper and mustard (if using) to taste.
Turn the mixture out into a shallow baking dish and smooth the top.
Bake for 30-35mins in the centre of the oven until golden and nicely risen, and with the tiniest bit of wobble.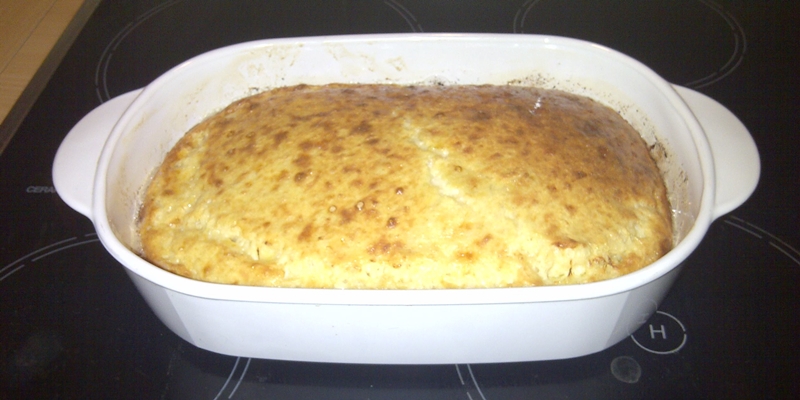 Cheese Pudding Hot from the Oven
© essentially-england.com
Planning dinner for a crowd? Or a romantic meal for two?
Return to the traditional English recipes page for more ideas about what to cook.