Cornish Pasty
Cornish pasty is one of England's great picnic foods. It reminds me of holidays, of seaside and sand, or of a wide expanse of moorland with magnificent views. What it does not remind me of is dark and damp mine shafts and hard dangerous graft underground.But that's where Cornish pasty originates - as many Cornish people will tell you - as a portable mid-day meal for Cornwall's tin miners.
The real traditional pasty is meant to have a filling of meat and potatoes at one end and one of apples and spices at the other; simply main course and pudding in one.
The thick pastry crimp along the edge was not to be eaten. It was merely a convenient handle: useful when there was little clean water to wash ones hands before lunch.
These days, Cornish pasties are not restricted to Cornwall's holiday coast. You can find them anywhere ... even in supermarket chiller cabinets. But even though they might feed you if you're really hungry, they're not a patch on the real thing. A real pasty must be a joy to eat, hot or cold. So a richly flavoured filling is a must. Most supermarket and many bakery pasties are simply too bland for my liking.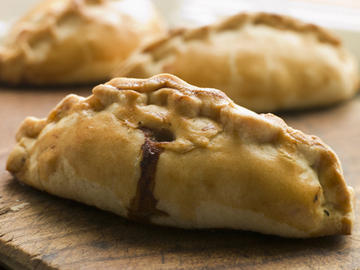 Cornish Pasty
© Monkey Business Images | Dreamstime.com
So where can you find really good ones? Two places come to my mind ... but I readily admit that it's hardly an exhaustive list. And if you know of a superlative pasty shop, then please tell me and I'll be happy to feature them here!
I was first introduced to Cornish pasty in St Ives, a beautiful town full of art galleries, pubs and pasty shops. The pasties we tried there were truly wonderful! Have a traditional beef and potato pasty, or try some of the more unusual flavours. And don't forget to finish with a sweet apple and cinnamon pasty.
My most recent discovery was a pasty shop in Dawlish, south Devon. Gay's serves all manner of tasty treats, and their pasties are right up there with the St Ives ones ...
But there's really no need to stick exclusively to pasty shops, even if they're as good as the two mentioned above. And why not? Because Cornish pasties are very easy to make. So why don't you try it yourself the next time you fancy something different for lunch, or have a picnic to prepare.
The recipe below is for a traditional beef and potato pasty, but there's no reason why you can't experiment with other fillings. I do like apple and cinnamon for sweets, but I could imagine that mince meat and grated lemon rind goes well too.
I've seen lamb and mint pasties advertised in pasty shops, and pork and apple ones. Potato and leek make a fine pasty filling - with or without beef. And as for cheese and onion ...
So go ahead and try some. You'll be rewarded with a very tasty lunch!
Ingredients
Your Cornish pasty will stand and fall with the quality of your ingredients. So choose good meat, quality vegetables and season your filling very well. The finer you cut your vegetables, the more the filling will blend and the tastier your pasty will be. To feed four you need:
     Pastry

1 lb / 450g flour
5 oz / 125g lard or butter
salt
water

     Filling

1 lb / 450g lean beef
1 lb / 450g potatoes
1 lb / 450g swede
1 onion
1 oz / 25g butter
salt and pepper



How to Make Cornish Pasty

Preheat your oven to 200°C / 400°F / Gas Mark 6.
Rub the lard into the flour and salt until well mixed, then add a splash of water to bind to a dough. Mix well.
Cut the meat and vegetables into small dice.
Divide the pastry into four pieces. Roll out each piece into a circle of about 6-7 in (15-18cm).
Line each pastry circle with a quarter of the vegetables and meat. Dot with butter and season well with salt and pepper.
Dampen the edges of the pastry and bring it up to cover the filling. Seal and crimp the edges.
Place on a non-stick baking tray and bake for 40-50 minutes.
Want more ideas for picnic food?
Return from Cornish Pasty to the recipes page.