Explore Northampton


The Northampton Heritage Trail






Northamptonshire is a county in central England that most people appear to ignore as they pass through in their car or on the train to somewhere more exciting in the north or south. However, now that it is our home county, we have found that Northamptonshire is a very rural county with pretty, peaceful villages and towns in beautiful rolling countryside. The countryside and the town of Northampton itself, offer many hidden treasures to those who look. So, what better start to getting to know this unjustly overlooked part of the country by following the Heritage Trail to explore Northampton?




The local council designed the Northampton Heritage Trail to encourage people to explore Northampton on foot and discover its rich history and culture. A map and instructions can be found here.

For our Essentially England Northampton Heritage Trail we've added in a few more points of interest which lengthen the walk by a few hundred metres. Our mapping software measures the walk as 2.7 miles long, and since you're wandering the town, there are plenty of opportunities to take a break and find refreshments. It's also all on hard surfaced paths and pavements which would make it an ideal walk in the winter months or after lots of rain.

One thing I enjoyed about the trail was that it reminded me of doing orienteering when I was at school, where I was map reading to find markers in much the same way as I was looking for old buildings or historical stories along the trail. This would be a fun way for the whole family to practice map-reading skills while discovering a bit of local history.



Northampton Heritage Trail Map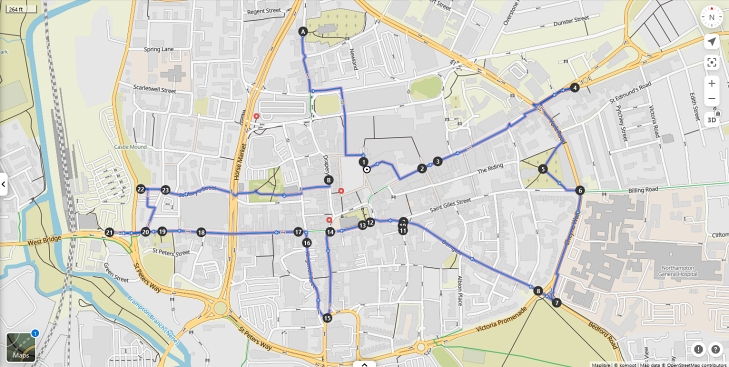 Northampton Heritage Trail Map
We've used Komoot.com to map our Northampton Heritage Trail. Click on the map and download the gpx file for your GPS device. If you use Komoot, you can follow the route on your phone. Otherwise, just print the map from the local government website and do it the old-fashioned way. We were using a bit of both!
Have fun and enjoy a great day out…
The trail starts outside the Church of the Holy Sepulchre, which is point A on our map above.

A. Church of the Holy Sepulchre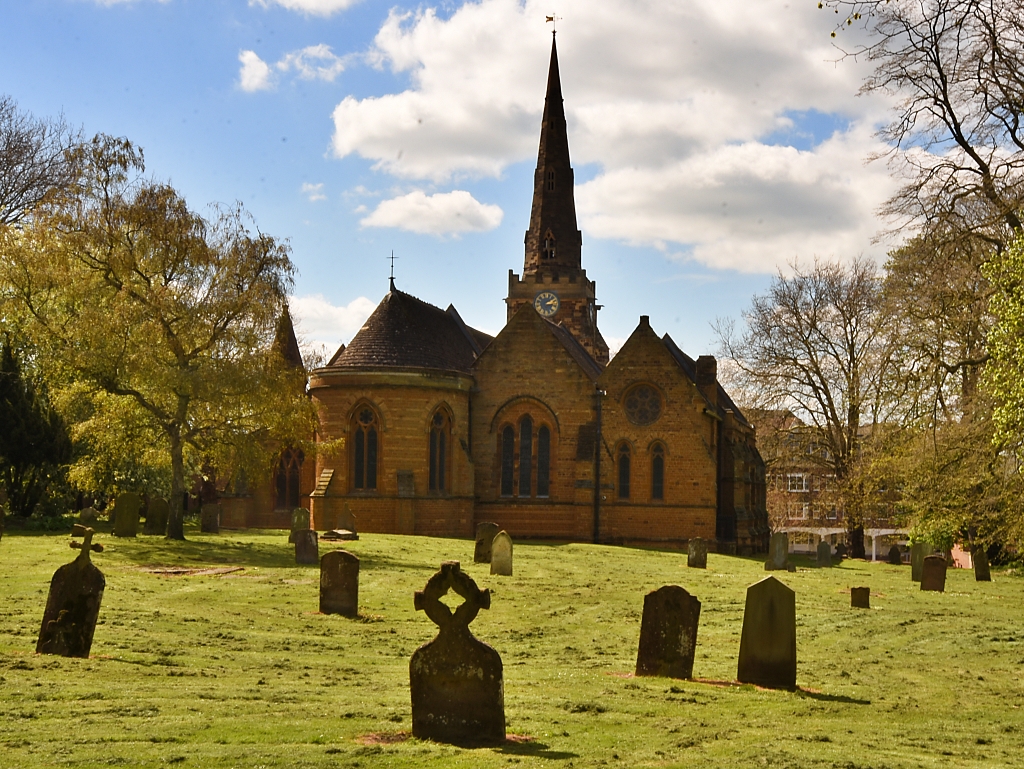 The Church of the Holy Sepulchre is the oldest building in Northampton and dates from 1103.
It is a Norman round church and is probably the best preserved of the four remaining in England. It is believed to have been built by Simon de Senilis, Earl of Northampton, who in the late eleventh century joined the crusades to the Holy Land and saw the Church of the Holy Sepulchre in Jerusalem.
On his return, he had a half-sized replica church constructed. It has been modified and extended over the years, but much of the original church is still there.
Leaving the church, walk along Sheep Street until the junction with Lady's Lane. Turn left and shortly afterward enter the underpass that takes you to the market square.
---
1. Northampton Market Square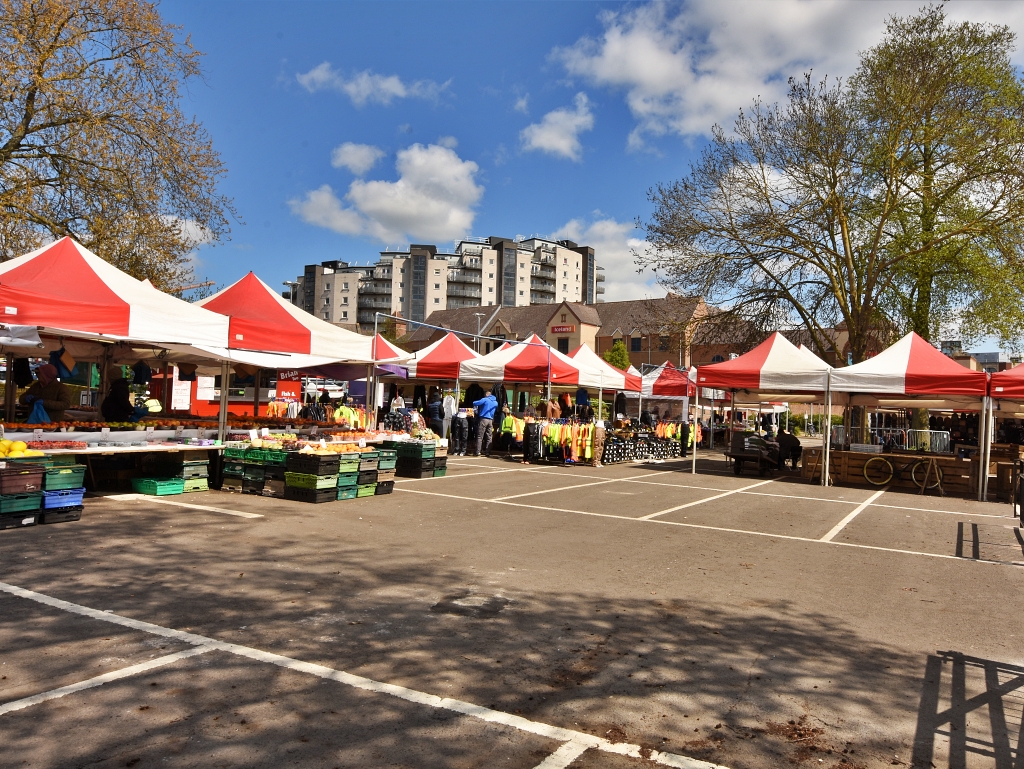 Northampton Market © essentially-england.com
One of the oldest and largest market squares in England can be found in the centre of Northampton.
In 1235 King Henry banned the sale of goods from All Saints Church churchyard and demanded that the market move to an area north of the church and its current site. The market square is bordered by some wonderful historic buildings from the 18th and 19th centuries and a network of old alleyways. At the time of our visit in 2023, Northampton Market Square was not accessible due to a huge regeneration project that is expected to continue until Autumn 2024. The photo shows the market in its temporary home until the works are completed.
From the market square you can get to Abington Street by either walking through Market Lane or go to the corner of the market square to and join there. Just before the junction with Fish Street you will find the Cobbler's Last.
---
2. Cobbler's Last Sculpture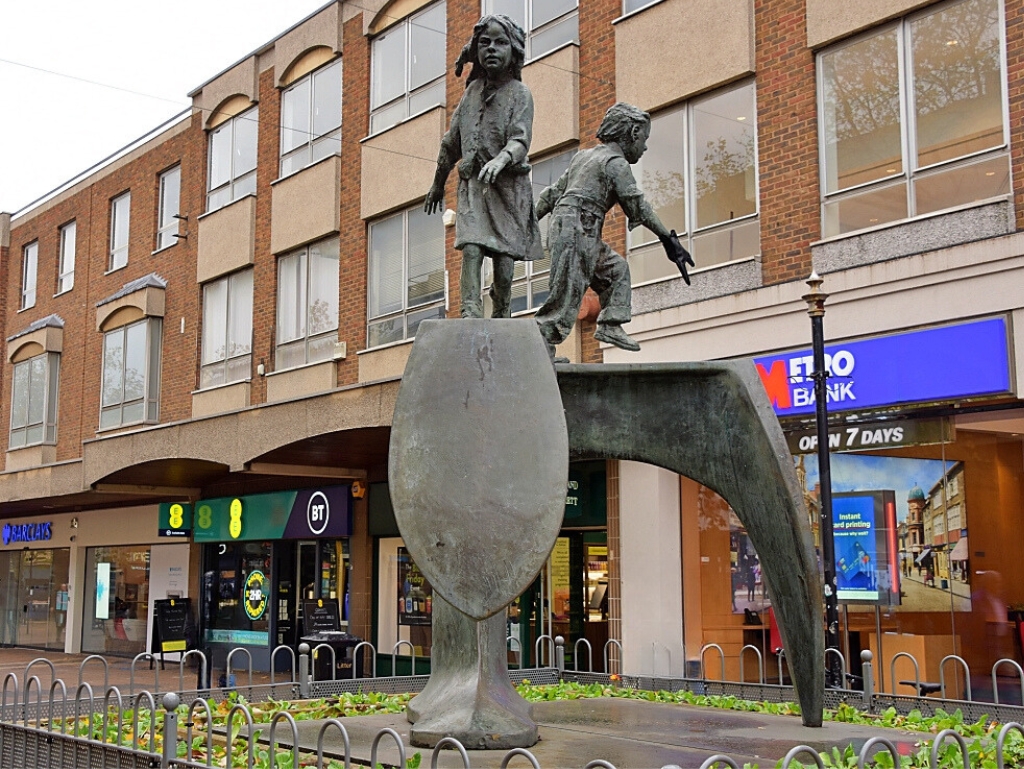 Cobbler's Last Sculpture © essentially-england.com
A cobbler's last is a tool used to hold shoes and boots whilst being fashioned or repaired. This sculpture in Abington Street celebrates Northampton's shoe and boot making heritage.
---
3. Discovery Sculpture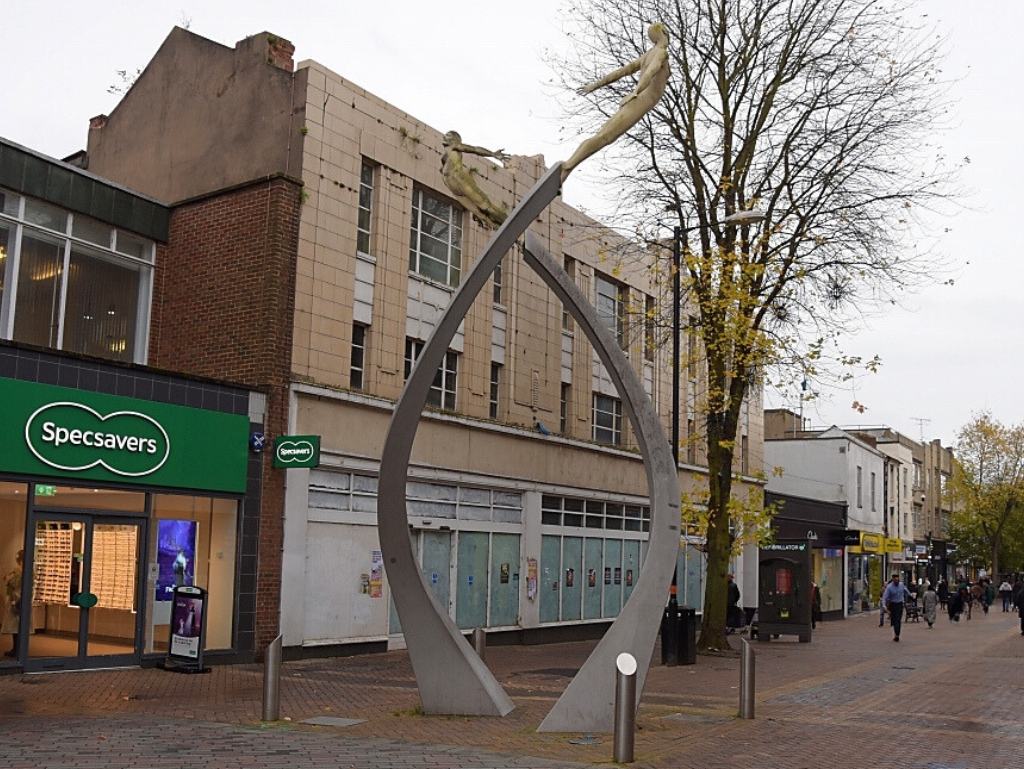 Discovery Sculpture © essentially-england.com
A little further along Abington Street is the Discovery sculpture which recognises the work of Northampton-born scientist Dr Francis Crick, who helped reveal the structure of DNA.
Continue along Abington Street until the junction with Lower Mount/York Road. Carefully cross this busy junction to walk along Abington Square until you see the war memorial.
---
4. Northampton War Memorial & Garden of Remembrance

Ablington Square War Memorial © essentially-england.com
The Grade II listed Northampton War Memorial and Garden of Remembrance is found in Abington Square and commemorates the fallen of both the World Wars.
The memorial was designed by Sir Edward Lutyens. On the rear wall of the colonnaded walkway are inscribed the names of the people (2864) of the borough of Northampton who gave their lives during World War I.
Retrace your steps to the road junction and turn left onto York Road. Shortly after St. Edmonds Road on your left a small pathway opens between the houses on the right-hand side of the road. It will take you to St. Giles Church.
---
5. St. Giles Church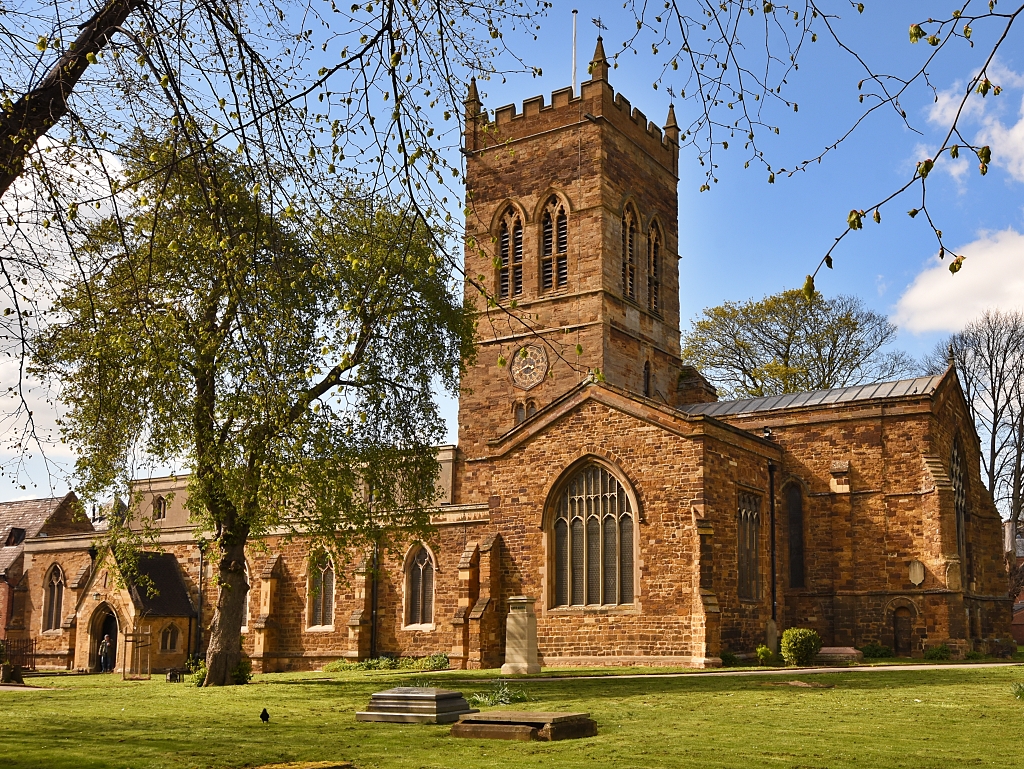 St. Giles Church © essentially-england.com
The original, 12th-century St. Giles Church was rebuilt in 1616 after the church tower collapsed. The church has been modified since and includes a Victorian West Door that appears to be very Norman.
Leave the church grounds to join Spencer Parade where you turn left back to York Road. At this busy junction you should find the King Edward VII memorial.
---
6. King Edward VII Memorial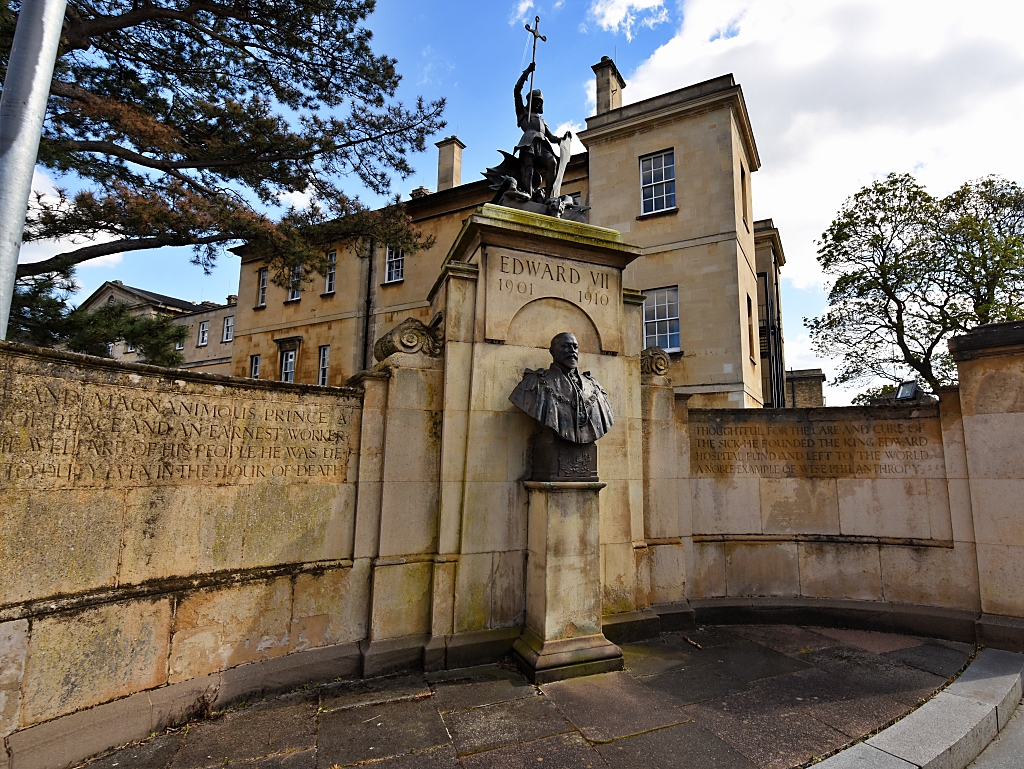 King Edward VII Memorial © essentially-england.com
The King Edward VII Memorial stands on a corner of Northampton General Hospital, which at one time was the King Edward Hospital.
The memorial is fashioned from local stone and displays a bronze bust of King Edward VII created by sculptor George Frampton. Above the bust of Edward VII is a bronze sculpture of St. George and the Dragon.
Continue along Cheyne Walk, past one side of Northampton General Hospital, to the junction with Bedford Road. Turn left and Becket's Well is just on the left-hand side of the road.
---
7. Becket's Well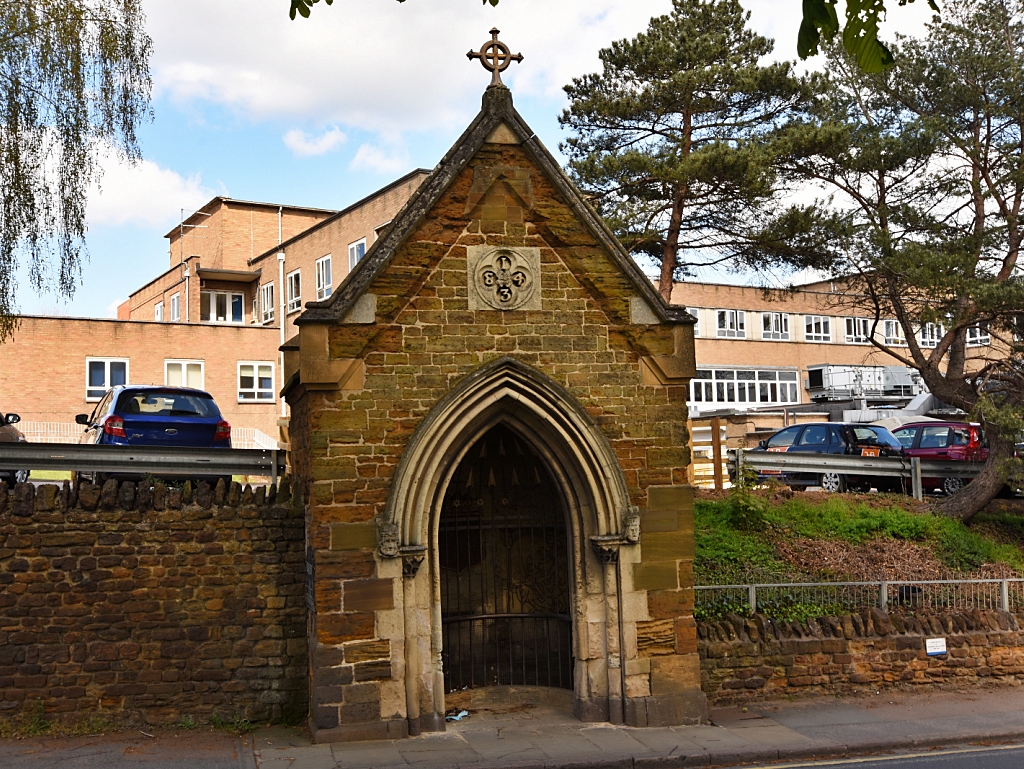 Becket's Well © essentially-england.com
Becket's Well gets its name from Thomas a Becket, royal Chancellor, and Archbishop of Canterbury, who, upon his escape from his trial in Northampton Castle in 1164, drank from the spring that rises here. In 1170, he was famously murdered in Canterbury Cathedral by a group of King Henry II's knights.
The well enclosure is made from local stone and inside you can find a lovely mosaic created by local school children depicting Thomas a Becket's life.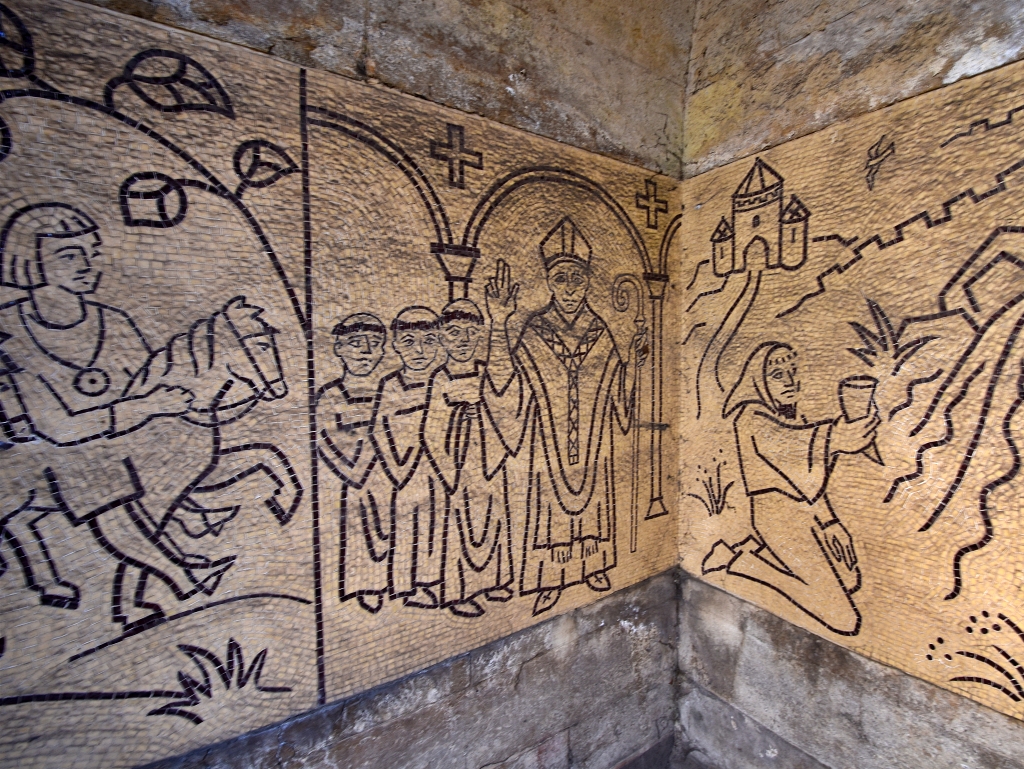 Becket's Well Mosaic © essentially-england.com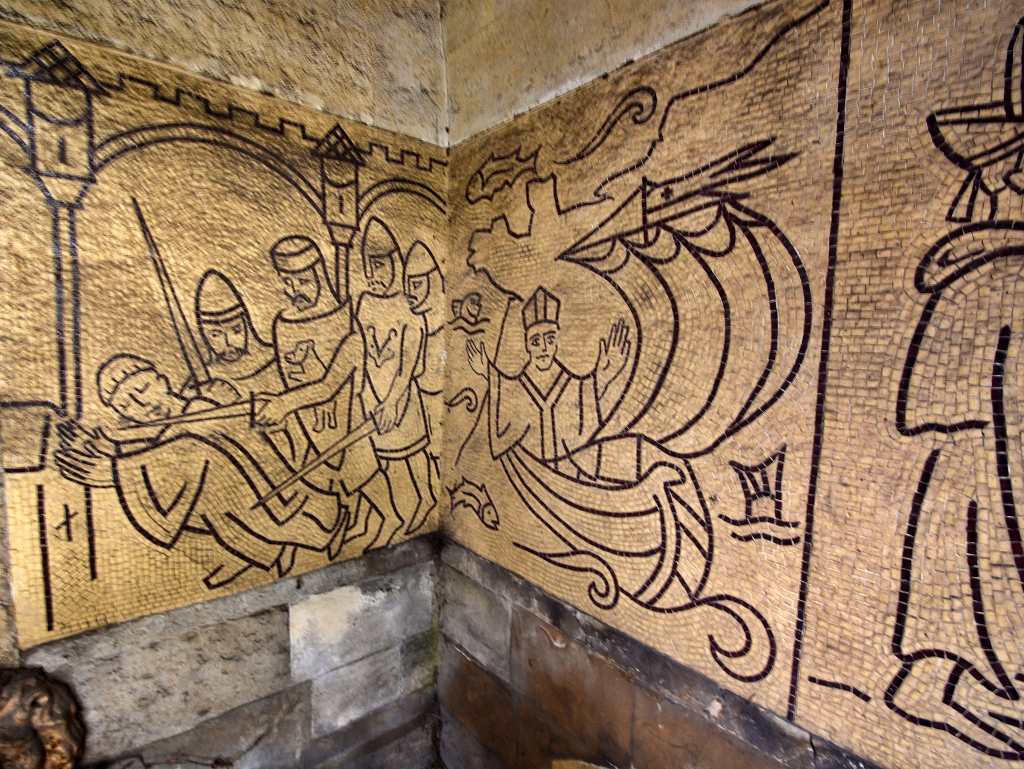 Becket's Well Mosaic © essentially-england.com
---
Return to the junction and go straight across to join Derngate. One of the first buildings on the left-hand side of the road in number 78
8. 78 Derngate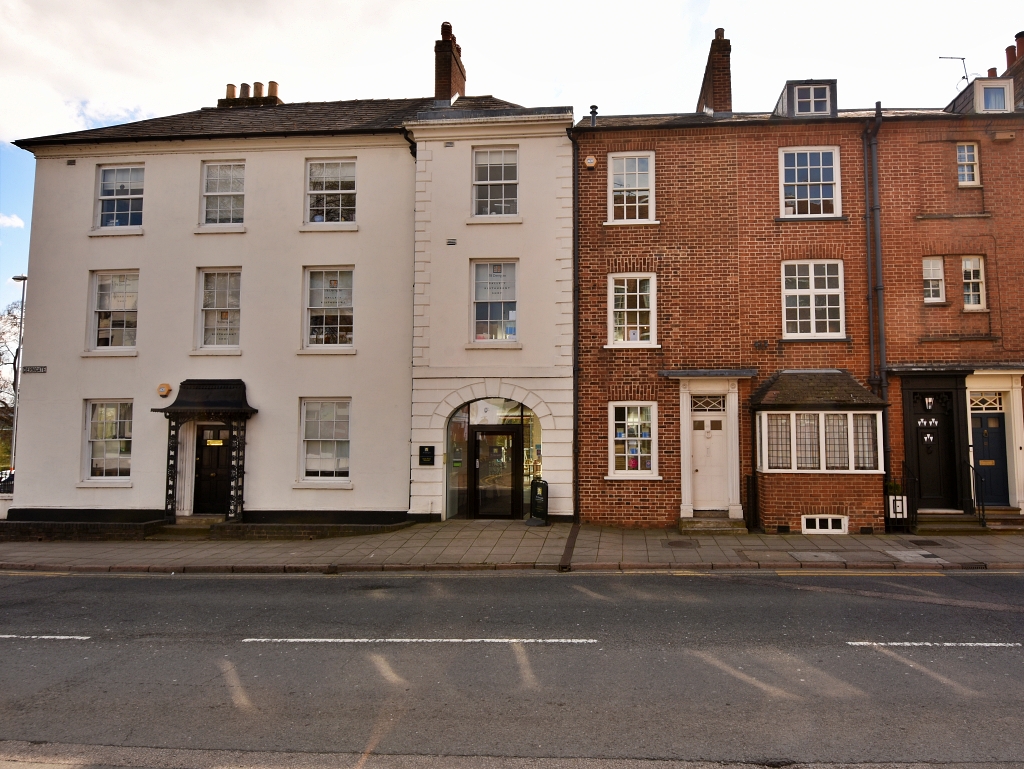 78 Derngate © essentially-england.com
78 Derngate is a Grade II listed nineteenth century Georgian terraced house in the Cultural Quarter of Northampton that was transformed by the famous Scottish art nouveau/art deco artist and architect Charles Rennie Mackintosh. This is his only major work outside of Scotland and is now a museum and café.
Carry on up Derngate to the Guildhall.
---
9. The Guildhall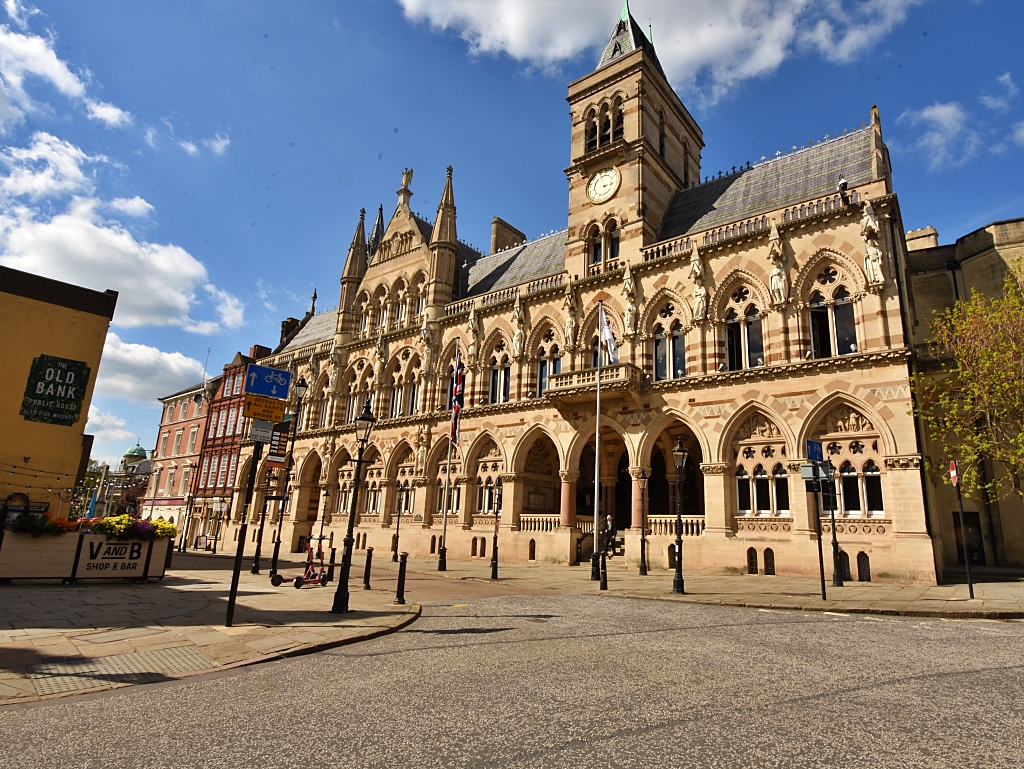 Northampton Guildhall © essentially-england.com
You can't explore Northampton without stopping at the Guildhall, It's one of the most striking buildings in Northampton and owes its existence to the commercial success of the town.
As Northampton prospered and grew, the old town hall became too small and overcrowded until, in 1859, a committee started a competition for architects to submit designs for a new, larger building.
The winning plan was submitted by a young Bristolian architect by the name of Edward Godwin and his building was opened in 1864.
However, within 25 years, the building had once more outgrown the spreading town, so another competition led to an extension built between 1889 and 1892. This produced the impressive Victorian Gothic style building we see today. In 1992 a modern, but sympathetic, extension was added to the side of the Guildhall.
The exterior and interior are finely decorated and record historical events and people that have influenced Northampton town history. It is worth a good inspection and a guide is available here.
Walk down Guildhall Road to visit the Royal Theatre and Northampton Museum before returning to the Guildhall.
---
10. The Royal Theatre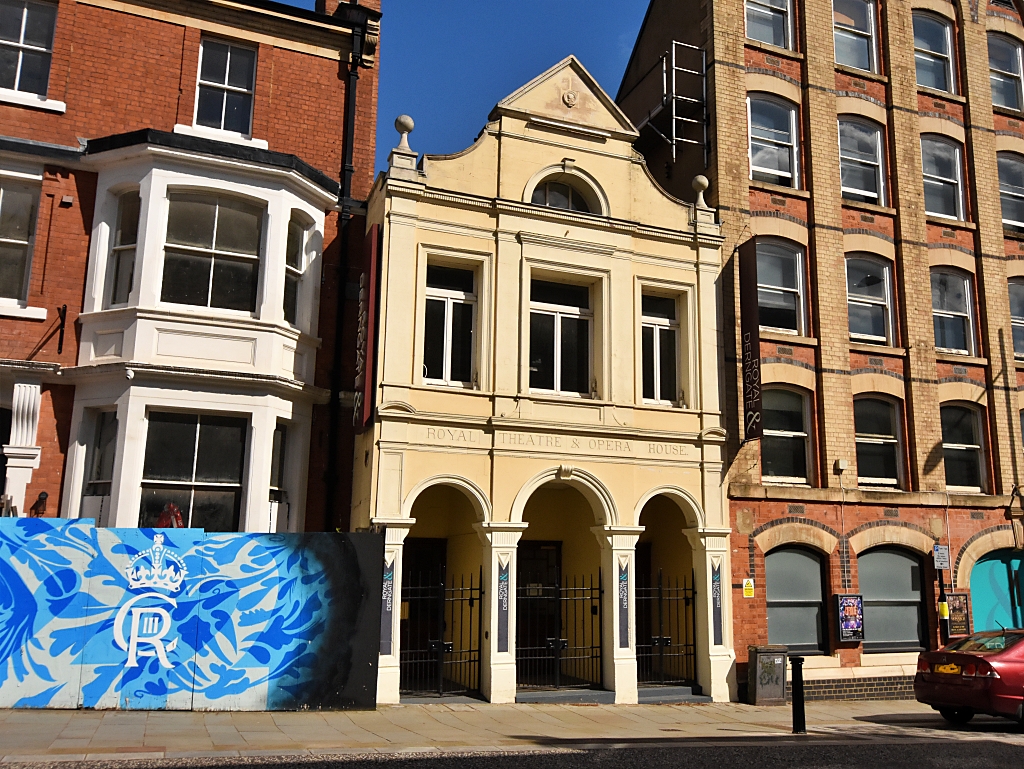 The Royal Theatre © essentially-england.com
The Royal Theatre is a Grade II listed late Victorian theatre that was designed by C.J. Phipps, a prominent theatre architect.
It is now part of the Royal and Derngate theatre complex and film house and sits at the heart of the Cultural Quarter of Northampton.
---
---
11. Northampton Museum and Art Gallery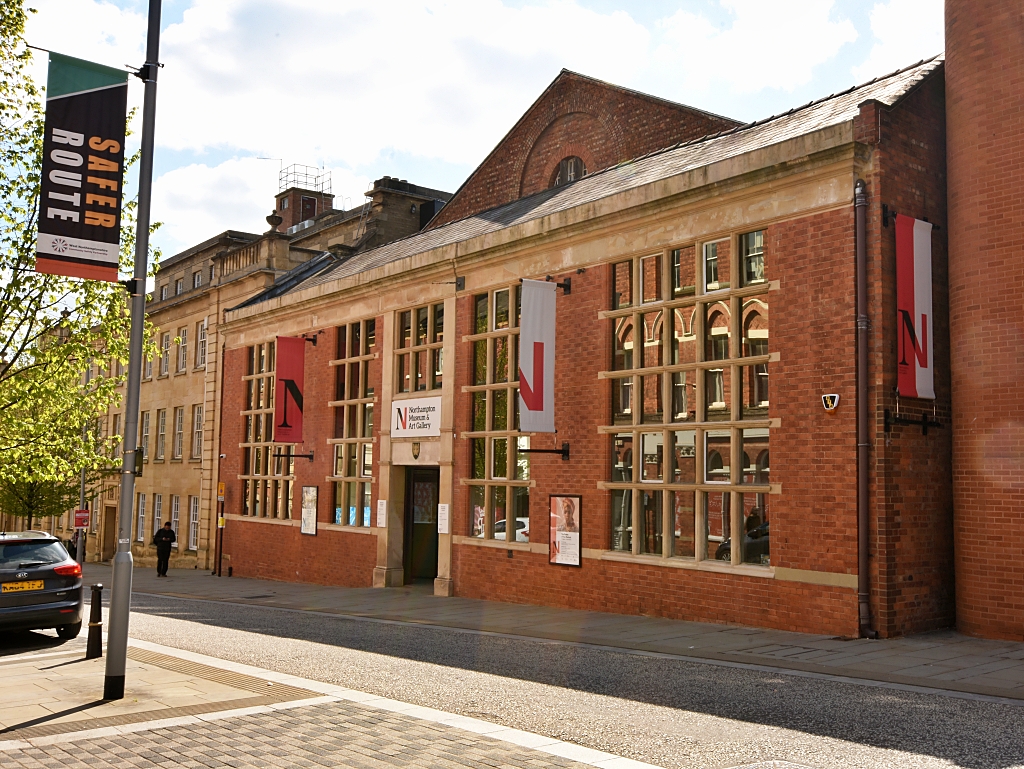 Northampton Museum & Art Gallery © essentially-england.com
The Northampton Museum and Art Gallery is a lovely light and airy space to learn about Northamptonshire history and admire the art displays.
The Shoe Collection details the history of shoes and Northampton's long history of shoemaking. Part of the museum used to belong to the County Gaol when the small cells housed Victorian male prisoners!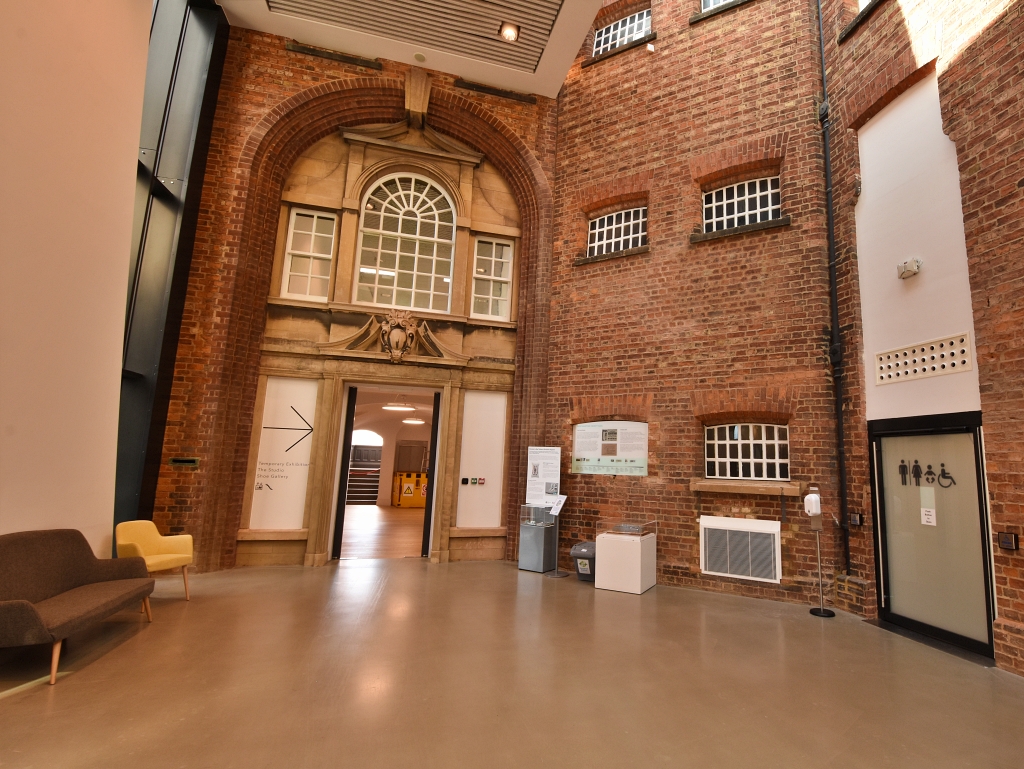 Part of the Old Jail © essentially-england.com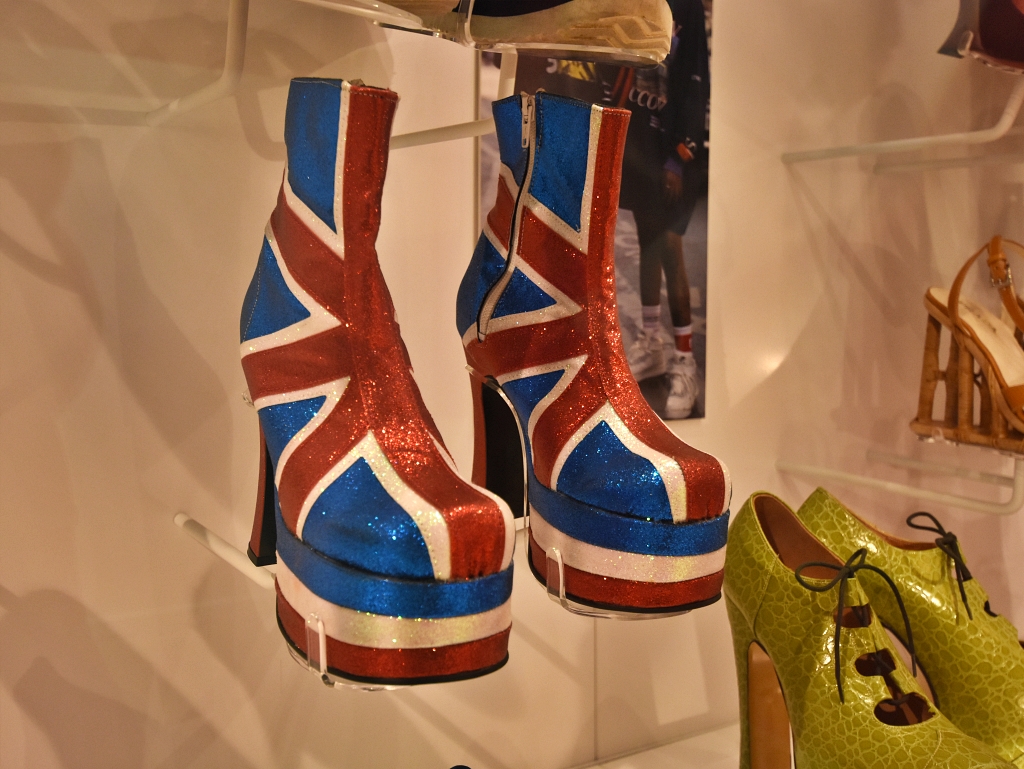 Northampton Museum Shoe Gallery © essentially-england.com
Standing opposite the Guildhall, turn to your left and walk along St. Giles Square where you'll pass the Town and County War Memorial, Sessions House, and All Saint's Church.
---
12. Town and County War Memorial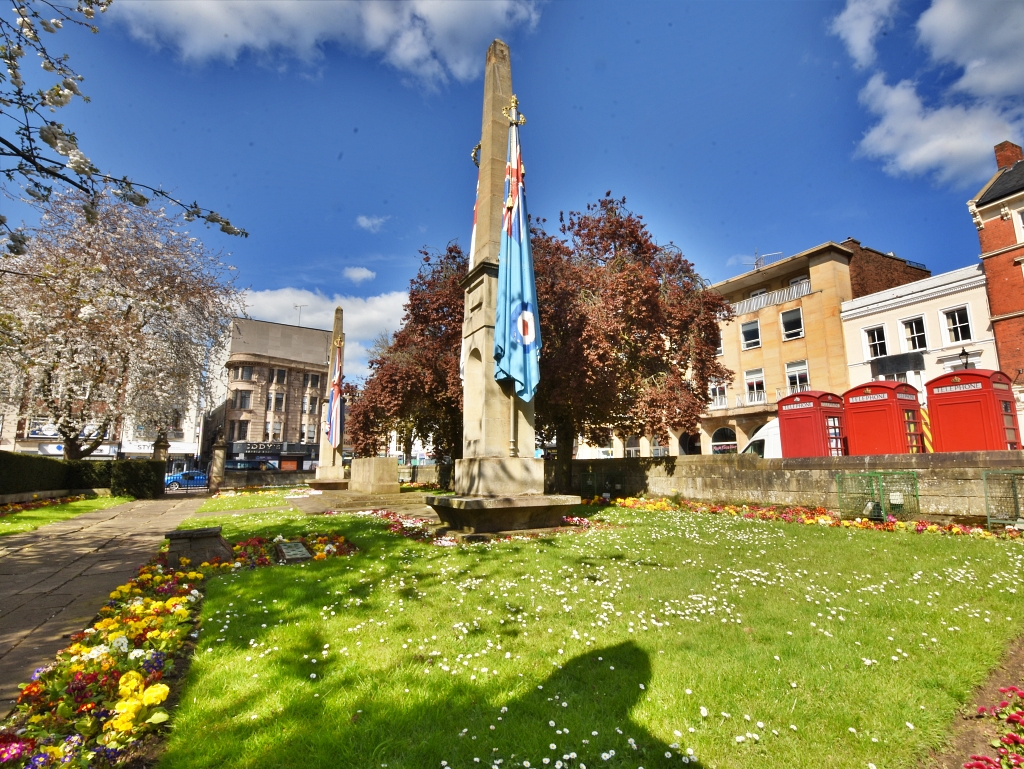 The Town and County War Memorial
© essentially-england.com
The Town and County War Memorial, is a Grade I listed First World War memorial designed by architect Sir Edwin Lutyens. It was unveiled on the 11th of November 1926 in memory of the servicemen from Northamptonshire lost in the First World War, and later Second World War. The memorial is typical of Lutyen's many war memorials and has a pair of obelisks, a stone of remembrance, and painted stone flags hanging from the obelisks. The memorial sits in a pretty garden that was once part of the churchyard of All Saints' Church.
---
13. Sessions House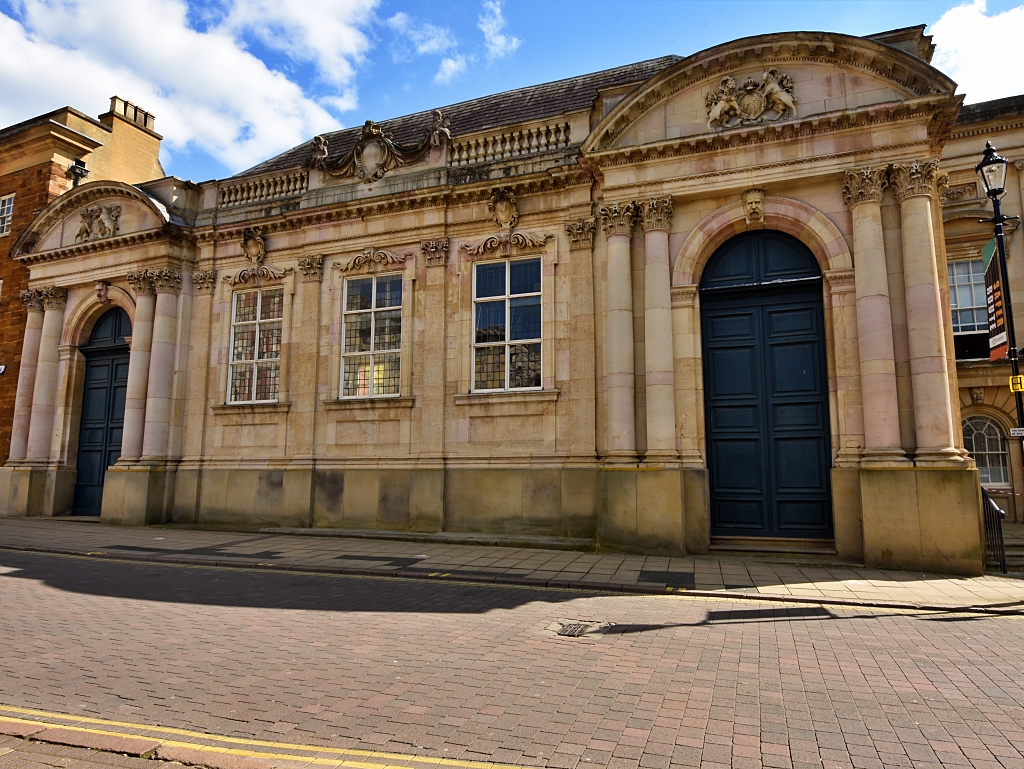 Sessions House, a seventeenth century courthouse, was one of the town's earliest facilities built after the great fire of Northampton in September 1675. Designed by Henry Bell, it contains two courtrooms with original docks, galleries, decorative fittings, and a staircase down to the dungeons. One of the ornamental cherubs has the Devil's head and was alleged to wiggle its jutting tongue when the defendant lied!
The main entrance to Sessions House is now Northampton's Tourist Information Centre from where tours of the courthouse can be arranged.
---
14. All Saints Church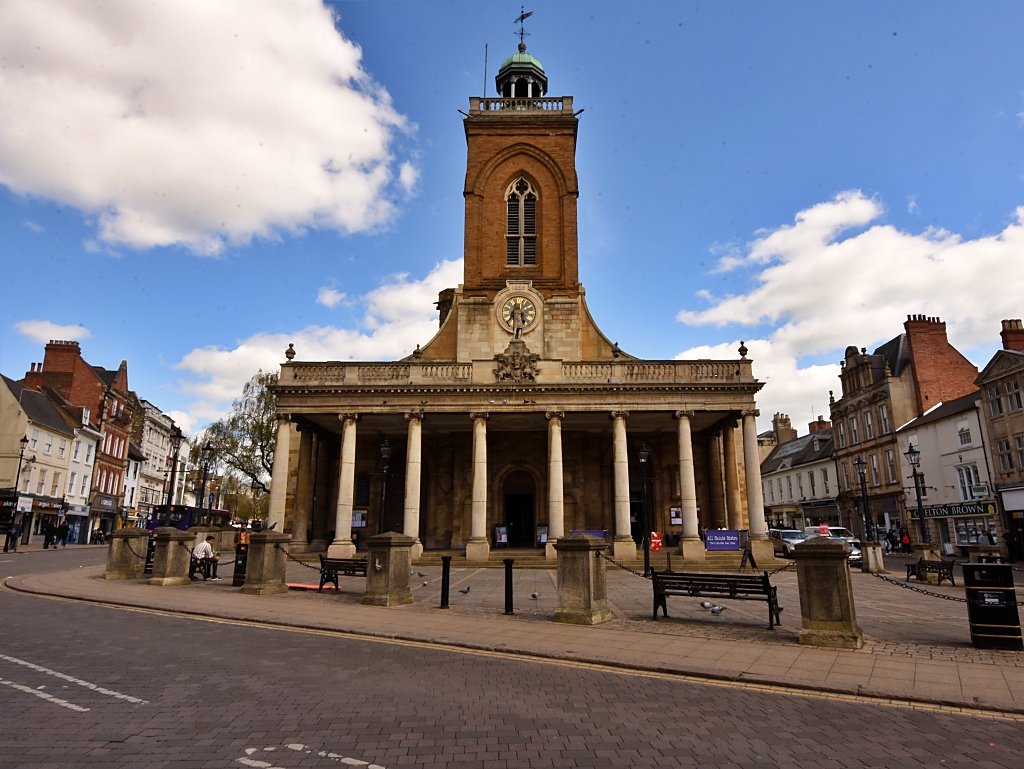 All Saints Church © essentially-england.com
Like Sessions House just across the road, the original town church of All Hallows was destroyed by the great fire in 1675. A parliamentary commission was formed to manage the rebuilding of Northampton which was supported by King Charles II who contributed 1000 tons of timber from the Royal forests of Rockingham and Salcey in Northamptonshire and abolished the Hearth Tax. As a result of removing the tax, people from around the country could contribute to the reconstruction of Northampton.
All Saint's church was designed by Henry Bell in the style of churches built in London by Sir Christopher Wren. It was consecrated and opened in 1680. In 1701 a portico was added and in 1712, in memory and thanksgiving for his part in the rebuilding of the church, a statue of King Charles II was mounted on the portico parapet.
Continue to explore Northampton by walking from All Saint's Church along Bridge Street to St. John's Church.
---
15. St. John's Roman Catholic Church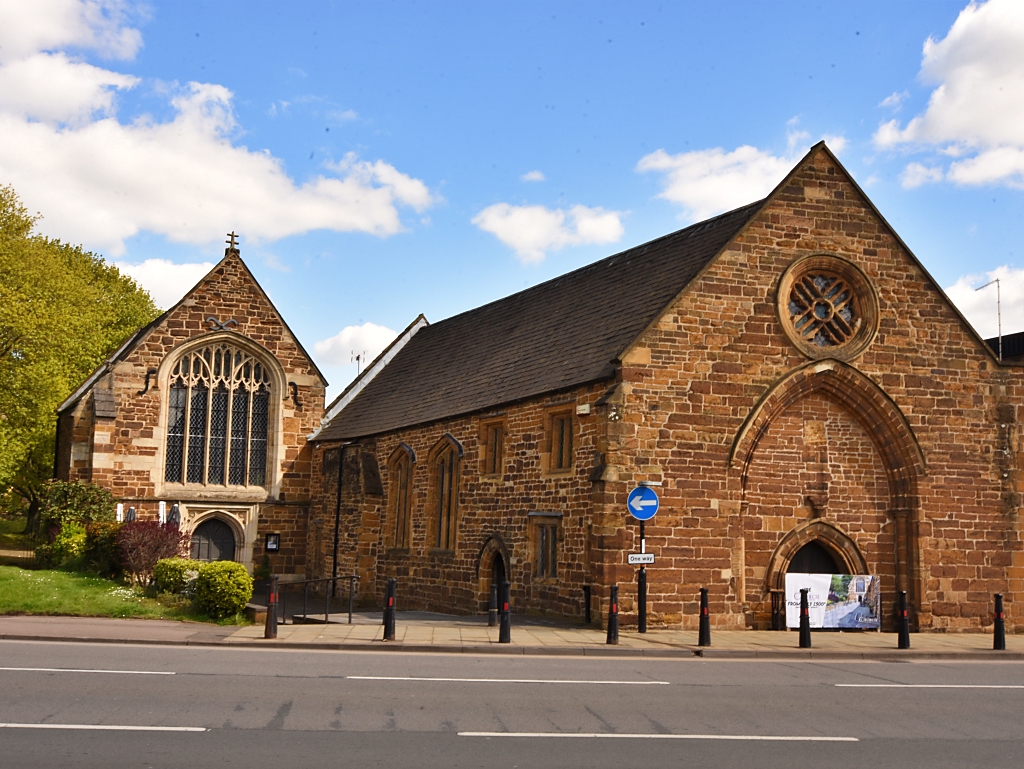 St. John's RC Church © essentially-england.com
St. John's started life in 1138 as a hospital close to the main gates of the walled town of Northampton. For over 875 years, a building on this site has been providing hospitality to townsfolk and travellers.
While it started as a hospice, St. John's as acted in many guises over the years. It's been used as resting place for soldiers killed during the 1460 Battle of Northampton, was part of Northampton's first railway station, became a Catholic church, and is now a modern restaurant.
You can also find the old alms house right beside the church.
Now loop back on yourself and walk up Kingswell Street to continue to explore Northampton.

---
---
16. Beckett & Sargeant's School for Girls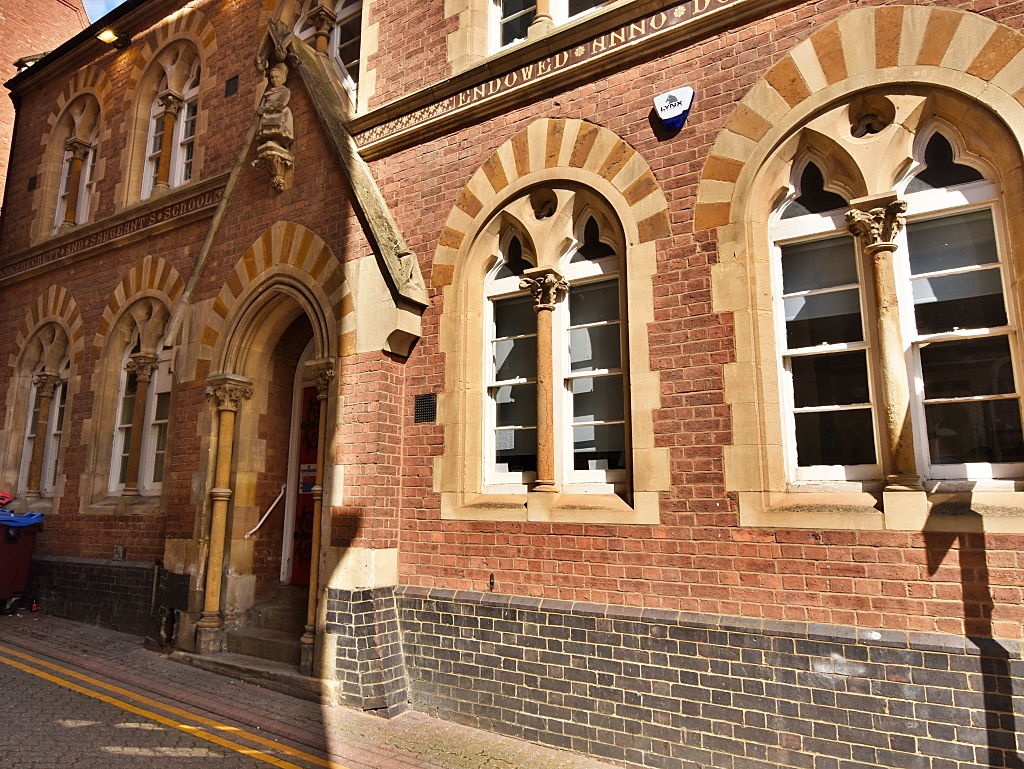 Beckett & Sargeant's School for Girls
© essentially-england.com
Tucked away on the narrow part of Kingswell Street just before the junction with Gold Street is an attractive building that was once Beckett and Sergeant's School for Girls.
Widowed Mrs Beckett and her unmarried sister, Miss Sergeant, owned several properties around Northampton. In 1735 they set up a trust to use some of the rents from their properties to fund a school for 30 poor girls.
This building was built in 1862 and used by the girls until it was closed in the 1950s.
---
17. The Former Grand Hotel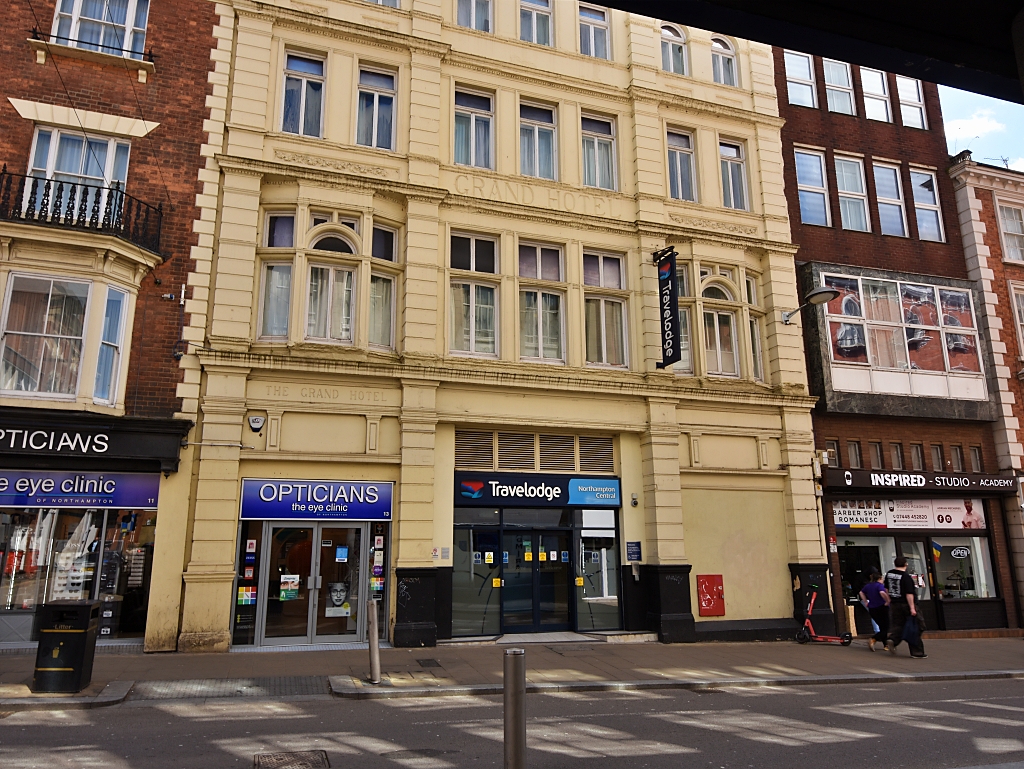 Northampton Grand Hotel © essentially-england.com
Just around the corner on Gold Street is the former Grand Hotel. Built in 1892, it replaced a smaller hotel on the same site, and over 130 years later it is still a hotel.
Continue straight along this road to pass Hazelrigg House and St Peter's Church.
---
18. Hazelrigg House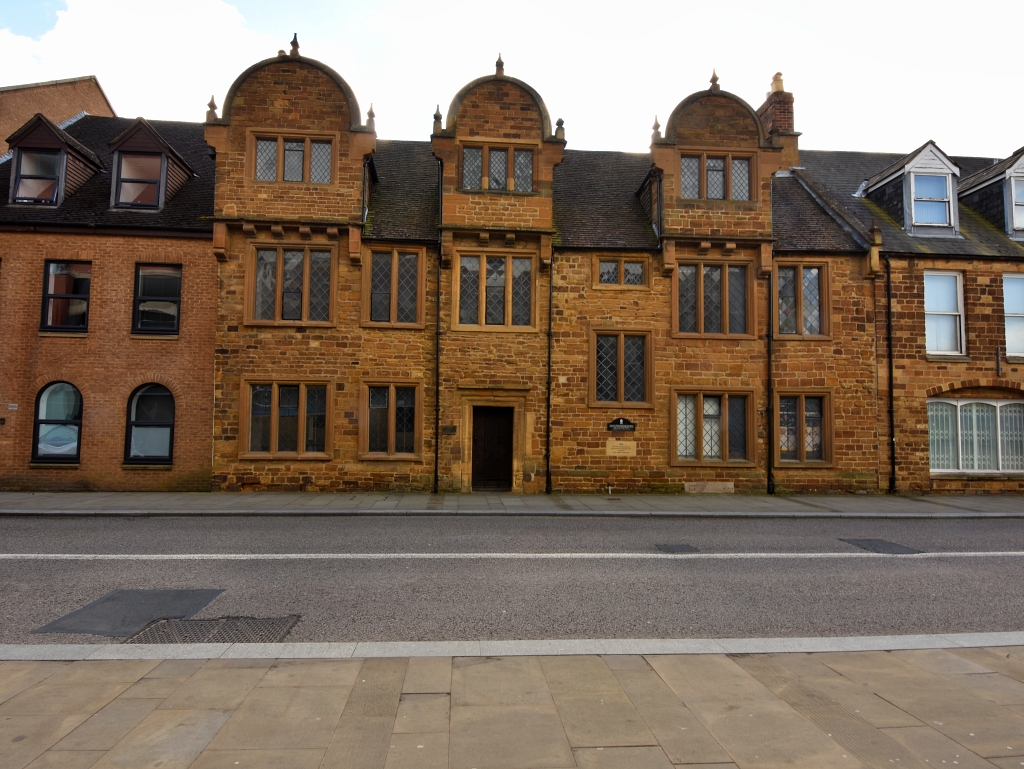 Hazelrigg House © essentially-england.com
Hazelrigg House is a Grade II listed Elizabethan house that was one of a few buildings to survive the great fire of Northampton in 1675.
The house gains its name from the Hazelrigg family who lived here from 1680 to 1831. There is also a rumour of Oliver Cromwell staying here as he made his way to the Battle of Naseby in 1645.
---
19. St. Peter's Church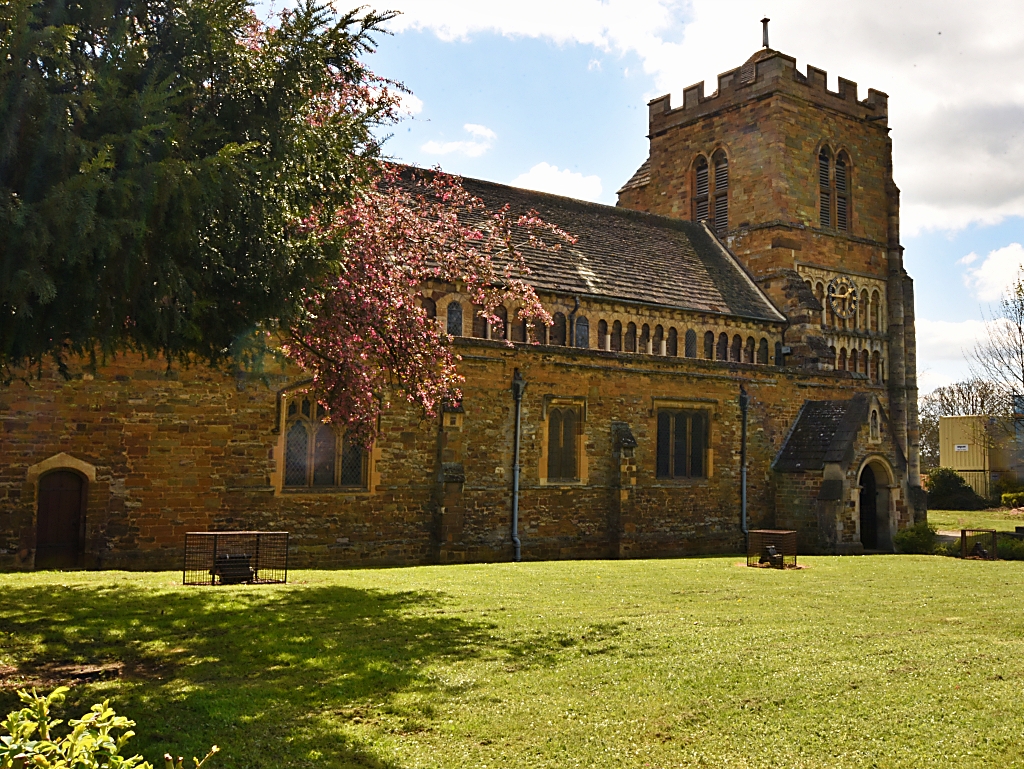 St. Peter's Church © essentially-england.com
St. Peter's Church is a beautiful 900-year-old Norman church that was restored in 1850 by Sir George Gilbert Scot.
Inside you'll find great Norman arches, fine decorations, and wonderful furniture. The site dates to even older times as beside the church are the buried remains of a Saxon palace.
---
20. Explore Northampton: The Northampton Town Crest and Knight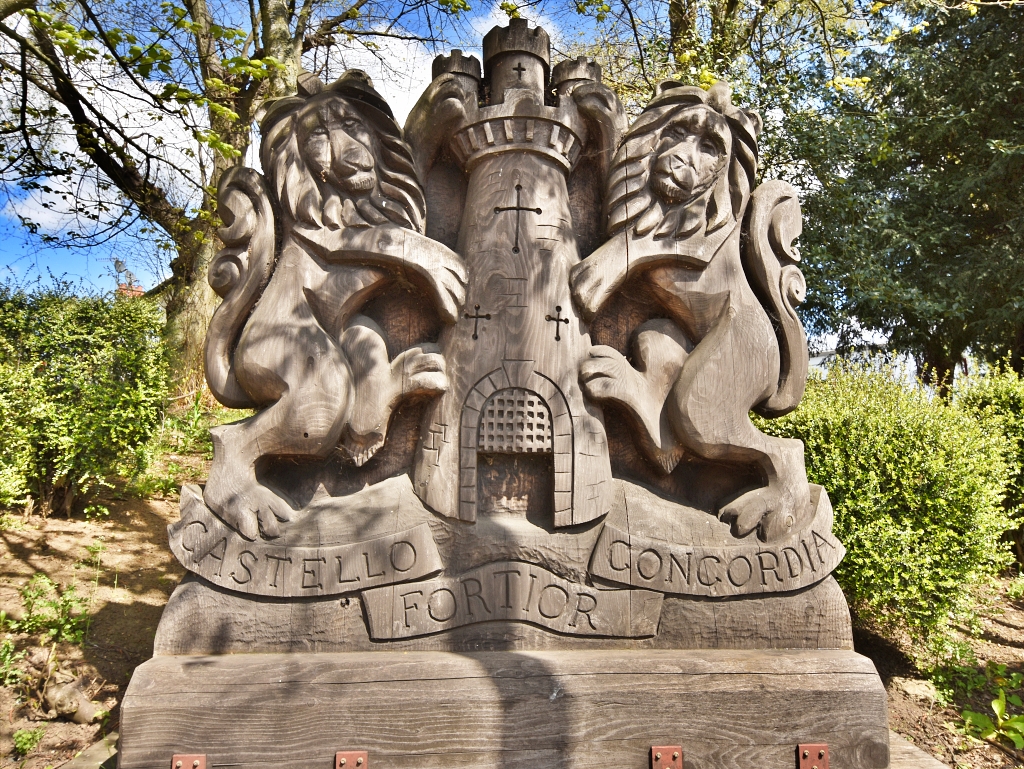 Carved Northampton Town Crest © essentially-england.com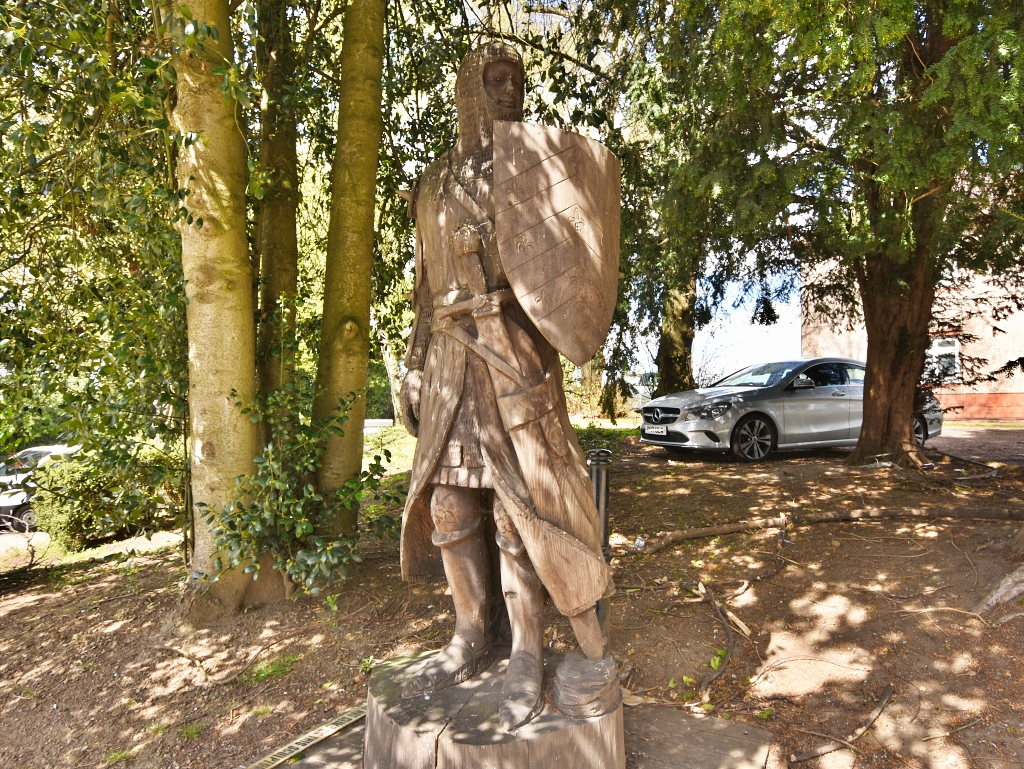 1330 Knight Sculpture © essentially-england.com
Shortly after St. Peter's Church, on the corner with Chalk Lane, you will find two impressive wood sculptures under the trees.

The first is the Borough Crest given to the town by King Edward I as Northampton Castle was a royal castle from 1130. The inscription reads "Peace is stronger than a fortress". The knight sculpture is from this period and details the protective armour that would have been worn.
These wooden sculptures aren't the only ones gracing the town. As you explore Northampton, you can find seven historical sculptures, all reflecting on events in the town's history.
Continue down the hill towards the train station to see part of Northampton Castle.
---
21. Northampton Castle Postern Gate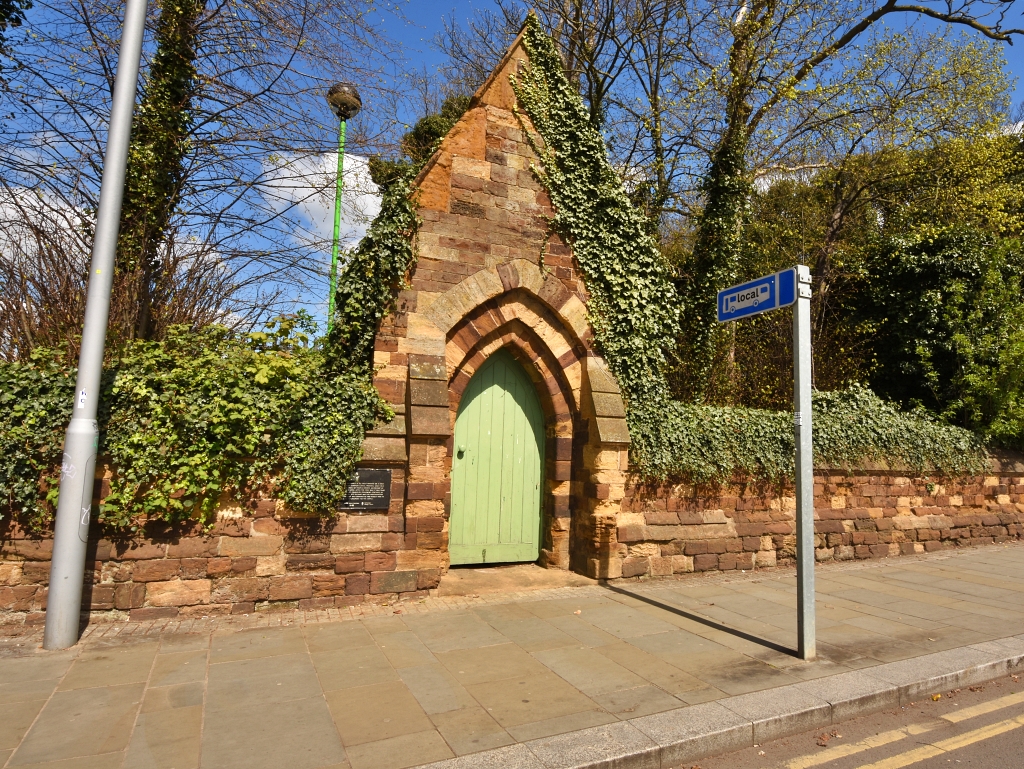 Northampton Castle Postern Gate © essentially-england.com
This small gate way would have been a side entrance (a postern) into Northampton Castle and is all the stonework that remains of the once grand royal residence.
After the English civil war, King Charles II ordered that the castle be made uninhabitable as it was used by the Parliamentarians.
After years of neglect the castle ruins were cleared in 1879 for the construction of Northampton train station, and during the 1880's the postern was dismantled and rebuilt in this position as a reminder of the great castle that once stood here.
---
22. Northampton Castle Mound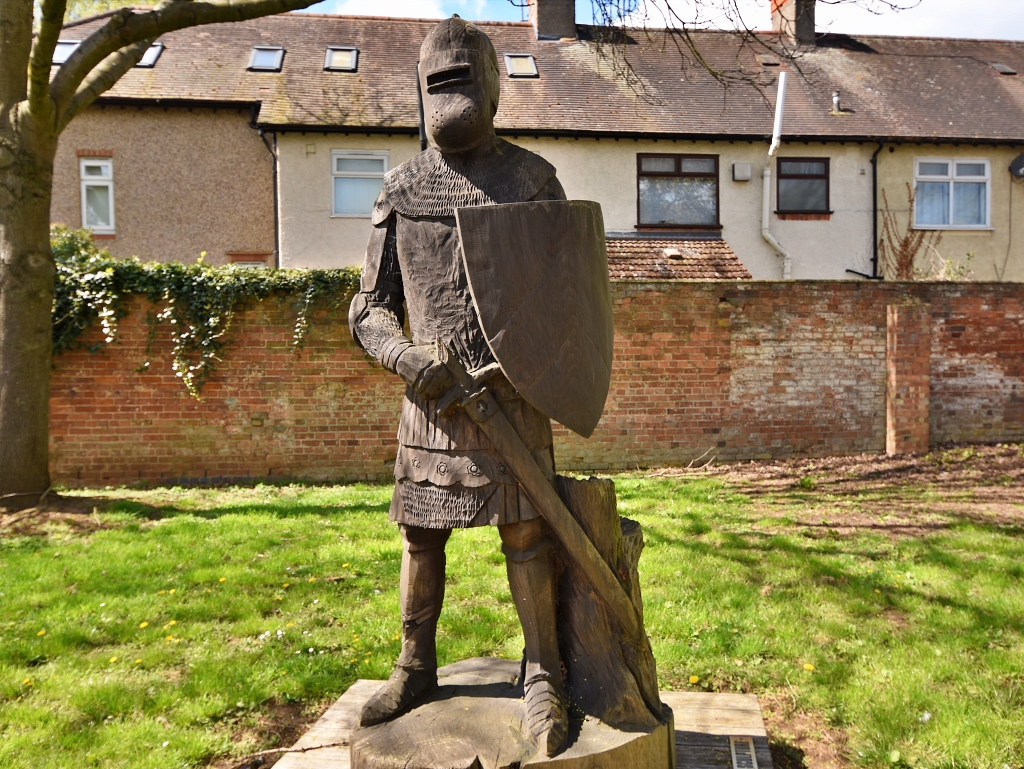 As we continue to explore Northampton, we now retrace our steps and return to the wooden sculptures on the corner Mare Fair and Chalk Lane where we turn left along Chalk Lane towards the castle mound.
On the left-hand side of Chalk Lane, just before Chalk Lane carpark stands another wooden knight sculpture. This one is from around 1350 when the Black Death reached Northampton and claimed half its population.
Walk carefully through Chalk Lane carpark to meet another two wooden knight sculptures. These two fine helmeted knights are from the 13th century and may have fought in the first battle of the Baron's War between King Henry III and the barons, led by Simon De Montfort, which started in Northampton in April 1264.
From the carpark you get a fine view across Northampton train station, former castle site, and towards the famous Northampton Lift Tower near Franklin Gardens.
Just behind the two knights you can climb up part of the old bailey bank earthwork that was part of Northampton Castle's defences.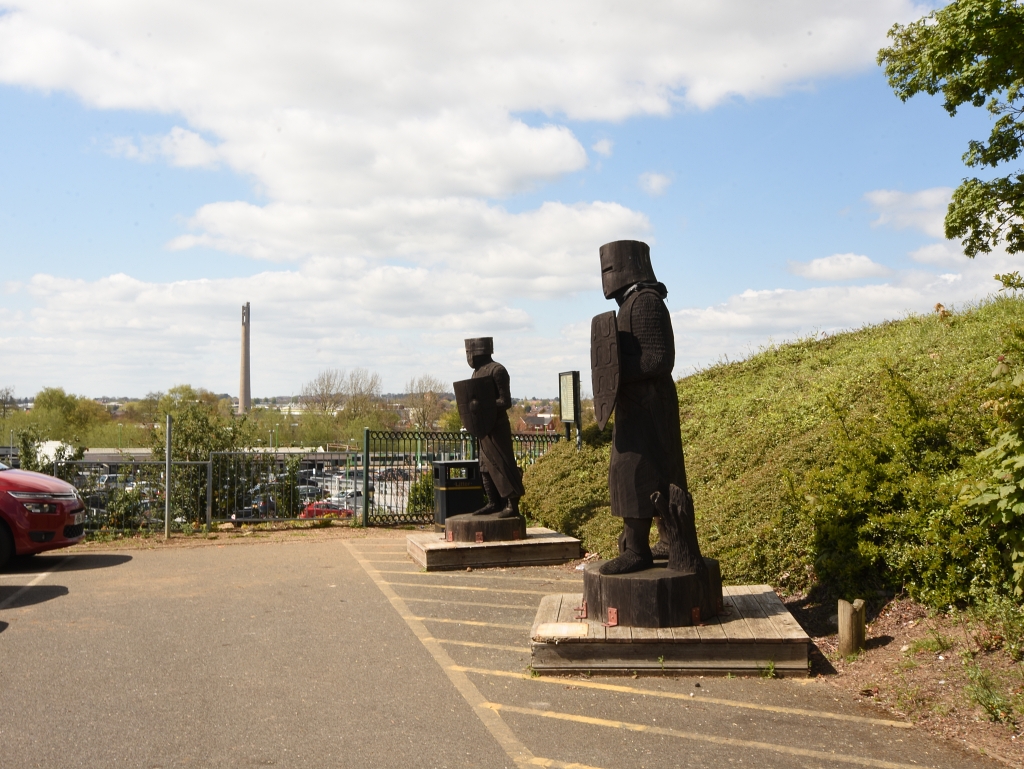 Knight Sculptures at Castle Mound © essentially-england.com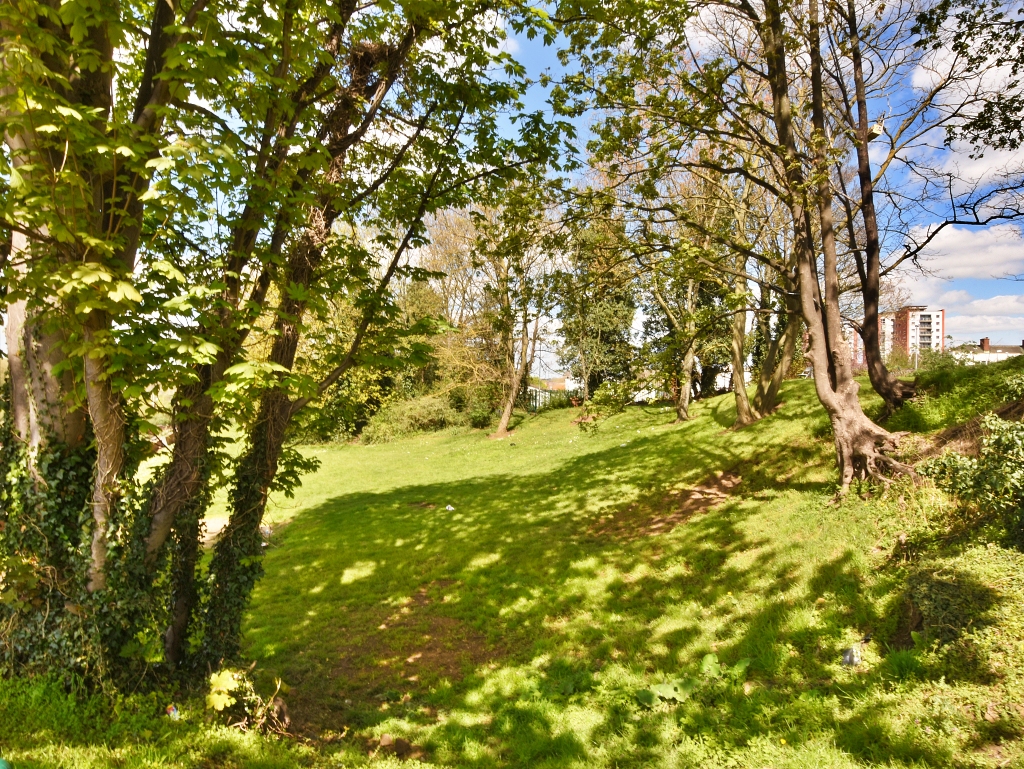 Northampton Castle Mound © essentially-england.com
This is the last we see of the wooden knight sculptures on this part of our explore Northampton walk. The remaining two sculptures reside at Delapre Abbey, which is about two miles away. If you want to see all seven sculptures, then take a look at our Northampton Knights Walk which describes a beautiful walk through some of Northampton's historic and scenic sites. I combined both walks for a total of just under 11 miles.
---
23. Castle Hill United Reform Church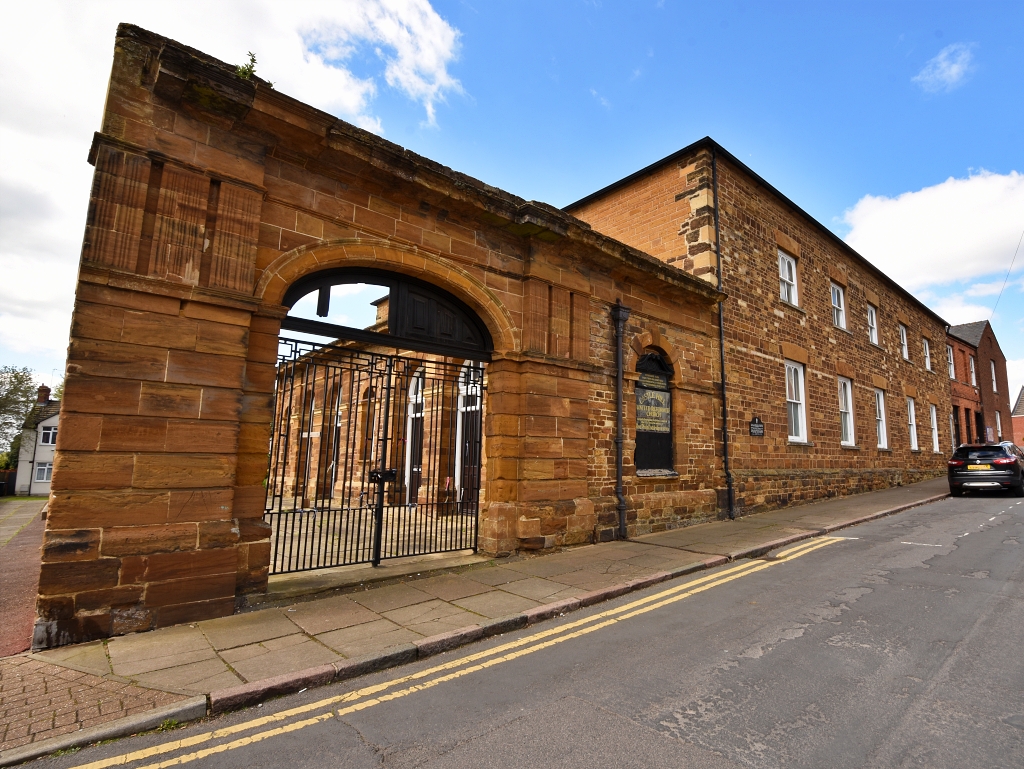 Castle Hill United Reform Church © essentially-england.com
Leave the carpark and cross the road to the Castle Hill United Reformed Church.
This is the oldest nonconformist religious building in Northampton. The earliest parts were built in 1695 using reclaimed stone from the castle ruins.
The renowned eighteenth-century preacher and hymn writer Dr Philip Doddridge ministered here for 22 years.
The route of our Explore Northampton Walk now follows St. Mary's Street which is believed to be the starting point of the great fire of Northampton in 1675. Carefully cross Horse Market into a small park. Continue straight to meet College Street, then turn left and a quick right onto Swan Yard. Continue along Swan Yard to The Drapery.
---
B. The Drapery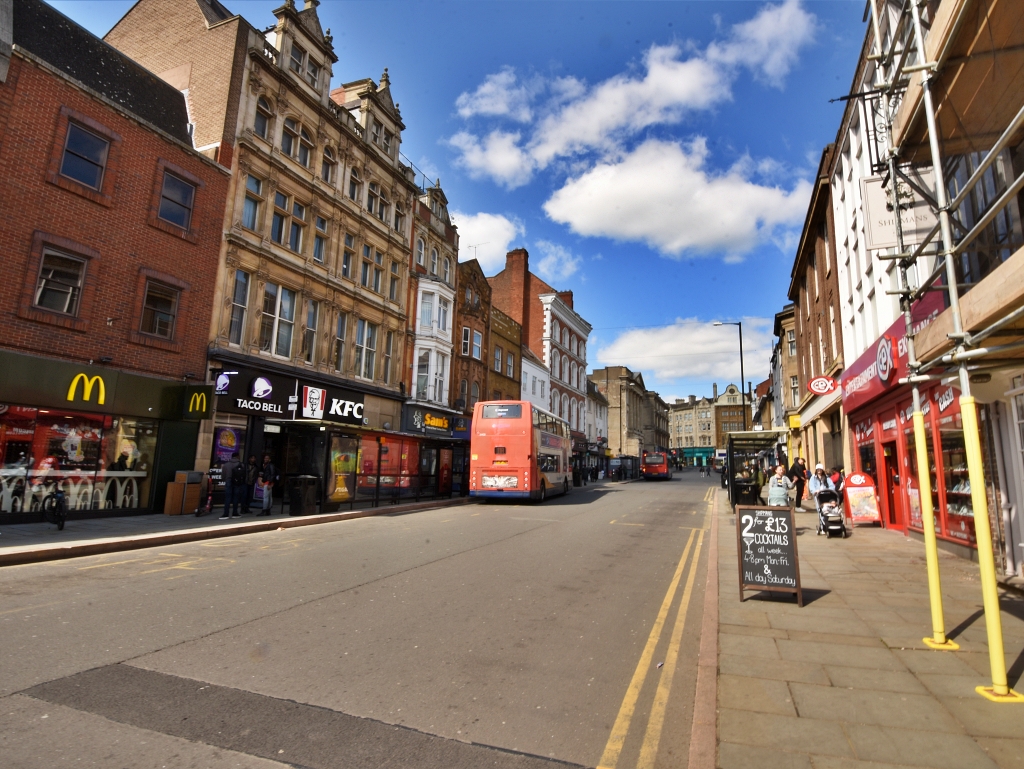 The Drapery © essentially-england.com
During the 18th and 19th centuries, this now very busy road was the heart of the drapery business. Northampton was famous for its wool and cloth and the industry generated much of its wealth.
All that is left from this era are some attractive listed buildings.
That brings us to the end of the Northampton Heritage Trail. If you have enjoyed learning about Northampton's history and culture, then have a read of some of our other pages that explore Northampton.
Our Northampton Knights Walk starts from Delapre Abbey and visits all the wooden knight sculptures, some wonderful parkland including parts of the Battle of Northampton battlefield, and the Eleanor Cross. Northampton was famous for its shoe making and we describe a short walk around the shoe making quarter. If you're an early history lover, then how about exploring Hunsbury Park and its iron age fort. Apparently, it was also used as a camp site by soldiers on the eve of the Battle of Northampton in 1460! We were a little surprised to find out that one of the UK's best parks is in Northampton. Why not join us for a gentle stroll around Abington Park?
---
---
Northamptonshire Holiday Cottages

Northamptonshire is a largely rural county in the centre of England, renowned for shoemaking, stunning countryside, and very pretty villages. It makes a great place for walking and cycling and is ideal for a muted holiday or short break.
Below, we've collected some holiday cottage ideas. Personally, I would love to stay in Stoke Bruerne, right next to the canal. Stoke is a friendly, pretty village with a couple of pubs, an Indian restaurant, and easy walking from the door.
Fernlea Cottage
Greatworth
Sleeps 2
Deerpark Barn
near Daventry
Sleeps 4
Carpenters Barn
Staverton
Sleeps 6
To browse holiday cottages in other parts of England click here.
If you've enjoyed reading about our Explore Northampton Heritage Trail walk and would like to read about more days out return to our homepage here.