A London Break with a Harry Potter Theme

A must for all Harry Potter Fans
If you loved, or you know someone who loved, all the magic and wizardry of the Harry Potter books and films, then our Harry Potter themed London break would make an excellent surprise for the ardent fan.
You can cover the main sites we explore in one - very rushed! - day, or you can turn your exploration into a short break, add a little more time to your itinerary and see a little more of London, one of the world's most exciting cities.
The idea behind this post comes from a surprise birthday treat, a day out from our Northamptonshire home. With both of us being Harry Potter fans we treated ourselves to a fun magical day out. We got to drink butterbeer and eat Bertie Bots Every Flavour Beans, before enjoying a mystery dinner in the evening.
The recipient of this day out had no idea what was on the agenda until it became obvious.
So... what surprises can you arrange for the Harry Potter fan in your life?

Hogwarts Great Hall at The Harry Potter Studios © essentially-england.com
Harry Potter Themed London Break – Day 1


It's an early start from Westminster Underground Station for a guided 3-hour walking tour visiting Harry Potter film locations in London. You will need either a London Travel Card or an Oyster Card as the tour uses public transport.
Your knowledgeable guide will regale you with stories and bring the film locations to life. Your starting point at Westminster was used in The Order of the Phoenix as Harry and Mr Weasley made their way to the Ministry of Magic. The external views of the ministry in Harry Potter and the Deathly Hallows were from along Great Scotland Yard. You also see the location of the red telephone box used to enter the ministry!
Next, you'll visit sites of Death Eater action from when they were causing havoc on the Millennium Bridge and at Trafalgar Square at the start of The Half-Blood Prince film. Both are also brilliant sites to visit for non-Potter fans and great photo opportunities.
Between Convent Garden and the West End theatre land, you visit a couple of small courts that were the inspiration for Diagon Alley. Goodwin's Court is a narrow alley full of seventeenth century terraced houses and Cecil's Court, a slightly wider alley full off shop fronts with overhanging signs. See what you think!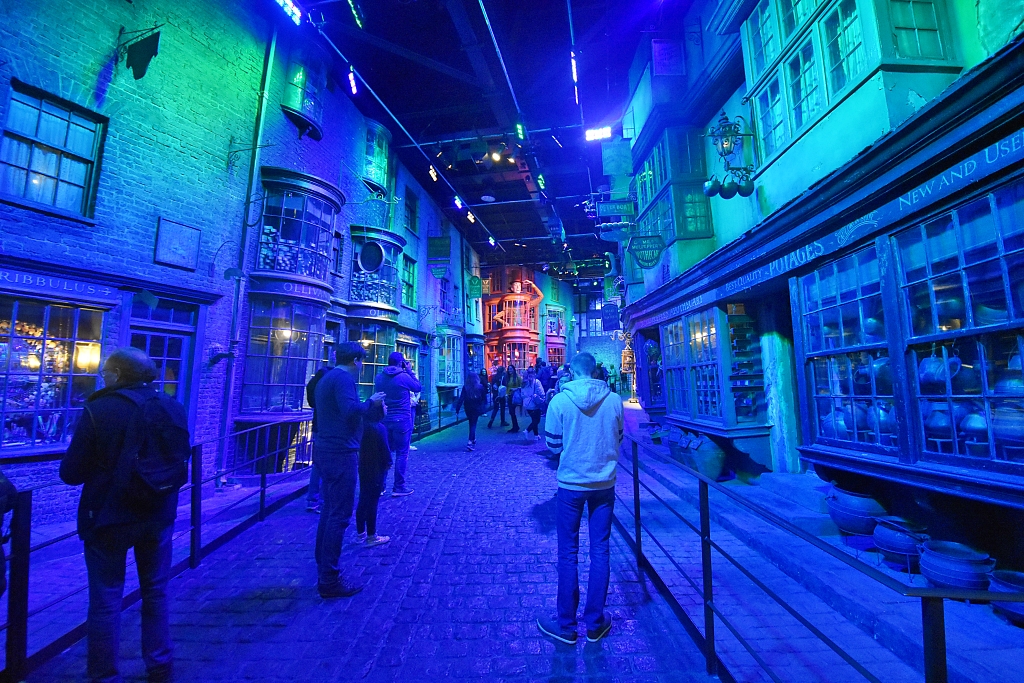 Diagon Alley at The Harry Potter Studios
© essentially-england.com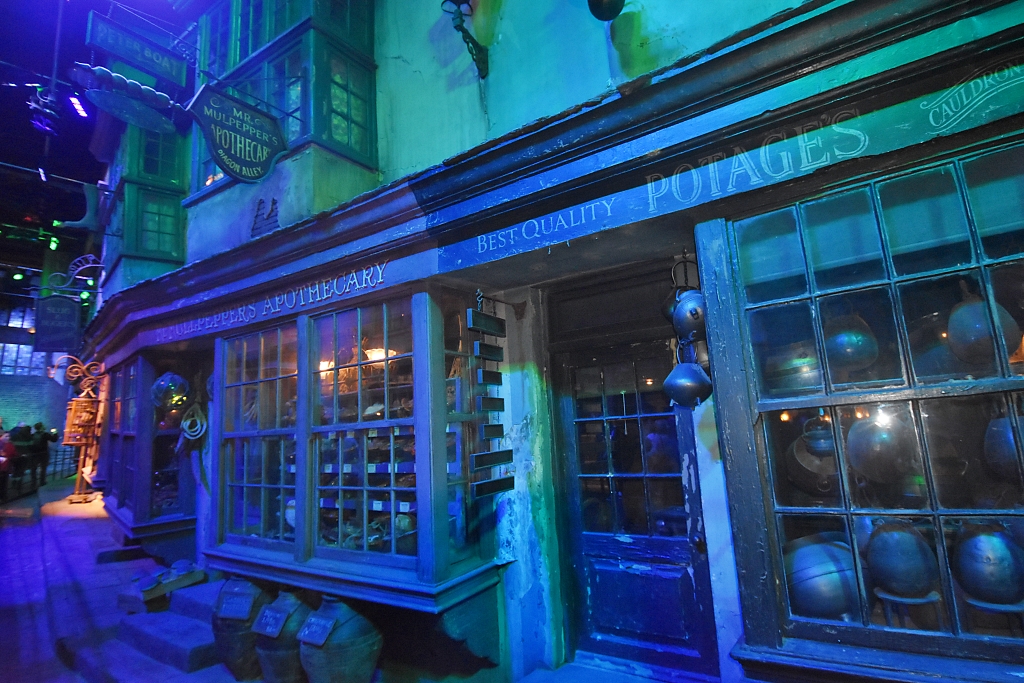 Shop Front Along Diagon Alley
© essentially-england.com
Your tour then moves to London's oldest food market, Borough Market. You get to see one of the locations used as the entrance to The Leaky Cauldron and the location where Harry gets off the Knight Bus.
Naturally, the tour must conclude at Platform 9 ¾ on King's Cross Station where you can photograph your attempt to get to Hogwarts. There is also a great Harry Potter shop where you can buy all sorts of magical gifts and mementos.
The tour finishes around mid-day, which gives you the rest of the afternoon to have a relaxed lunch and discover more of London. Perhaps take a river cruise or visit a few of your favourite sites.
---
---
To continue the magical and mysterious idea of our Harry Potter themed London break we had a great evening meal at Dans Le Noir, a short walk from Barbican Tube Station or Farringdon Train Station. If the name does not give away what this experience is about, then translated into English it means "in the dark".
Here we had to leave our phones and camera in a locker, choose from a vegan/vegetarian, or meat and fish dinner and then wait for our guide to take us into the dining room, which lay in complete darkness. Walking through a room with our hands on the shoulders of the person in front, unable to see tables or other diners, until we finally got to sit down was an eerie experience. In the darkness, the laughter, chatter, and clatter of cutlery all seemed extra-loud. And then we had to try and eat and drink!
Pouring a glass of water was a team effort as one poured and the other had a finger dipped in the glass to say when to stop!
We identified the component parts of our dinner by smell and touch and taste - wondering all the while if we got it right.
And all through the meal, servers moved through the room without getting lost, bumping into tables or spilling food and drink. At Dans Le Noir, most of the staff are blind or partially sighted - and they navigated the busy room as we would in bright daylight. It made for an amazing experience.

At the end of an enjoyable meal, diners get to rejoin the restaurant's lit spaces. At the bar, we had to "report" what we thought we'd eaten - before we learned what had really been on our plates. We got most of it right, some of it wrong... and no, we're not telling as that would be spoiling the fun!
What we'll do instead is recommend you try it yourself, because dining in total darkness made for an unforgettable experience!
---
The Hogwarts Express Waiting at Platform 9 3/4 at The Harry Potter Studios © essentially-england.com
---
Another idea to keep with the magical and mystery theme would be to go and see a West End show. And I could think of nothing better than going to see The Mousetrap by Agatha Christie. This wonderful whodunnit is the world's longest running play and the theatre is a beautiful venue.
---
---
Harry Potter Themed London Break – Day 2

Day two is a trip to the Warner Bros. Harry Potter Studio where you can immerse yourself in the wizardly world of Harry Potter. Here you enter the studio via the Great Hall before you wander a massive Harry Potter museum. Learn film tricks, see film props, ride a broomstick, walk down Diagon Alley (is it like what you saw in London?), stand on the platform next to the Hogwarts Express, or admire the Knight Bus. It's all here and the skills of the film makers will amaze you. Any Harry Potter fan will love it!
This magical tour is about 7 hours long and coaches leave London throughout the day. The time inside the studios is 4 hours.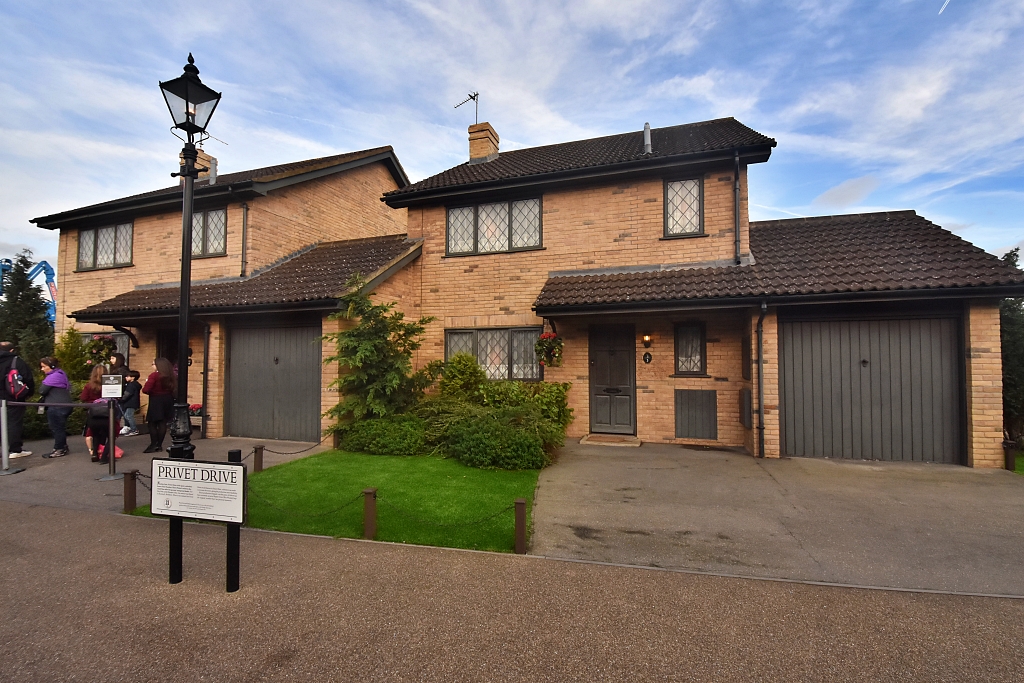 Privet Drive at The Harry Potter Studios
© essentially-england.com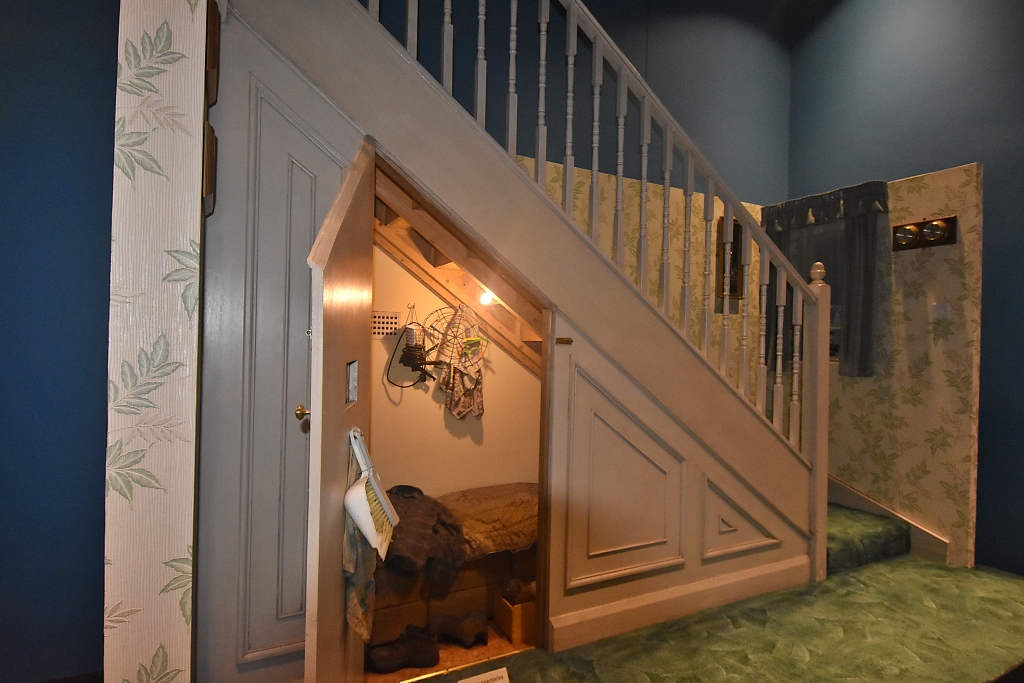 Harry's Room Under the Stairs at Privet Drive
© essentially-england.com
---
Harry Potter Books and Films

And if you feel the need to re-read or watch the Harry Potter story again, why not buy the complete box sets! They would make a lovely gift for your favourite Harry Potter fan.
And why not display your Harry Potter books and/or films between these gorgeous book ends? It would look fantastic.
---
If you wanted to make it a day out, then it is possible to do the London walking tour in the morning and take an afternoon coach to the studios. It will be a rush and a long day, and you have no extra time to discover more of London.
I've arranged to do the walking tour before visiting the Harry Potter Studios because I thought it was best to see the film locations before going on to see how the films were made and the props used. Naturally, you could do it the other way round. If staying in London, then you can book the Harry Potter Studio tour and hotel accommodation here.

We had a great time, and the birthday day out was a great success. Whatever you choose to do, do have a magical Harry Potter Break in London!
Model of Hogwarts School of Witchcraft and Wizardry at The Harry Potter Studios © essentially-england.com
For more holiday ideas return from our Harry Potter themed London break page to the England Holidays page.