Picnic Sandwiches

While tea sandwiches are elegant and restrained, sandwiches destined for a picnic need to be more robust to withstand transportation and being eaten out of doors.
I love picnic sandwiches filled to bursting point with cheese or cold meat and salads. Pickles and spicy sauces add interest, too. Instead of sliced bread, you can make use of crusty bread rolls, baps or - less traditional but equally tasty - wraps and pitta breads.
The important rule for picnic sandwiches is that they should be generous and on no account must they be soggy.
So, when preparing sandwiches, make sure the bread is kept well away from the tomato slices. Either serve them separately, or make sure you pack the tomato between lettuce leaves.
Cheese Sandwiches


Cheese Sandwiches
© Sockknitter | pixabay.com
A Ploughman's Lunch is the ultimate in cheese sandwiches. Offer one of these on your picnic and you'll only need to bring the ingredients for everyone to assemble their own. But the usefulness of cheese as a sandwich ingredient doesn't end here. There are other tasty options:
Creamed Cheddar Sandwiches: Kids love this one. Just grate some cheddar (Red Leicester is also good) and mix with softened butter to a spreadable paste. Use this as a sandwich spread and your picnic sandwiches won't fall apart.
Cheese and Onion Sandwiches: I'm not sure what it is about cheese and onion, but they go together. For sandwiches, I tend to use spring onions. They're a bit milder and make the mix look good. Finely chop your spring onions and mix with grated cheddar. Add a teaspoon or two of mayonnaise to moisten the mix and make it spreadable.
Cheese and Relish Sandwiches: One of my favourite lunchtime treats when we're out with the tandem. Mix grated cheddar with an equal quantity of your favourite relish - tomato and chilli in my case, but mango chutney is equally good - and spread on bread or crusty rolls. Eat in the sunshine with a crunchy apple.
Chicken Salad Sandwich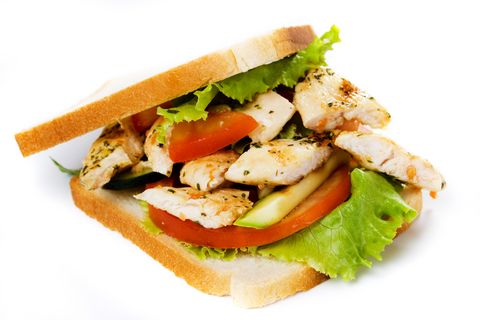 Chicken Salad Sandwich
© Msheldrake | dreamstime.com
Chicken is a very versatile sandwich filling, but processed chicken slices simply won't do. Leftovers from a roast chicken dinner, on the other hand, are simply lovely.
For my money, a chicken salad sandwich needs a crusty roll, big chunks of juicy chicken, lettuce, tomato and lashings of garlic mayonnaise or sweet chilli sauce at the very least.
There are variations on that theme, of course: instead of stuffing your bread with chicken chunks, you could finely shred your leftover roast chicken and mix it with garlic mayonnaise until you have a spreadable filling. You could add thin slices of red onion to your chicken sandwich, or slices of avocado. Hard-boiled sliced eggs or pickled gherkins also add colour.
Ham Sandwich


Ham Sandwich
© stevepb | pixabay.com
Ham and bread combine into one of the finest picnic sandwiches ever invented.
I prefer a crusty bread roll to sliced bread,  ideally with some seeds in and over, but that's entirely your choice. Spread one half of the bread with a little butter, the other thinly with mustard. Thickish slices of honey roast ham, carved from the bone, would be my choice of ham. Lettuce, tomatoes or cucumber slices make a ham salad sandwich.
Relish or sandwich pickle is optional, as are slices of cheese.
Roast Beef Sandwich


Roast Beef Sandwich
© Luisa Leal Melo | dreamstime.com
Roast beef is such a traditionally English dinner, that juicy slices of cold roast beef on crusty bread simply have to make it into my sandwich collection.
Judging by the supermarket shelves, pub menus and trays of freshly made lunches in sandwich shops, roast beef sandwiches are some of the most popular of them all. And of course they make great picnic food.
I like mine with a spreading of either English mustard, the tradtional creamed horseradish or even - not very traditionally English - fiery Japanese wasabi paste. Salad adds some crunch, and if you feel adventurous, why not try adding a slice of mature Gouda or Gruyere cheese to your sandwich.
As you can see, there are as many picnic sandwich recipes as there are ideas in your head. Just think generous, flavoursome and portable and you won't go far astray when preparing your picnic offerings.
Return from Picnic Sandwiches to the recipes page for more ideas.