Rhubarb Crumble

A Tart and Tasty Family Pudding
If you grow rhubarb in your back garden, you're rarely short of a pudding or cake and one of the easiest to make is rhubarb crumble. Served with pouring cream, pale yellow custard or even vanilla ice cream, it makes a very tasty pudding.
At its most basic, a crumble consists of a fruit base and a crumbly topping. That makes it a useful kitchen standby if you have sudden visitors, as everything you need to make a crumble - butter, sugar, flour and some fruit - you're bound to have in the kitchen anyway. So - like many traditional puddings - it's very inexpensive to put together.
Rhubarb Crumble is a real spring pudding. Rich and warming enough if there's still a nip in the evening air, but also tangy and refreshing enough to make a change from the heavier foods we crave during the winter months. Baking, it fills the kitchen with a delicious aroma and when served it cheers with its lovely colour. However you look at it ... an all round winner!
Ingredients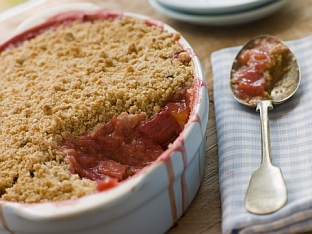 Rhubarb Crumble
© Monkeybusiness | Dreamstime.com
500g of rhubarb will feed 4 people. But this recipe is easily doubled, tripled or even quadrupled to feed a crowd. It's the glory of crumbles that they don't depend on exact measurements for success, but taste just as good if made a little haphazardly. The real restrictions on the size of your pudding are the quantity of fruit you can get hold of and the size of your baking dish.
For a basic crumble mix you'll need 2 parts flour, 1 part  butter and 1 part sugar. (My favourite baking dish takes 500g rhubarb and needs 200g flour / 100g butter / 100g sugar to make the topping with). To give additional crunch to your topping, you can replace 50g flour with 50g or ground almonds or 50g semolina flour.
If your rhubarb is very tart, you may need some extra sugar.
And that's all there is to it. All you need to do now, it assemble the dish and then sit back and relax while it cooks its way to pudding perfection !

How to Make Rhubarb Crumble

Pre-heat your oven to medium.Wash your rhubarb and peel it if the skin is tough before cutting it into bite-sized pieces.
Place in a baking dish and sprinkle with 1-2 tablespoons of sugar.
In a separate bowl rub together the flour, butter and sugar together until the mixture resembles fine crumbs. This can be done very quickly using food processor or mixer.
Spread the crumble mixture over the fruit and bake in a medium oven (180°C or so) for about 30 mins. It's ready when the topping is golden and crunchy and the juices from the fruit have started to bubble through the crust.
Now all you need is a spoon, a tub of ice cream or a jug of custard and you'll have a wonderful end to a meal!
The Best Dish for Making Crumble?

There's a bit of an argument here amongst crumble aficionadoes. Some like a really deep layer of fruit with just a bit of topping, others prefer the crunchy pastry, speckled with caramelised fruit juice. Personally, I use a medium-sized ceramic baking dish for my rhubarb crumble. I place the fruit tightly but almost in a single layer and cover it with a thick layer of crumble topping.
For more tasty dessert ideas return from Rhubarb Crumble to the recipes page.