Rhubarb Fool

Pretty in Pink
The delicate soft pink waves of rhubarb fool look so pretty, I always think that this pudding would make the perfect end to a romantic dinner for two, on Valentine's Day maybe. And it tastes wonderful, too ... velvety and creamy and thoroughly indulgent.
So it might come as a surprise to you that it is not at all difficult to make. All you need is pink rhubarb, sugar and double (heavy) cream, a saucepan, a bowl, a whisk and some pretty glasses or pudding bowls to serve your creation in.
So the next time you're planning to impress your loved one try rhubarb fool. Even if you're not a dab hand in the kitchen you'll be able to cope with this pudding, and the wow-effect alone is worth a little effort. You'll need about 2-3 stalks of rhubarb per person and 300ml of double cream.
Making Rhubarb Fool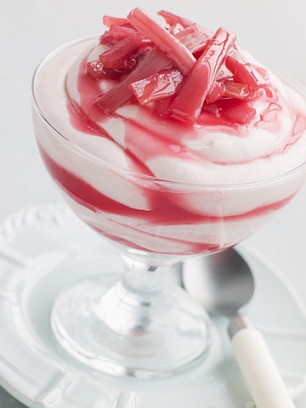 Rhubarb Fool
© Monkeybusiness | Dreamstime.com
Start by preparing your rhubarb. Wash it, peel it and cut it into 2 inch (5cm pieces).
Place the rhubarb in a saucepan and sprinkle with a little sugar - maybe a tablespoon or so - and add 2-3 tablespoons of water or orange juice, just enough to cover the bottom of the pan. Put a lid on the pan and very gently steam the rhubarb until soft.
Remove a few whole pieces of rhubarb for decoration and puree the rest. Taste your puree and add a little more sugar if it is too sharp. Be careful not to add too much, though. You want the rhubarb to cut the richness of the cream.
Next pour the cream into the bowl and whip it with a whisk or hand blender until it stands in soft peaks. (Don't overwhip or you'll end up with butter - you just want the cream to hold its shape.)
Now you have two options: You can carefully fold your pink rhubarb puree into the cream and blend it gently until your cream is streaked with pink before filling it into individual serving glasses or a large decorative dessert bowl and chill. Or you can fill your serving glasses with alternate layers of cream and pink rhubarb before chilling in the fridge.
Either way, top with the whole rhubarb pieces just before serving.
A Pretty Dessert Deserves a Beautiful Dish


For more ideas for tasty puddings check out the recipes page.