Sausage Rolls

Party food or Picnic food? You Decide!
Sausage rolls are something of a cliche. Put three or four people into a room with a few drinks and nibbles and someone will trot out a plateful of the puff pastry goodies. If you're new to English food, sausage rolls are lengths of sausage meat wrapped in flaky (puff) pastry and baked in the oven until puffed up and golden.
They CAN be good if they are home-made and are served piping hot with a spicy relish or hot English mustard on the side.
But more often than not they're just tepid and greasy. And even though they're often on the list, I don't think they make good picnic food. The pastry is just too delicate to survive being dragged around the park until you find your favourite picnic spot.
So I was rather pleased when I came across a recipe for a more rustic version of this old party classic. This recipe apparently dates back to pre-Victorian times and is believed to originate in Sussex, on the south coast of England. Sausages were baked encased in bread dough to serve the local farm hands as a tasty, portable lunch.
Now we're talking!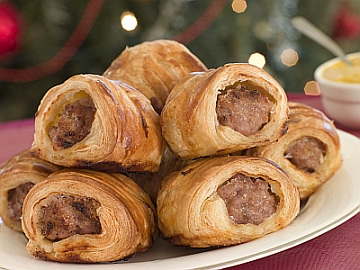 Sausage Rolls © Monkey Business Images | Dreamstime.com
Bread and pork sausages go exceptionally well together. And using bread dough makes the finished product much more robust and much less greasy, even when eaten cold.  So now you have a choice.  Try your hand at making
Both recipes are deceptively easy, even for a novice cook.  And they're great to cook with the children, since rolling out dough and wrapping sausages can be accomplished with just a little help.
Regardless of which recipe you choose to make, the taste of the filling is your key to success.  Choose your favourite sausages or sausage meat, or pick something a little more unusual if you're in a mood to experiment, like pork and leak, even boar and blue cheese. Our local butcher used to come up with some very tasty recipes. He even offered chorizo-style sausage meat, which goes beautifully in the bread rolls.
There are endless variations of this old classic, too.  You could use spicy Vegetarian sausages in the filling.  You could place a few  fried onions or a dollop of relish or mustard alongside the sausage meat before you close the wrapper.  Or you could even fill the pastry or bread dough with a mixture of grated cheddar cheese and chopped spring onion.
Sausage rolls make great party food, especially in winter and for Christmas parties.  Use the bread wrapped ones to offer to carol singers along with a large mug of mulled cider, and serve the puff pastry versions as part of a cocktail party spread.