Shepherds Pie
Thrifty Comfort Food
Shepherds Pie (or Shepherd's Pie in some cookery books) is one of my all-time favourite comfort foods and that is strange, since I never had it until I was in my mid-20s. But once I did, I fell for the simplicity and generosity of this dish, which was originally a way to use up leftover mutton or lamb.
In my copy of Mrs Beeton's Book of Household Management, she suggests slicing or mincing the leftover meat finely, before mixing it with chopped onions and placing it in a pie dish between layers of sliced potato. Moistened with stock and baked in the oven, the leftovers were soon turned into a tasty, filling supper dish.
Throughout the intervening years the dish has evolved. It can still be made with leftover lamb and potatoes, but more often it is freshly made as a supper dish in its own right using minced lamb topped with freshly made mashed potatoes. It's also on the menu of many English country pubs and nothing could be nicer than to tuck into a dish of Shepherds Pie with green peas and carrots on the side after a bracing walk.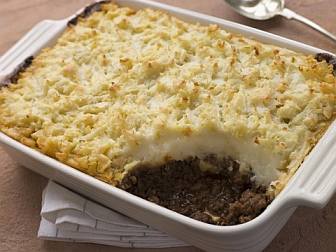 Shepherds Pie © Monkey Business Images | Dreamstime.com
Ingredients
As it was traditionally made with leftovers, Shepherds Pie is a forgiving sort of dish. The list of ingredients look lengthy, but that really shouldn't put you off! Exact quantities don't greatly matter. Most families have their own way of making it - so you'll see plenty of variations when you trawl cookbooks and cookery blogs - so you can easily substitute ingredients that you don't have to hand.
I like a few chestnut mushrooms and a sprig of rosemary in the mix, but you can leave those out or replace them with leek or even broccoli. In the same vein, shop-bought Shepherds Pie often has peas added to the minced lamb, while I prefer to serve peas on the side.
You can even make a very tasty Vegetarian version of this pie by using quorn mince as the base.
500g / 1lb lean lamb mince
1 tbsp vegetable or olive oil
1 medium onion, peeled and finely chopped
2 carrots, peeled and finely chopped
200g / 8oz chestnut mushrooms, wiped and chopped
1 sprig of fresh rosemary
2 tbsp plain flour
2 tbsp tomato puree (or 2 tomatoes finely chopped)
1 tbsp Marigold stock powder
500ml / 16 fl oz vegetable or lamb stock
salt and pepper
750g / 1.5lb potatoes - peeled, cooked and mashed with
50g / 2oz butter
125ml / 4 fl oz milk
How to Make Shepherds Pie

Heat the oil in a large pan and cook the onion, carrots and mushrooms until soft.
Add the mince and cook until brown. Stir frequently to stop it catching.
Drain most of the oil from the pan before stirring in the flour. Cook until most of the remaining fat has been absorbed, then add the tomatoes (or puree), the rosemary, stock powder and stock.
Stir well, then reduce the heat and simmer gently for 15-20 minutes.
Preheat the oven to Gas mark 4-5, 180-190°C, 350-375°F. Place the filling into an oven-proof pie dish and spread the mashed potato on top. Bake uncovered for 30 minutes, or until the top is brown.
Serve with peas and steamed broccoli on the side.
Serve Up Fine Food in Style
For more traditional English recipes return to the recipes page.