The Tour of Britain Cycle Race

Britains Largest Free Annual Sporting Event
The 2014 Mens Tour of Britain Racing in London
© essentially-england.com
Cycle racing in England does not come any better than the Tour of Britain, and being a big cycling fan I have to give it a shout.

Since we last published this page the Tour of Britain has got even better as now there are two events, one for men that is usually held in September and another event for women in June. So us lucky Brits get to see the world's best racing cyclists battle it out on the roads of England, Scotland and Wales twice a year!
The riders race hundreds of miles at speeds of up to 40mph (that's 60 kph to the non-Brits) not counting the descents.
They're sent over wicked climbs and down narrow roads.
They have to deal with whatever the British weather chooses to throw at them. For professional bike racers there's no 'rain stops play'.
And if they want to win, they have to get to the line first, day after day.
Add to this the colour and spectacle that characterises a major bike race: the riders in their muli-coloured jerseys and they multitude of bikes, cars and buses making up the caravan.
Add also police motorcycle relays that are awesome to watch, add villages hanging out the bunting to cheer the riders, add crowds of children and adults along the road side, add music and sponsors' teams handing out freebies.
Add all of these and you'll begin to understand why bike racing is so popular on the continent.
It's a spectacle. It's fun. It's great entertainment. But it's also free! A day out in England just cannot get any better than this!
So if you're in England in June or September and anywhere near the tour route, take an afternoon to join in the celebrations.
2017 Womens Tour of Britain Police Escort Passing Through Rothwell
© essentially-england.com
Like many other cycling fans, we try to watch the Tour of Britain events at least once each year and we usually make a day of it and visit an historic site or explore the local landscape. A couple of times we've ended up eating fish and chips at the coast and other times, for example,  we visited Donnington Castle after the 2008 stage finish in Newbury, and in 2014 the race actually passed Berkhampstead Castle. But this is what the event is about. The race itself and the TV coverage encourages people to visit the area and when they do, they boost the local economy. I wonder how many times I've been sat watching cycling on the TV and said "Wow look at that view/castle/town" as a helicopter camera gives an aerial shot and then plan it into a holiday or day out later!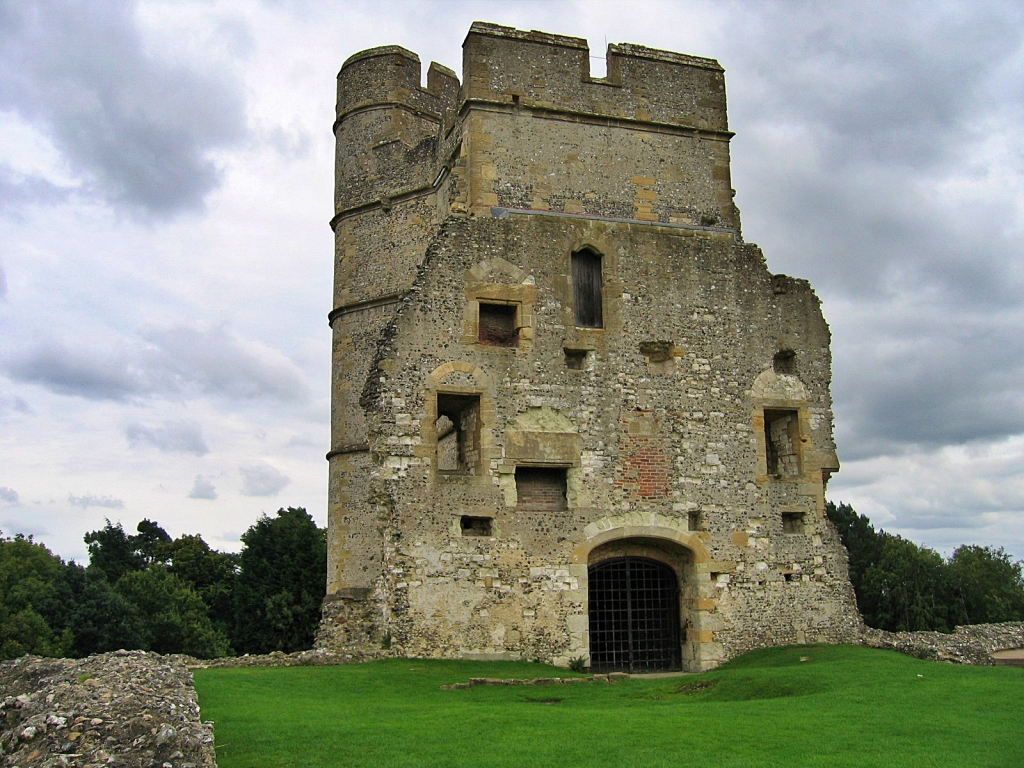 Donnington Castle Ruins © essentially-england.com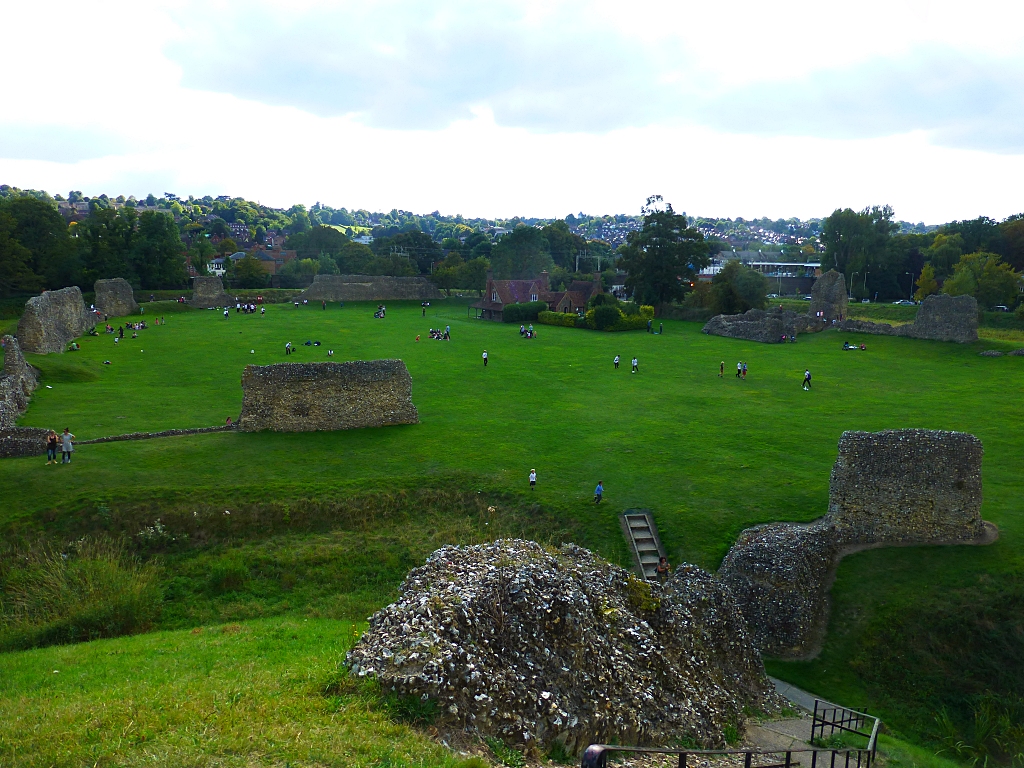 Berkhampstead Castle © essentially-england.com
Back in 2018 the womens Tour of Britain passed through our Northamptonshire village so we didn't even have to travel anywhere.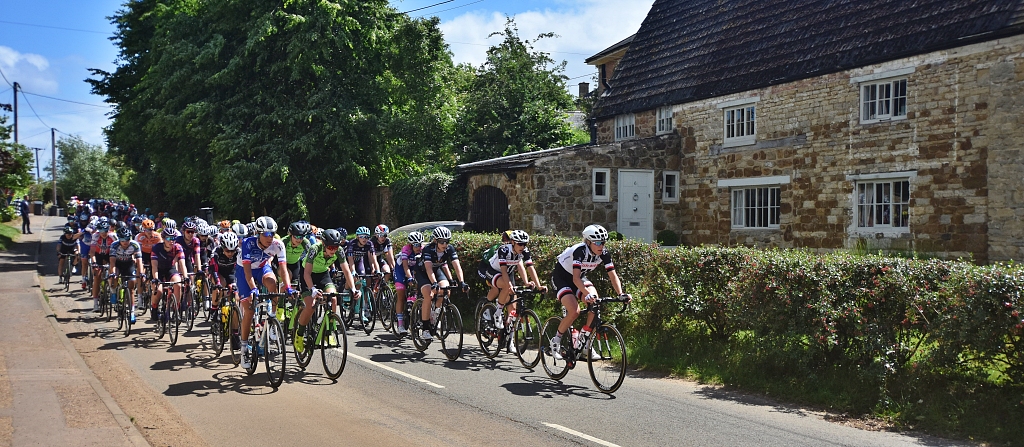 2018 Womens Tour of Britain Racing Through our Northamptonshire Village © essentially-england.com
The race is quite a special event to experience but be prepared to bag a good spot early as the roads start to be closed 15 - 20 minutes before the race passes. Depending on the race route there may be the chance to see the race more than once in a day. My favourite type of viewing points are busy junctions in towns or out in the hills in nice scenery. In towns you get a good atmosphere, especially if there are schools close by, and I particularly like the way in which the police escort shut down the roads. It's very clever and can be quite entertaining when you get a stubborn motorist!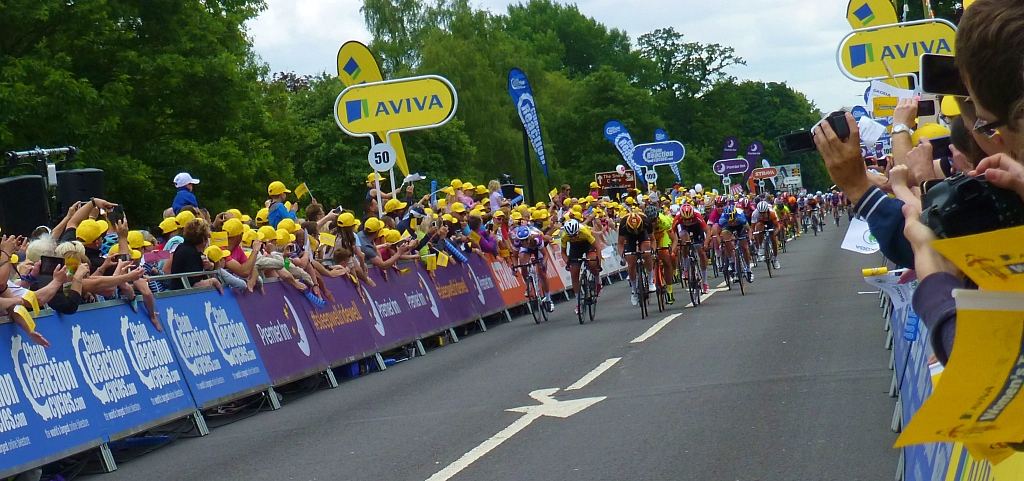 2015 Womens Tour of Britain Stage Finish in Hemel Hempstead
© essentially-england.com
2017 Womens Tour of Britain Stage Winner in Kettering
© essentially-england.com
Seeing a stage finish is also quite spectacular, particularly if it is a large group sprinting for the win. Here the roads would have been closed off much earlier in the day, if not all day. There will be a party atmosphere, loud music, race commentary, and possibly live action on a big screen. Also, after the stage has finished you can mingle around the team cars and buses in the hope of seeing your favourite riders or looking at some of their bikes.
However, being at the finish area one thing you don't get to see is the rolling road closure and the whole race cavalcade flash past. There'll be police cars, around 25 police motorcyclists, possibly another 20 odd motorcycle marshals, VIP cars, organisation cars, TV camera bikes, ambulances, team cars, helicopters, and don't forget 100+ riders. And once the last vehicle of the race convoy has passed, the broom wagon (usually a van with a broom tied to it to sweep up any rider that is not going to finish the stage), the road is open again.
People will start to walk away, the traffic will start moving again, and you'll say goodbye to the stranger you've been happily talking to for the last half an hour or so, and life continues as normal...
The 2017 Womens Tour of Britain Climbs in the Burton Dassett Hills Country Park © essentially-england.com
So if you fancy seeing these fantastic events to keep up to date with race routes, riders, and dates you can use these links to the womens and mens Tour of Britain cycle races.
Make a day out of it and go exploring!
And finally, a safety note, if you do plan to see the Tour of Britain please stand back, respect the riders, and stay safe. Thank you and enjoy the spectacle.
Enjoyed the Tour of Britain?
Find more ideas for wonderful days out!