Walmer Castle
If you like to walk in the footsteps of the famous, then Walmer Castle has to find a place on your itinerary. It is one of a series of coastal defences built during the reign of King Henry VIII to protect England's shores from a Spanish invasion and over time became the residence of the Lord's Warden of the Cinque Ports. Since this office has been held by many men (and one woman) that history remembers fondly, a walk around Walmer is a walk through English history.

William Pitt the Younger, the Duke of Wellington, W.H. Smith, Lord Curzon, Winston Churchill and Her Majesty Queen Elizabeth The Queen Mother have all lived here or used Walmer as a base while carrying out their ceremonial duties. And all have left their mark on the castle.
William Pitt, consummate politician and England's youngest ever Prime Minister, moved to Walmer after having to sell his house to pay gambling debts. There are stories of him carousing with Lord Nelson until the early hours of the morning.
Arthur Wellesley, the Duke of Wellington, actually died at Walmer Castle and the room has been restored - with the original furniture - the way it would have looked that day. Wellington's coffin was kept at the castle while a state funeral was being arranged and many memorabilia of the man - including a pair of Wellington boots - have found their way into the castle's collection.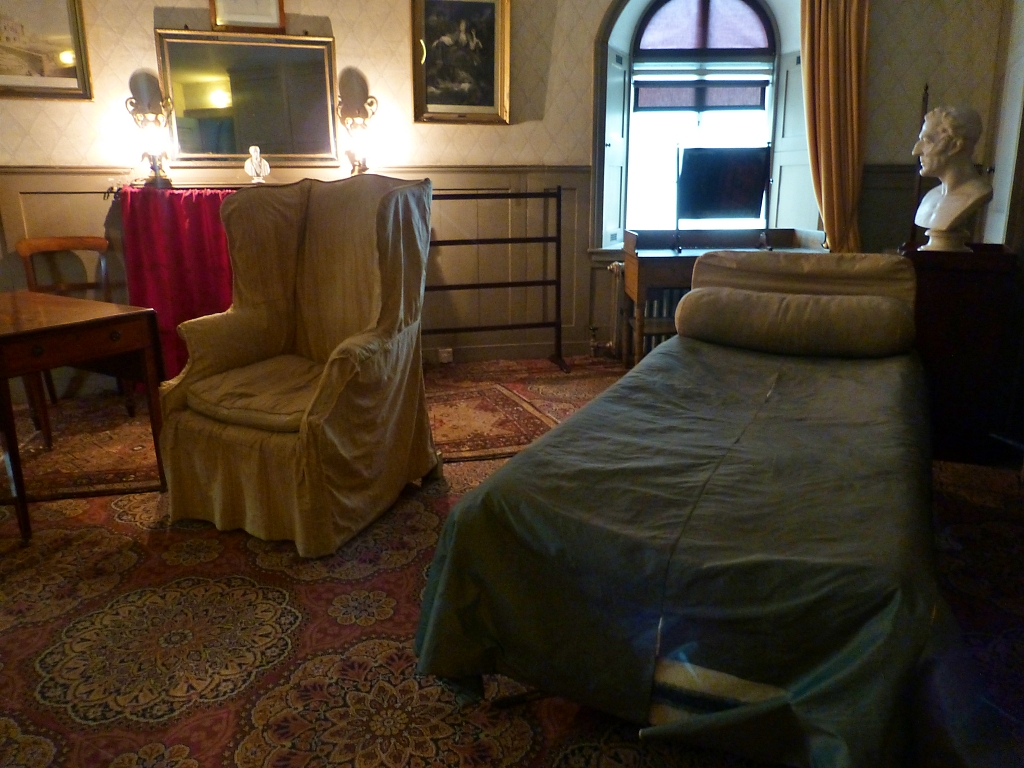 The room where the Duke of Wellington died © essentially-england.com
Which is another story in its own right, because newly installed Lords Warden were at one time expected to buy the contents of the castle from their predecessors on taking office. Many historically valuable pieces ended up being sold until W.H.Smith, part of the well-known publishing family and newly installed Lord Warden, instigated an Act of Parliament to stop this practice.
Walmer Castle
© essentially-england.com
Later Lords Warden added plumbing, maintained the fabric of the castle and improved the living accommodation.
Queen Victoria came to stay at the castle early in her reign and the Duke of Wellington moved into a hotel for the duration of the visit to give the young family - the Queen was accompanied by her husband, Prince Albert, and their two children - space and privacy to take long walks along the beach and see the sights.
One Lord Warden who never set foot into Walmer Castle was Sir Winston Churchill. He became Lord Warden during the Second World War and felt that his presence would only make the castle a target for bombing raids.
In 1978, Queen Elizabeth The Queen Mother was installed as Lord Warden of the Cinque Ports. She was the first woman to ever hold this post and while she didn't live at Walmer, she visited every July, meeting with representatives of the Cinque Ports and local people. The last Christmas card she ever sent showed her sitting in the castle's walled garden.
Which brings us to the present day when the office of Lord Warden of the Cinque Ports is once again held by a soldier. Admiral The Lord Boyce started his military service as a submariner eventually becoming First Sea Lord and serving with the Joint Chiefs of Staff. His appointment as Lord Warden of the Cinque Ports chimes with the original reason for the construction of Walmer Castle - to protect England and her people.
In 1539, the castle's design was state of the art. A low, squat silhouette made the castle a difficult target from the sea. Round bastions were better at withstanding bombardment and the cloverleaf shape of the castle provided the defenders with a wide field of fire.
Even today, when Walmer has been a residence rather than a fortress for close to 200 years, its martial past is still apparent. The gun ports make great windows with deep window seats. The bastions, with canons still mounted, offer stunning views along the coast and across the Channel to France, and the gardens make a great place to walk and contemplate the men and women who walked those paths in years of yore.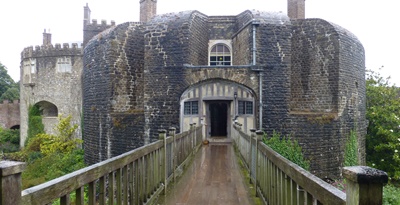 Walmer Castle
© essentially-england.com
Even if the weather gods chose to bless you with rain -as they did when we were here - Walmer Castle makes a great day out for anyone with a bend for history or a little gossip. So add this to your 'Don't Miss' list and make sure you request the free audio tour when you get your tickets. It's so worth it!
Are You Planning to Visit Kent?

Where You Could Stay

Kent is such a varied county and stretches from the outskirts of London down to the south coast. Your holiday accommodation could be in a busy town, rural countryside, or by the sea. We found that there are many big towns, but in between them there is nice, quiet countryside to walk or cycle in. There is plenty to interest history lovers too, from castles to dockyards, and roman to more recent. Here is a small selection of holiday cottages in Kent that might get you into that holiday feeling.
To see other holiday cottages in Kent click here. Or check out holiday cottages in other parts of England by clicking here.
Or, if you fancy staying in a hotel here are some nice examples...

Please click here if you would like to review more Kent hotels.
What You Could See and Do

Are you feeling in need of a holiday yet? Here are a few more pages that might give you ideas...
Stroll around Canterbury and marvel at its cathedral
Visit Dover Castle and experience 2000 years of history
Wander through the beautiful gardens of Sissinghurst
See rope making demonstrations and walk around a submarine in Chatham Dockyards
Relax on the beach at Chamber Sands
Find more great ideas for days out in Kent on this page.