Watercress Soup Take II

The Light Lunch
For a delicate, light lunch dish, this watercress soup recipe is hard to beat. Gloriously coloured, fragrant and full of goodness, this soup will hit the spot whether you're trying to shed a few pounds, or just want a mid-day pick-me-up.
And since it's very quick and easy to make, there's really no excuse.
It matters little whether you're planning to enjoy it all by yourself or invite a few friends to join you. Whether you make a small pot of soup or a very large one, you'll rarely see any leftovers.

To keep the wonderful green colour, it's important not to cook this soup for too long and to blend it right before serving, adding the watercress leaves at the last minute.
For four you'll need: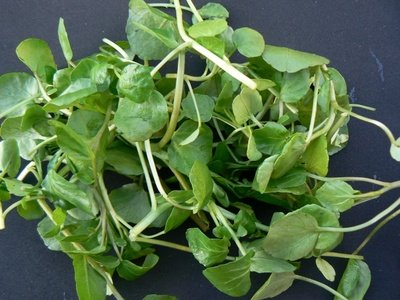 Fresh Watercress
© Alison Bowden | Fotolia.com
1.2 litres (2 pints) of water or light stock
1oz (25g) butter
1 onion
2 stalks of celery
1-2 large bunches of fresh watercress
salt and pepper
a little sour cream to serve
How to Make Watercress Soup

Wash the watercress. Pick the leaves and set aside. Roughly chop the stems.
Peel and chop the onion and celery.
In a large soup pot melt the butter, add the onion, celery and watercress stalks and soften over a low heat.
Add the water or stock, bring to the boil, and simmer until the vegetables are tender. The soup can be prepared ahead to this point.
When ready to serve add the watercress leaves to the hot soup and leave to wilt for a few minutes. Then puree the soup in a blender until smooth.
Season with salt and pepper to taste and serve with a swirl of sour cream and some crusty bread.
The Very Best Soup Recipes

Check out other watercress soup recipes here...