Yorkshire Pudding
Growing up in Germany, I was taught in English class about the most traditional of all English dishes: Roast beef and Yorkshire pudding. So my first meeting with this fabled beast should have been over a Sunday dinner table. Suffice it to say that it wasn't. And roast beef was nowhere near it, either!
Moving to South Yorkshire, I was promptly instructed that Yorkshire pudding was not traditionally eaten with the roast. When meat was scarce, the pudding was cooked beneath the joint, so the fat could drip into the batter. The resulting 'pudding' was served with gravy as a first course, to help fill diners up before the meat course.
Considering that a good idea, Yorkshire pudding was then also served - filled with onion gravy, leftover roast or even sliced sausage - as a cheap, filling supper.
In this guise, the pudding can assume large proportions - dinner plate size in fact. And that's how I was first introduced to it. Sheffield pubs still serve it this way - and it's usually much better than the tiny, dried out bits of batter offered with many roast dinners.
Properly made and lovingly served it's a generous helping of hot, crisp batter with rich onion gravy in the centre. Cumberland sausage, being sort of neighbourly, makes a very good addition.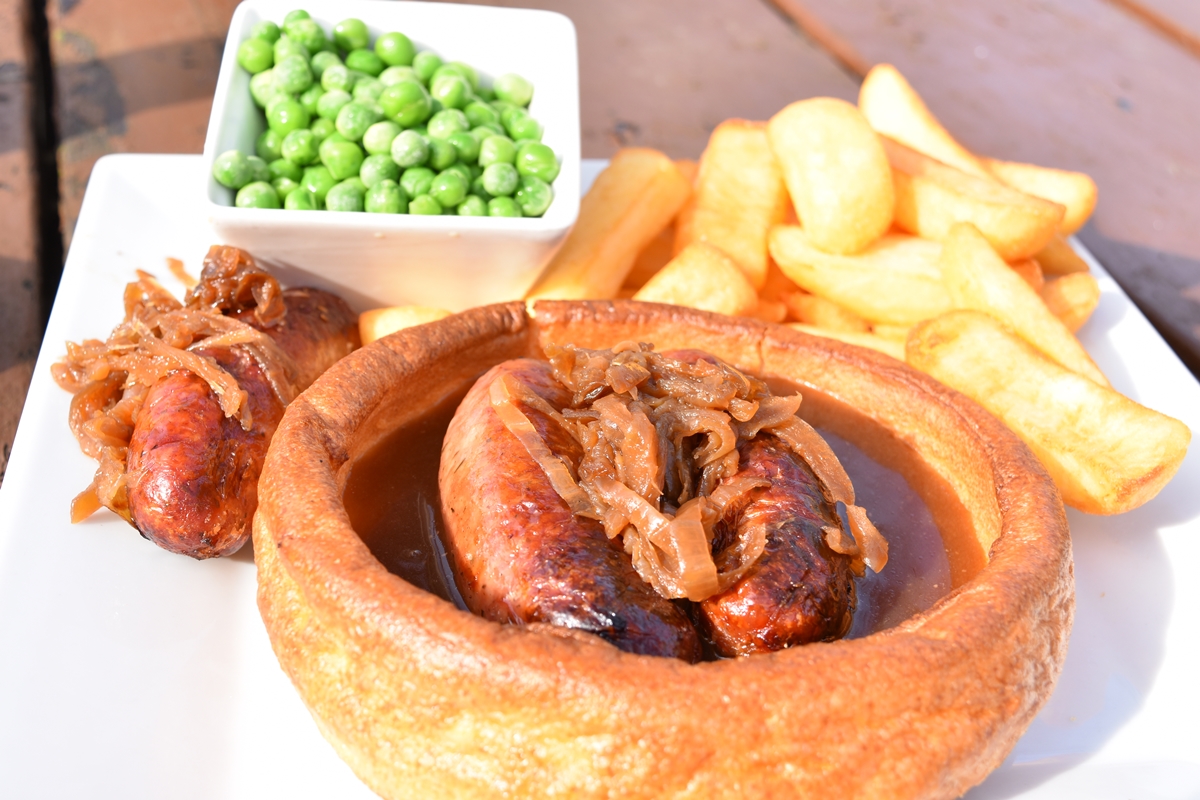 Yorkshire pudding with sausages and gravy © essentially-england.com
If you want to make this at home for your family lunch - and you really should - then you need a four- or six-hole pudding tin like the one below. Alternatively, for a generous dinner-plate version you can use this single pudding mold.
What You'll Need

How to Make Yorkshire Pudding

Yorkshire Pudding
© Paul Cowan | fotolia.com
First rule of making Yorkshires: get your oven very hot. That means gas 9 / 230° C. While the oven heats, mix the flour salt and eggs together, then gradually beat in the liquid until the batter is smooth and creamy.
Leave the batter to stand and meanwhile pour a little oil or dripping (beef fat) into each of the pudding tins and place in the hot oven.
When the fat is sizzling hot, and you can hear it singing when you open the oven door, remove the tins from the oven and carefully pour in the batter.
The batter will spit - so make sure you protect your hands!
If the fat or the oven are not hot enough, the puddings will not rise and crisp, so be patient and make sure the fat is sizzling.
Replace the tin in the oven and bake the puddings until well risen and golden - 15-30 mins depending on their size.
Unmould carefully and fill with gravy!
Want to Know More?
Looking for a dish to go with your Yorkshire Puddings?
Try the recipes section.