Canons Ashby Walk


We've visited Canons Ashby house and priory church several times, but on our last visit, we wanted to heighten the experience and discover a little more of the surrounding landscape. What makes this National Trust site so suitable for an extended day out is that it has a lovely café. Or, if you'd rather picnic, there's space for that, too.
Our 6-mile Canons Ashby walk is mainly over flat terrain and includes touches of history and lots of great scenery.
We did this walk on a fine August afternoon. Apart from visitors to the house and church, we didn't see another person on our route. All we had for company were a few sheep here and there.
If you want to get away from it all for a couple of hours, this route offers an easy meander through quiet rural Northamptonshire countryside. The walk also visits the neighbouring village of Moreton Pinkney, which during the spring, summer, and autumn seasons is a riot of colourful plants and trees in the gardens of the lovely old cottages.
As most of this walk is on grass, gravel track, or quiet roads, it's suitable for any time of the year. The only part that looked like it might get muddy after wet weather was the short stretch along the Byway.
Does this sound perfect? Well, how about treating yourself to a cup of tea and slice of cake in the National Trust café after you've finished. That sounds even more perfecter!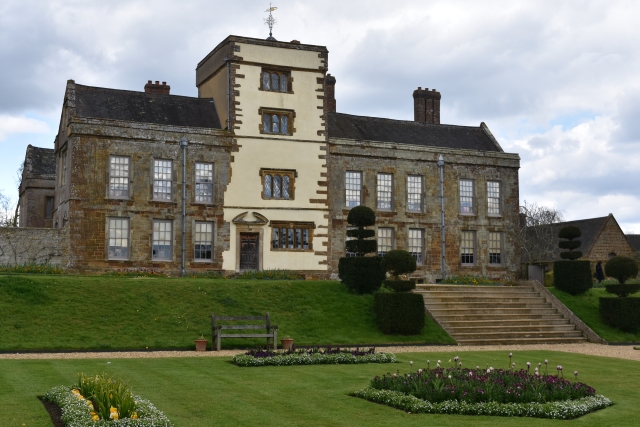 Canons Ashby House © essentially-england.com

Canons Ashby Walk Map

After several visits to Canons Ashby, I found a mention of Ascebi, a deserted medieval village, which I just had to find – I'm like that. Out came my maps and walk planning software. I also wanted to explore the wider landscape around the house and priory church and walk through the pretty village of Moreton Pinkney. I've cycled in this area hundreds of times but have never taken the time to stop and look, and so I designed our Canons Ashby walk to fulfil my unusual interests. What I didn't expect were the peace and solitude!
I used komoot.com to map the walk. If you're a user, you'll be able to follow the route on your phone or mobile device. If you use a GPS tracking device and need a gpx file, then click on "Discover more info about this tour" to download the file.
Let's go for a countryside wander and explore…
---
---
We left the National Trust car park at Canons Ashby and walked towards the main entrance of the house. As we crossed a grass picnic and play area, we had a lovely view across to the church. Passing the café, shop, and house, we joined the road and quickly turned left on to the quiet road that runs alongside the house.
Canons Ashby Priory Church © essentially-england.com
At the end of the garden wall, you get the chance to view parts of the gardens, including the cedar tree and shepherd boy statue, and see three of the gates and their decorative stone gate posts.
On the left, shortly after passing Park Cottage, is an unusual group of trees on a mound called Castle Hill. The mound is about 3 metres high and around 35 metres in diameter and is surrounded by a shallow ditch. This was the site of a motte and bailey castle.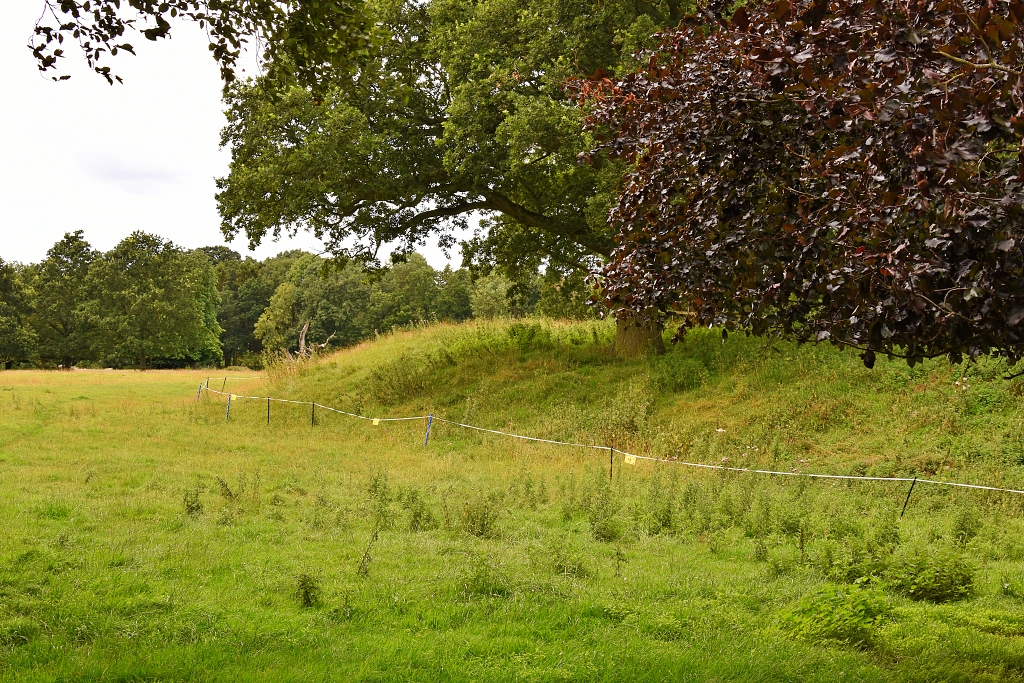 Castle Hill near Canons Ashby House
© essentially-england.com
Castle Hill near Canons Ashby House
© essentially-england.com
We retraced our steps back to the road junction outside Canons Ashby house and passed through a kissing gate on the left-hand side. There was no clear path across this large grassy field, but we walked in the general direction of a footpath sign and the route map on our phone and GPS device.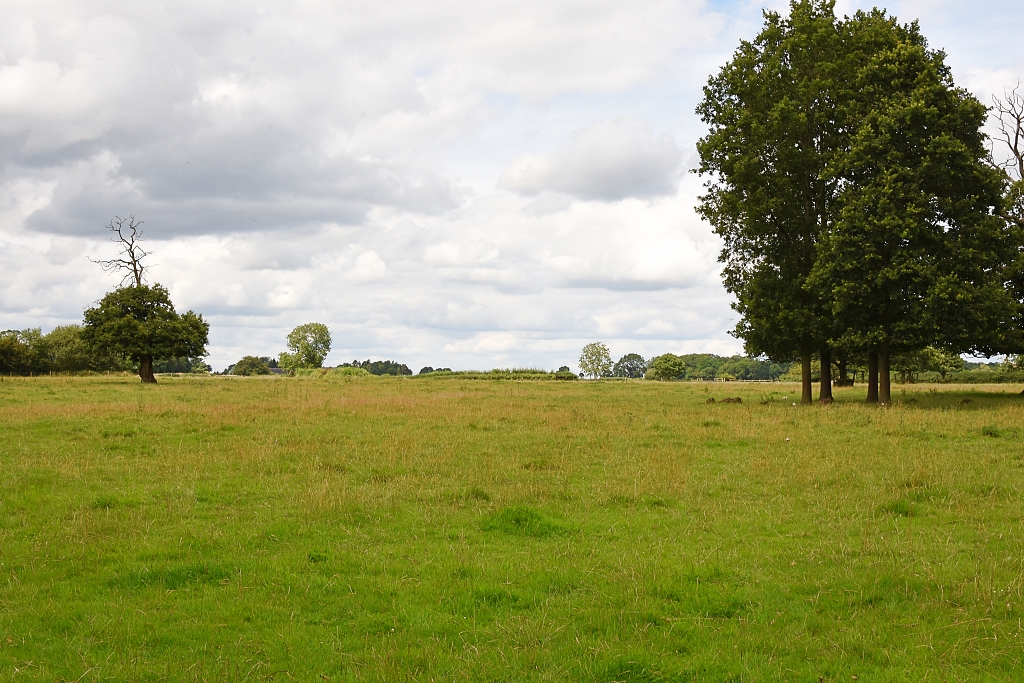 Somewhere Ahead is Ascebi Deserted Village © essentially-england.com
It wasn't long before the ground became very bumpy and lumpy, and we crossed the surviving earthworks of the deserted medieval village of Ascebi. The village was mentioned in the Doomsday Book of 1086. It's worth spending a few moments here as the earthworks are quite well preserved.
Looking Back Towards Canons Ashby Church from the Desert Village of Ascebi © essentially-england.com
We continued across the field to a kissing gate next to a metal field gate and passed into another grassy field. If you like views, here's where you find them! Passing through another kissing gate next to a metal field gate we entered a grassy field and crossed diagonally left to a gate in the hedge. Just after the gate was a wooden plank bridge and then our route joined a Byway.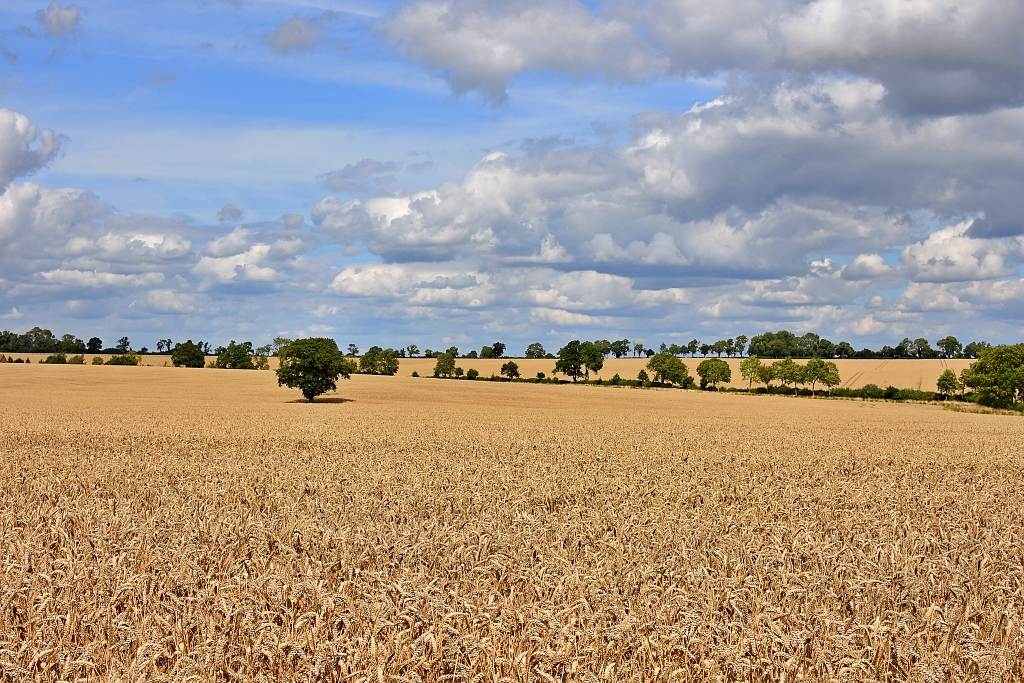 Beautiful Rural Landscape Scene During our Canons Ashby Walk © essentially-england.com
The footpath sign direction shows a left-hand turn, but we took the Byway to the right. Follow the field boundary with tall hedging and trees on our right-hand side and lovely views across the crop growing in the field.
The Byway leads to a road and crosses onto a grassy track, passing a metal barrier. Along this track there is an easy to miss kissing gate on the right-hand side.
We went through the gate and crossed yet another grassy field with just a few sheep for company. The route was now behind Canons Ashby church and possibly on land once owned by the priory.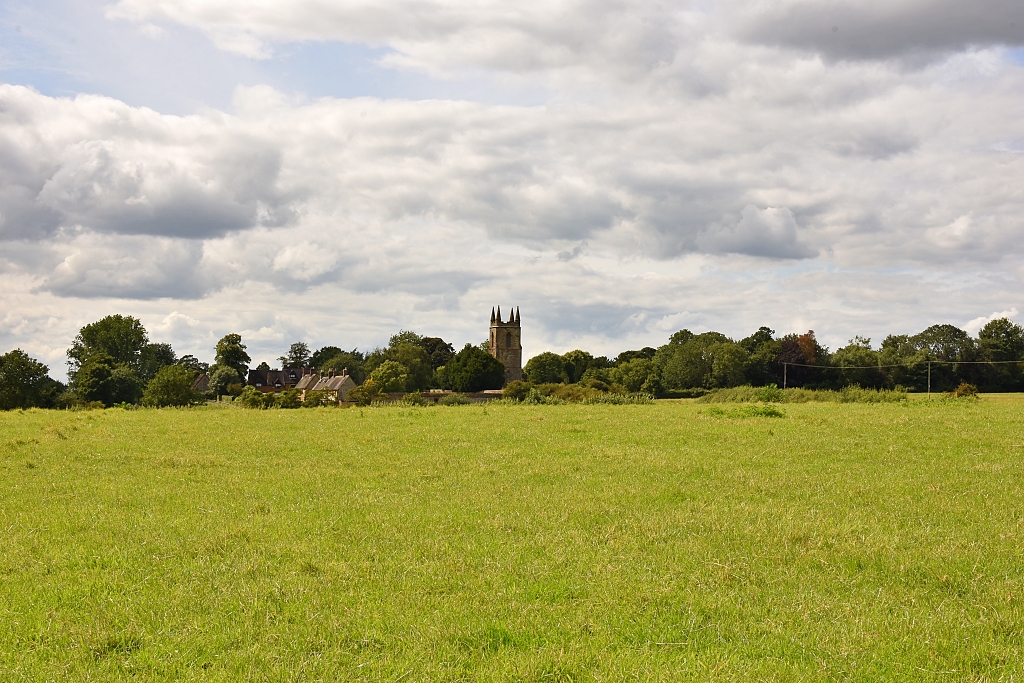 Distant View of Canons Ashby Priory Church © essentially-england.com
We came to a pair of kissing gates and stepped down onto a wooden bridge that crossed a hedge/tree field boundary. At the end of the bridge was another gate and we wandered into a wildflower meadow. A well-marked path cut through the meadow and took us to the road.
Wildflower Meadow © essentially-england.com
We turned left on the road, ignoring the footpath straight ahead. After about 175 metres, we took the footpath on the right next to the driveway entrance of MPS Fuels. We followed the Macmillan Way footpath signs across the fields to the village of Moreton Pinkney. Be warned that on the way we had to cross a couple of wooden stiles!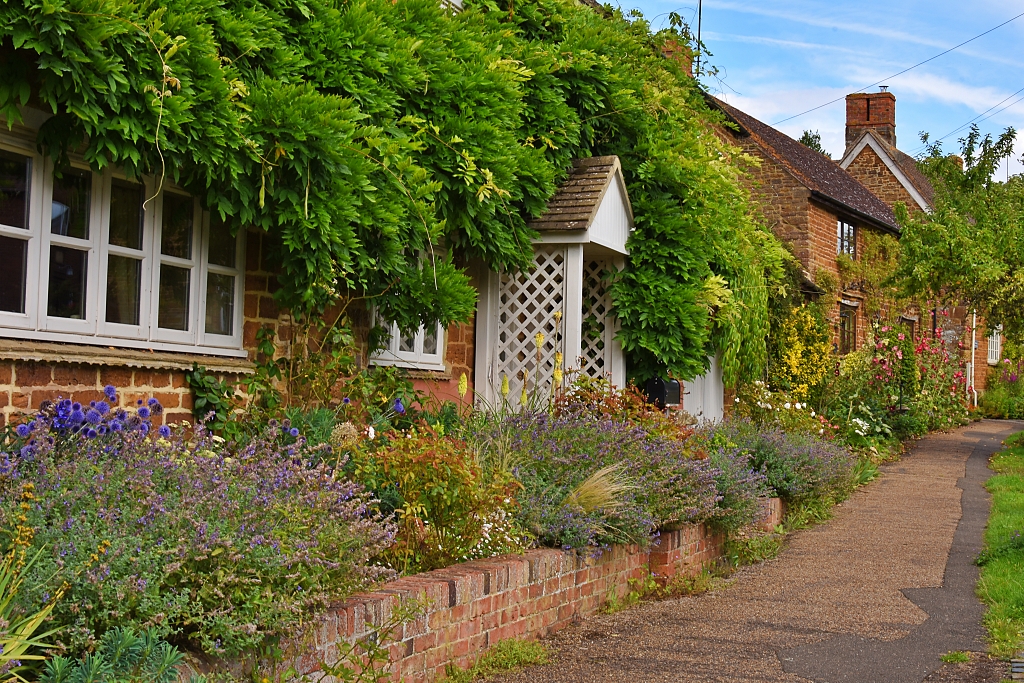 Pretty Moreton Pinkney © essentially-england.com
Upon reaching the main road through Moreton Pinkney, we turned left to start our exploration of this lovely village. We went as far as the old Four Candles pub, or if you're a Two Ronnies comedy lover, Fork Handles pub. We crossed the road and walked along Gravel Hill and back to where we entered the village, all the time enjoying the old cottages and colourful summer gardens on show.
We continued along the main road to pass a stunning lodge and arched gateway to the manor house and on to the St. Mary the Virgin church.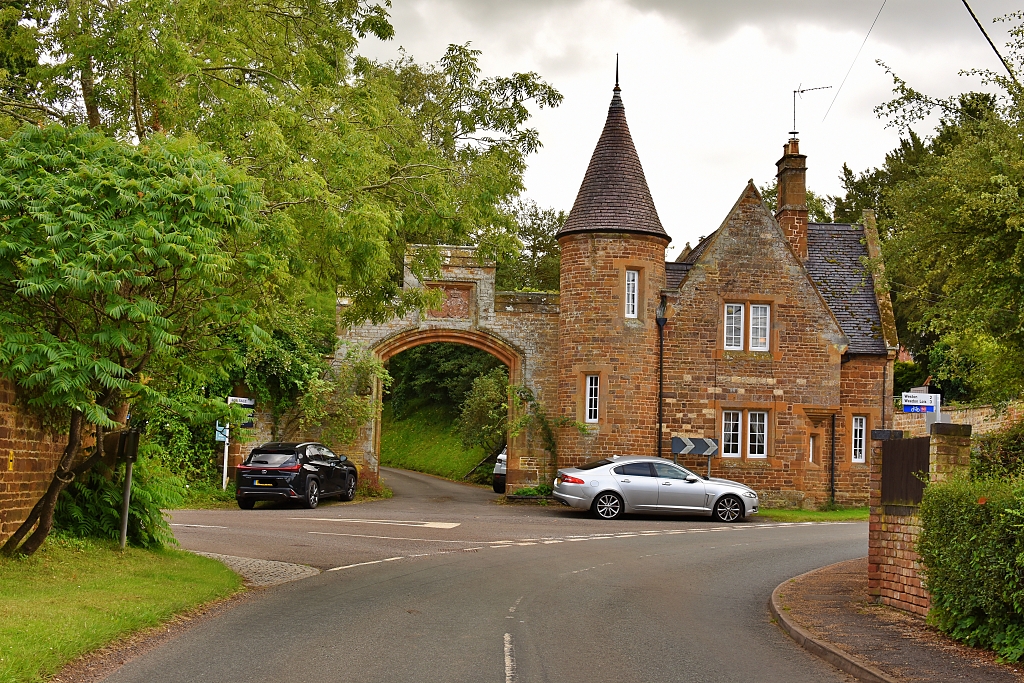 Manor House Entrance in Moreton Pinkney
© essentially-england.com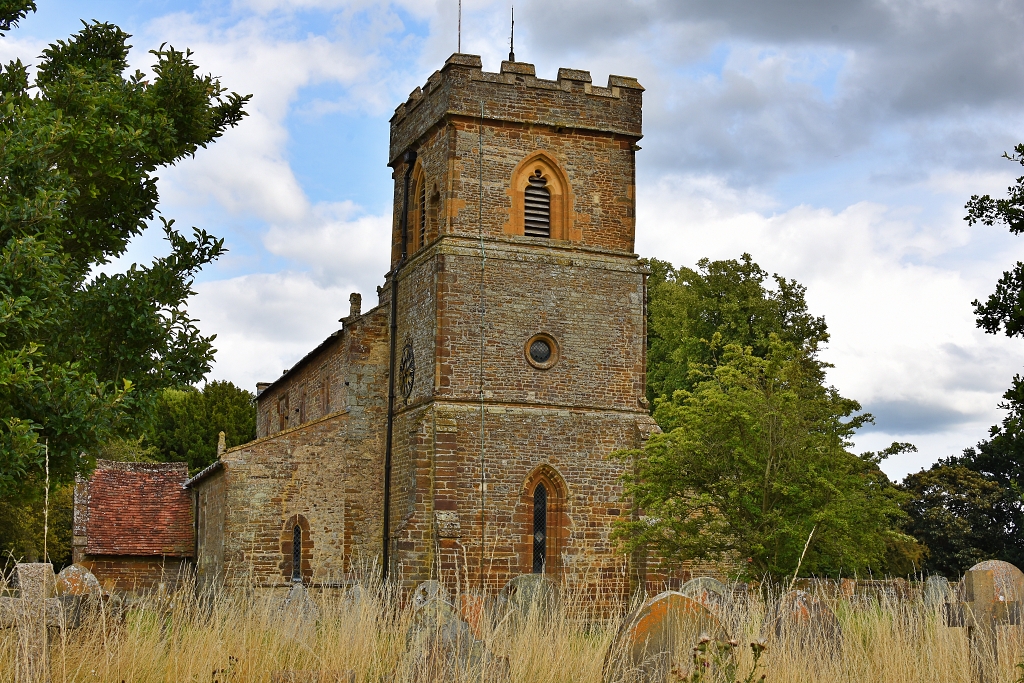 St. Mary the Virgin Church in Morteon Pinkney
© essentially-england.com
After a quick look around the peaceful church, we returned to the main road and took the gravel path to Prestidge Row. There we turned right and walked down to the junction with Brook Street. We turned left down to the end of the village and across the ford. After the ford, the road turned into a gravel track, and we followed this for about a mile until the track met a single-track road among some lovely tall pine trees.
The Ford in Moreton Pinkney © essentially-england.com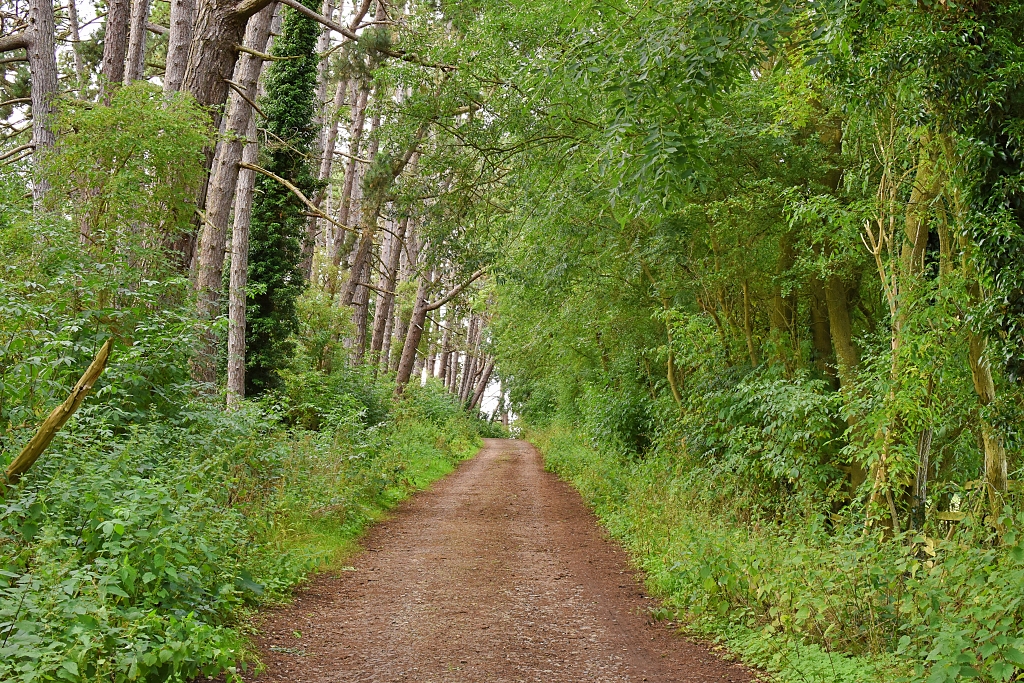 Track Running Through Pine Trees © essentially-england.com
We turned right from the gravel track and away from a stone bridge, following the road out of the trees. The road twisted and turned and passed between the stone piers of an old railway bridge. At a crossroads, we turned right on to another single-track road back to the start point Lovely rural views abound, and we even caught a distant view of Canons Ashby house.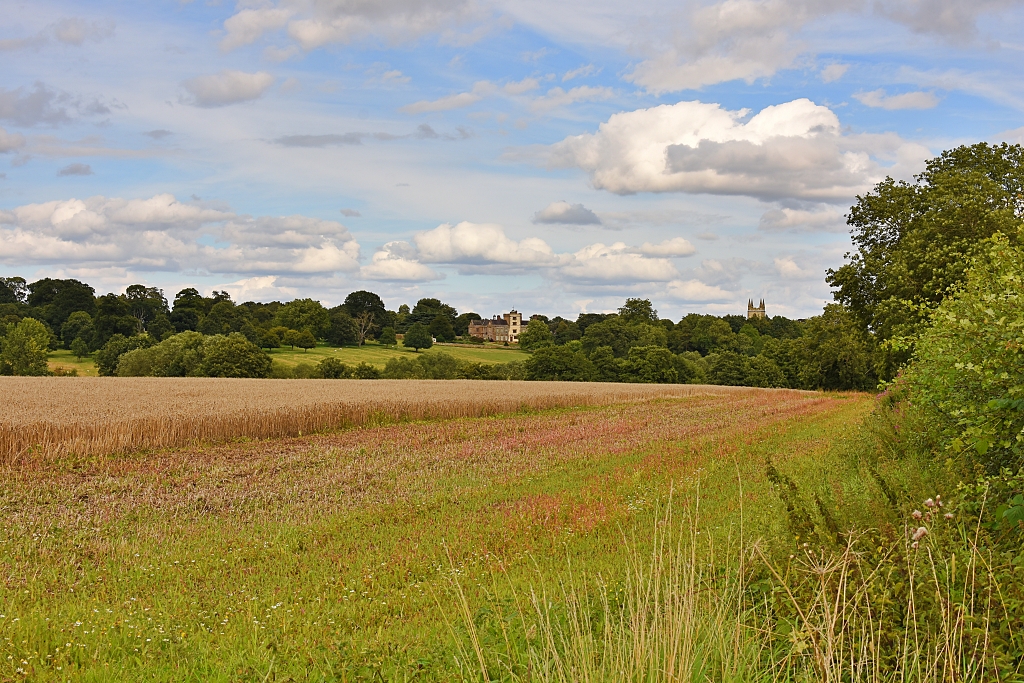 Distant View of Canons Ashby House © essentially-england.com
Finally, just before reaching the National Trust car park, you have a wonderful view of the lion gates and Canons Ashby house.
That brings us to the end of our Canons Ashby walk. We hope you enjoy this pleasant walk and find that it enhances your visit to Canons Ashby. The National Trust also offers some walking trails starting from the site. These vary in length and visit different local areas.
And if you want to discover a wider area and enjoy your cycling, why not try our Canons Ashby cycle ride.
View of Canons Ashby House from the Lion Gates © essentially-england.com
---
---
Northamptonshire Holiday Cottages

Northamptonshire is a largely rural county in the centre of England. It's renowned for shoemaking, stunning countryside, and very pretty villages. It makes a great place for walking and cycling and is ideal for a muted holiday or short break.
Below, we've collected some holiday cottage ideas. Personally, I would love to stay in Stoke Bruerne, right next to the canal. Stoke is a friendly, pretty village with a couple of pubs, an Indian restaurant, and easy walking from the door.
Fernlea Cottage
Greatworth
Sleeps 2
Deerpark Barn
near Daventry
Sleeps 4
Carpenters Barn
Staverton
Sleeps 6
To browse holiday cottages in other parts of England click here.
If you've enjoyed reading our Canons Ashby Walk page and would like to read about more days out return to our things to do in England page here.