Carlisle
Carlisle is a historic and vibrant city that serves as the county town of Cumbria, in the north west of England. It is the city of the lakes, and its position as a border town has resulted in over 2000 years of history. Not many would guess that Carlisle claims the title of "largest city in England"! Covering 1069 square kilometres it's around 15% of the area of the county of Cumbria, which itself is the third largest county in England. It's also around 400 times the size of the City of London.
Due to its strategic setting in the border lands between England and Scotland, its castle and garrison dominate the city's history. It's also famous for its connection to the Reivers, Scottish and English families of lawbreakers that terrorised the area between late thirteenth to early seventeenth centuries.
A Short History
Welcome to the Old Roman Town of Luguvalium
© essentially-england.com
Before the Romans invaded Britain it is believed that the Carvetii Tribe lived around the area of what is now Carlisle.
Excavations suggest that around the year 72 the Romans built a wooden fort on the site of the current castle and the settlement that built up around the fort was called Luguvalium. It was during the Roman occupation of Britain that the 73 mile long Hadrian's Wall was constructed.
The World Heritage Site of Hadrian's Wall traverses northern England and is the most important remaining structure of Roman Britain. Construction started in 122 on the orders of Emperor Hadrian and took ten years to complete. Unfortunately there are no visible remains left running through Carlisle, but there are a number of very interesting sites not far away where the scale of the wall and forts can be experienced.
Around the year 400, the Romans left Britain and the area became the Kingdom of Rheged, whose capital was called Cair Ligualid and later Caer-leul. By the early 700s, Rheged became part of Northumberland and over the next few hundred years the Kingdoms of Northumberland and Strathclyde fought over possession of Carlisle.
Carlisle was not mentioned in the Norman Domesday Book of 1086 as it was then part of Scotland, but it became English again in 1092 when William the Conquerors son William Rufus invaded the area. In 1093, he built the first castle. In 1122, the castle was rebuilt in stone and later stone city walls were added to defend the town. Although well defended, Carlisle still alternated between English and Scottish rule.
The English-Scottish Border
&copy essentially-england.com

The River Sark Acting as the English-Scottish Border Just Outside Gretna
© essentially-england.com
The union of England and Scotland to form Great Britain in May 1707 created a new border and Carlisle was no longer a border town. It was supposed to pacify the area, but during the eighteenth century the sieges of the town and castle continued!
Moving on to the industrial revolution period and a number of factories, textile mills, and food manufacturers appeared. A canal was dug, but was soon closed down and filled in for the railways which came in the 1850s. At one time Carlisle, had the largest railway marshalling yard in Europe.
One local manufacturer worth mentioning was Jonathan Dodgson Carr who started a small bakery and biscuit works in 1831. Within 15 years they had a Royal Warrant and became the largest bakery in Britain. They are still baking Carr's biscuits in Carlisle today and they go fantastic with a good piece of English Cheddar cheese.
Into modern day Carlisle and we've got to mention that it was the birthplace of the famous haulage and logistics company Eddie Stobart. Whilst travelling around England you'll see many of their green, red, and white trucks on the roads.
Carlisle
Like we've done many times in the past, most people bypass Carlisle on their way to Scotland by train or car. However, in March 2017 we made plans to stay in the city on our way to Scotland and explore the history of this remote corner of northern England. In typical essentially-england.com style our research and visit uncovered many interesting historical facts and quirky stories. So let's go and discover Carlisle!
We decided to stay close to the city centre and chose Warwick Lodge Guesthouse after reading the many good reviews. We can strongly recommend staying here as we received a very warm welcome, had a lovely large warm and nicely decorated room, and a tasty breakfast in the morning!
If you like our recommendation, then please use our link above to make your reservation.

The Guesthouse also had a bit of history, as it used to be a private girls school and then an appointment-only bookshop, before being converted to B&B accommodation.
It was just a short walk into the city centre and the start of our tour. The red numbers 1 to 8 on our map work with the text below.
Follow Our Tour using This City Map © essentially-england.com
City Centre Tour
(1) A good place to start any city tour is from the Tourist Information Centre, and in Carlisle this is homed in the elegant pink coloured Old Town Hall in the market place. This attractive Grade I listed building dates from 1668 and was constructed to replace the medieval Moot Hall.
Immediately outside the Old Town Hall, at the bottom of the steps is a reproduction Victorian pillar post box. This celebrates England's first red pillar post box which was installed in Botchergate, Carlisle in 1853.
The Old Town Hall, Post Box, and Market Cross © essentially-england.com
There is a fine Market Cross in the market place in front of The Old Town Hall. The current cross was built in 1682 and is a sign that the city can hold weekly markets and an annual fair. If you look closely you'll see sun dials towards the top of the pillar and these would have been used by the market traders to determine when to open their stalls. We're not sure how this would have worked on a cloudy day and it would have been quite important as fines were issued if trading started before 8am.
On the corner of Fisher Street, just to the left of The Old Town Hall, is the Guildhall Museum. Formerly called Redeness Hall, this lovely timber framed house is the only medieval house left in Carlisle. It was built in 1407 by Richard of Redeness who left the building for the community when he died.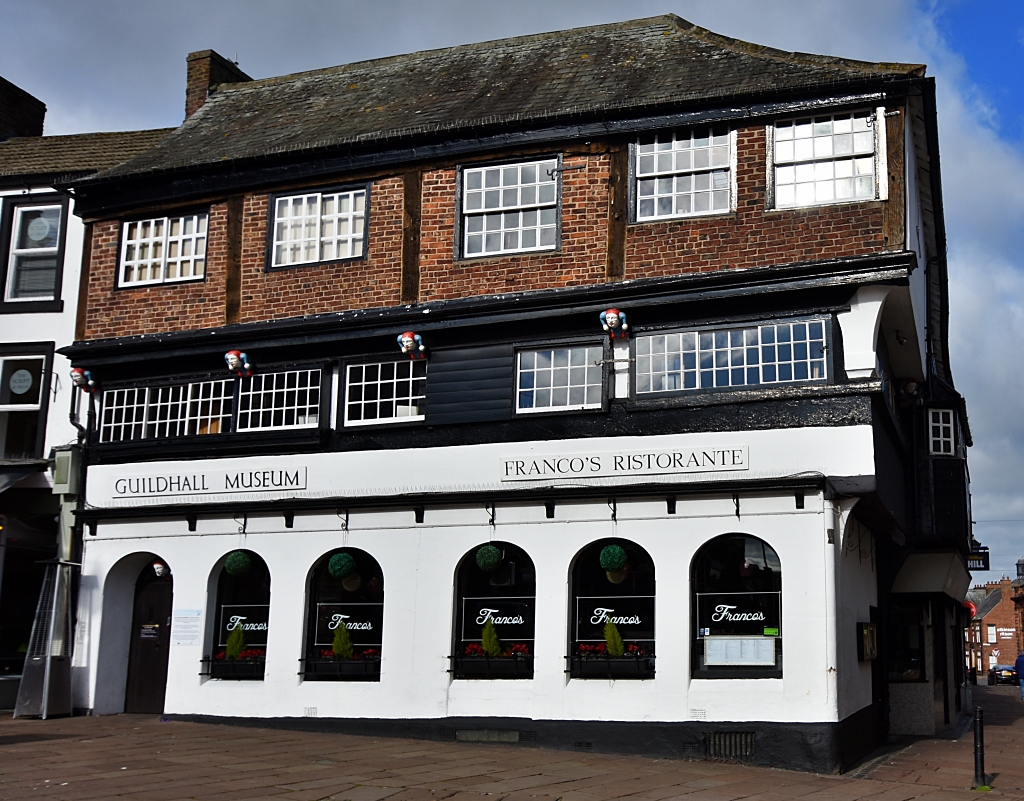 The Guildhall © essentially-england.com
Trade and Craft Guilds are a medieval "invention". They are organisations designed to protect important skills, ensure the quality of their work, and give the craftspeople a voice in town matters. Carlisle had eight such Guilds:  Butchers, Merchants, Shoemakers, Skinners, Smiths, Tailors, Tanners, and Weavers, and each of the Guilds had a meeting room in The Guildhall. The museum tells the story of the Guilds and allows you to view each room and displays of historic Guild items.
(2) If you continue down Fisher Street and turn right at Market Street you will arrive at the Market Hall. This award winning market hall is one of a few remaining covered Victorian market halls in England. It has a wide range of stalls and is open 8am to 5pm Monday to Saturday.
Retrace your footsteps back to Fisher Street and back in the direction of the Guildhall. Shortly after rejoining Fisher Street turn right in to St Mary's Gate and head towards the Cathedral (3).
Carlisle Cathedral © essentially-england.com
Now we are really stepping back in time, as the Cathedral was built in 1133. Here you can explore the grounds and visit the Cathedral with its stunning painted ceiling, stained glass, and medieval paintings.

Leave the Cathedral and walk past the Fratry, Priors Tower, and Deanery to exit the grounds through the gatehouse to the corner of Abbey Street and Paternoster Row. Turn immediately left, down a narrow passage to West Walls. Here you will find the only surviving remains of the defensive city walls that were constructed between 1122 and 1200 (4).
Turn right and head slightly down hill towards the castle. Use the pedestrian bridge to cross the main road and get fine views of the red sandstone castle. Although there are no physical visible remains to see, this has been a military site for almost 2000 years as it was the site of a roman fort and Hadrian's Wall would have run across your view (5).
---
---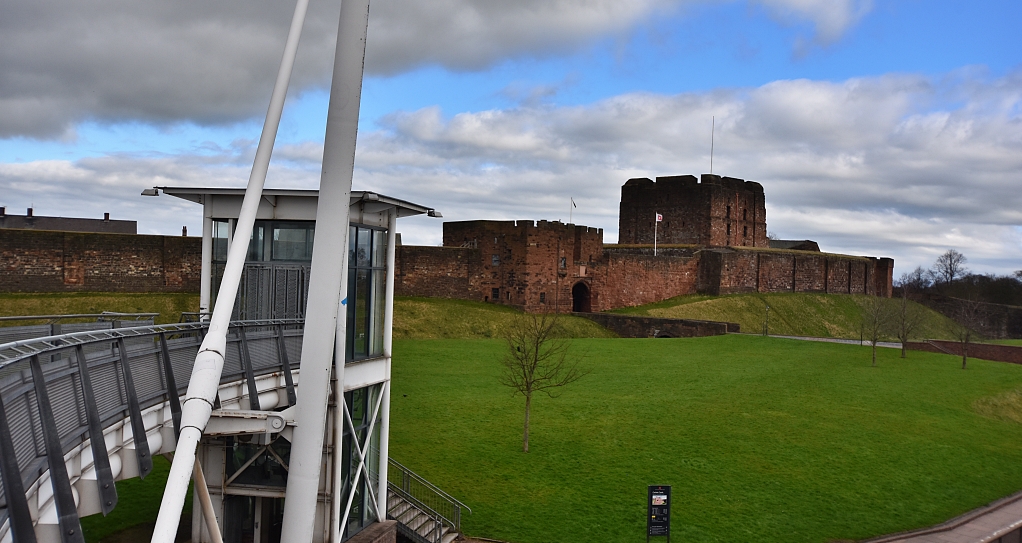 Carlisle Castle © essentially-england.com
Carlisle Castle is unusual in that it has been continually occupied for almost 900 years and through this time has not fallen into ruin or been converted for other use. What you discover is a medieval castle that has been modified for military use through the centuries. And like the city, the castle also holds a title - the most besieged place in the British Isles!
Also on site is Cumbria's Museum of Military Life which is a wonderful collection of military artefacts and stories of the local regiments.

(6) Leaving the castle, walk away from the main entrance back towards the city centre. You'll have the option to take the Millennium Tunnel or Underpass which was constructed in 2001. The walls of this unique underpass are the glass block listening wall and the metal wall which displays metal objects representing Carlisle's history. The granite pavement is engraved with Reiver family names.
At one end is the controversial Bishops Stone or Cursing Stone. This attractive looking piece of polished granite is engraved with part of the 1069 word curse that in 1525 Gavin Dunbar, the then Archbishop of Glasgow, issued against the Reiver families. Part of the curse, taken from Wikepedia, is given below:
I curse thair heid and all the haris of thair heid; I curse thair face, thair ene [eyes], thair mouth, thair neise, thair toung, thair teith, thair crag [neck], thair schulderis, thair breist, thair hert, thair stomok, thair bak, thair wame [womb], thair armes, thair leggis, thair handis, thair feit, and everilk part of thair body, frae the top of thair heid to the soill of thair feit, befoir and behind, within and without. I curse them gangand [going], and I curse them rydand [riding], I curse thaim standand, and I curse thaim sittand; I curse them etand [eating], I curse thaim drinkand, I curse thaim walkland, I curse thaim sleepand, I curse thaim rysand, I curse thaim lyand; I curse thaim at hame, I curse thaim [..away..] fra hame, I curse them within the house, I curse thaim without the house, I curse thair wiffis, thair barnis [children], and thair servandis participand with thaim in thair deides. I wary [curse] thair cornys, thair catales, thair woll, thair scheip, thair horse, thair swyne, thair geise [geese], thair hennys, and all thair quyk gude [livestock]. I wary thair hallis, thair chalmeris [rooms], thair kechingis, thair stanillis [stables], thair barnys, thair biris [byres], thair bernyardis, thair cailyardis [vegetable-patches], thair plewis [ploughs], thair harrowis, and the gudis and housis that is necessair for their sustentatioun and weilfair.
The full curse can be found here.
Tullie House Museum © essentially-england.com
Residents have requested that the stone be removed from the city or even destroyed as a number of disasters have occurred since  it was put in place . These include destroying whole flocks of livestock because of foot and mouth disease, severe flooding, factories closing, and Carlisle United football team dropping a league. There is even some worry that it has become the site for satanic practice.
(7) Upon emerging from the Millennium Tunnel continue up Castle Street to the Tullie House Museum. This Grade one listed Jacobean building, which sits in a lovely garden, houses fine collections of art, human history, and natural science.
(8) Follow Castle Street, back up to the market place. With the Old Town Hall behind you walk straight along English Street to the Citadel. These two imposing red sandstone towers protected the southern entrance to Carlisle. The current towers were built in 1811 to a design by Thomas Telford and replaced the citadel initially built by King Henry VIII in the 16th century. These new towers were used as courts and a prison. Tours of the west tower are available on certain days.
The Citadel © essentially-england.com
Things to Do Around Carlisle
If you enjoy holidaying in a city with convenient shopping and eating then Carlisle is a good base from which to explore the north west of England.
A must-do is a visit to Hadrian's Wall. There are a number of impressive wall and fort museums along its length.
To the west is the Solway coast where you can find good bird watching or a peaceful coastline to explore. Silloth is a traditional Victorian seaside town.
You could go south into the Lake District National Park where you can raise your pulse walking some of the hills to get great views or take boat trips across glorious lakes.
If you fancy going north and crossing the border into Scotland, then Gretna may interest you. This is a town for romantics, as it is where English couples used to elope to and get married by the blacksmith.
Another suggestion is to travel on the Settle-Carlisle railway. It's supposed to be one of the most beautiful rail journey's in England.

---
---
Holiday Cottages Around Carlisle
Or you could use our Booking.com search box to find somewhere interesting to stay.
If you have enjoyed Carlisle, we have more information on Carlisle Castle and Carlisle Cathedral.
Return to the Essentially England Things to do in England page here.