England Holidays

Cycling Tours
Do you love cycling? So do we! There a few things so pleasurable during an English summer as cruising through the lanes, far from traffic, with time to admire the view, stop off at tiny, ancient churches and pick a particularly picturesque spot to enjoy lunch.
As you can see, my husband is the one who knows what he's doing.
I'm usually along to enjoy the ride, read maps, muse over the meaning of old ruins or just revel in the peace to be had so close to some major cities.
We try to have at least one tandem holiday a year, exploring a part of the country we have not yet seen.
Kent, Northumberland, Norfolk, Suffolk, Lincolnshire and Dorset have all yielded amazing days out and lasting memories.
And I really need to get around to writing some of them down ... for us for next time, or for you to try. Just remind me!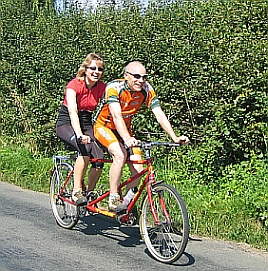 Tandem Riding in the Sunny Cotswolds
© essentially-england.com
A Coquetdale Escape
Here's my first offering: A circular ride around Rothbury in Coquetdale, Northumberland. Not the easiest area for riding a bike, but definitely one of the most beautiful. And given Northumberland's violent past, outstandingly peaceful too. When I need just five minutes to myself to escape from the madhouse, then thinking about the peace we've found on this ride does the trick every time.
---
Cycling in Northumberland
A little less specific, here's a selection of ideas, routes and tours for your England holidays cycling in Northumberland. There's on and off-road cycling, there's mountain biking. Northumberland offers spectacular coastal roads, and trails in the Cheviots that are just as wonderful. You can explore Hadrians Wall at your leisure. There are long sweeping descents and views to take your breath away.
Read more about cycling in Northumberland...
---
Self-guided Cycling Tours in England
If you're new to cycling, or new to cycling in England, you might like to check out some of these self-guided cycling tours. Ranging from a weekend to a week, you cycle at your own pace while your luggage is taken care of and a cosy hotel awaits you at the end of the day.
Read more about England cycling tours...
---
If you love cycling, then you can add an extra dimension to your England holidays. You can explore tiny little lanes, stop in small tea shops, explore grand castles and see the most wonderful scenery from the saddle of a bike. And if you choose a supported tour, you don't even need to carry your own luggage.
Return to the England holidays page for more inspiration and ideas.