Toad in the Hole
If you believe some cookery writers, Toad in the Hole - this generous dish of hot, crispy batter with flavoursome pork sausages - goes back to Roman times! Most of us will have first encountered Toad in the Hole as children and the name would have convinced us that it was fun to eat. But it's a wonderful meal for grown-ups too. Delicious and easy to prepare, it's also a thrifty way of feeding a crowd.
Served with lashings of onion gravy and green peas on the side, this is autumn dining at its best. Offer it on Bonfire Night or after a kid's Halloween party and you'll be left with many empty plates.
By the way, family and friends tell me that you'll never find Toad in the Hole in Yorkshire. If you make your way up north, you'll be served a large Yorkshire pudding with gravy for a starter, while the sausages and peas make up a course of their own. True or false? I'm still investigating that. But if you have definite information one way or the other, please let me know!
Ingredients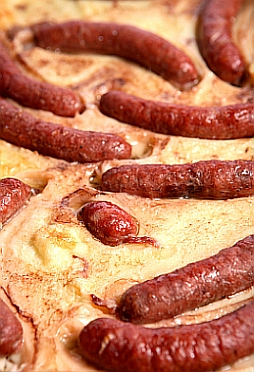 Toad in the hole
© Paul Cowan | Dreamstime.com
This recipe for Toad in the Hole should feed four to six people, but it's easily doubled or even trebled, as long as you have a large enough oven and baking dish.
The tastier your sausages, the better the finished dish will taste. So make sure you choose your favourites, or even pay a visit to your local butcher and see what he can do for you.
Some recipes will tell you just to use sausages - and you can do that of course - but I like nicely browned onions in the mix as well. I think it adds depth to the taste.
If that's not to your taste, then just leave them out.
100g / 4oz plain flour
2 eggs
200ml milk
50ml water
1/2 teaspoon salt
8 good quality pork sausages
1 large onion
2-3 tablespoons olive oil
How to Make Toad in the Hole

You need a large baking dish that will take all the sausages and the Yorkshire pudding mix in one and have space to allow it to rise as it bakes. So it's best to choose a dish that looks slightly too large for the quantity you're cooking.
Make the pudding mixture first, so it has time to rest while you're cooking the sausages.
But before you start any cooking follow the first rule of Yorkshire pudding making: get your oven very hot. That means gas 9 / 230°C. Start it now!
While the oven heats, mix the flour, salt and eggs together, then gradually beat in the milk until the batter is smooth and creamy. Then set it aside to stand.
In a heavy frying pan heat a couple of tablespoons of oil. When hot add the sausages either whole or cut in half and brown them quickly all over. Turn the heat down a little, add the chopped onion (if using) and cook until the onions are soft and slightly browned. Your sausages should look very good now, too. (If you find that they are browning too quickly, take them out and finish cooking the onion).
While the onion is still cooking, add a little oil or beef dripping to your baking dish and place in the hot oven.
When the fat is sizzling hot remove the tin from the oven. Add the sausages (and onions) and pour in the batter, before replacing the tin in the oven.
If the fat or the oven are not hot enough, the puddings will not rise and crisp, so be patient!
Bake the Toad until well risen and golden - 30-45 mins depending on the size of your baking dish.
Serve with gravy and green peas.
Serve Up Fine Food in Style
Looking for other dishes to serve alongside your Toad in the Hole?
Check out the recipes page!