Christmas in England
A Brief History of Now and Then
Christmas has been celebrated in England ever since Christianity arrived on these shores. And as one of the two most holy festivals in the calendar - the other was Easter - Christmas in England was celebrated with solemnity and fasting and prayer, culminating finally in the celebration of the birth of Jesus Christ.
Later, in the Middle Ages, Christmas celebrations became bigger. Many kings of England held spectacular Christmas Courts, when they wore their crowns to impress their subjects and accepted oaths of fealty.
They gave grand feasts and music and entertainments were such as most of their guests never saw at any other time. Guests would go hunting and hawking. There was dancing. Jugglers and acrobats would show their skills. And people would gather to hear famous minstrels perform their newest songs ... just as we go to a concert of a band we like.
You may be surprised to learn, though, that presents were not a part of a Medieval Christmas. In those years, people gave and received New Year's gifts instead.
So, when did it all change?
Strangely enough, we know this quite well. In 1840, the young Queen Victoria married the German Prince Albert, who introduced many of the Christmas traditions he had enjoyed as a child when he came to live in England. And where the Royal Family lead, their subjects soon followed.
Decorated Christmas trees, carols, Christmas cards and presents are - allegedly - all due to the influence of Prince Albert. (And if you know different, please let me know!)
© JanDix | pixabay.com
But does this bother us? Not at all.
Thousands of children write letters to Santa each year and send them up the chimney. We put up trees indoors and out and decorate them as the fancy takes us.
The most wonderful Christmas lights brighten the dark December nights.
Many towns and villages put on traditional Christmas markets and, depending on which part of England you're visiting, you might find yourself at a medieval feast, a Tudor Christmas celebration or even a traditionally over the top Victorian Christmas. Everyone dresses up in period costumes and you can listen to traditional music and try - sometimes unusual - traditional Christmas foods.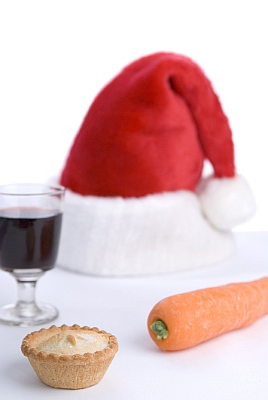 Waiting for Santa with Mince Pies, carrots and sherry
© Christopher Elwell | dreamstime.com
Even if some of our modern Christmas celebrations may have had German roots, we didn't give up on what had gone before and there are many traditions that are uniquely English.
December is cold and dark and usually damp, but Christmas in England is a time for enjoying yourself!
On Christmas Eve we sing carols and hang up stockings and go to Midnight Mass. Then we sit up with carrots and mince pies and sherry trying to catch Santa delivering the presents in the early hours of the morning. And even though we see nothing, tubs of Brylcreem are miraculously replenished ...(maybe Santa does this for my husband's family only!), mince pies, carrots and sherry disappear and stockings are filled ready to be emptied.
On Christmas Day we unwrap presents, play games and go for a walk, and then everyone sits down to the traditional turkey dinner with all the trimmings before falling asleep during the Queen's speech!
Christmas in England ... what could be better?
Christmas in England is magical. Find out what else goes on.