Attingham Hall and Parkland

A Story of Changing Fortunes
The Attingham estate was not our intended day out in Shropshire as we had planned a 2-3 hour walk, but as we got to our start point the heavens opened and we decided that a more "indoors" sort of day was required. The English love to talk about the weather and it was certainly changeable during our week in Shropshire. We're used to these changes of plan whilst on holiday and will be prepared with a to-do-list for dry and wet days. So, we reviewed our map and turned back towards Shrewsbury via Moreton Corbet Castle, and Attingham.
By the time we reached Attingham it was lunchtime and the rain had stopped. We were even able to eat our lunch outside in the Stables courtyard! Maybe, after touring the house we would be able to go for a walk around the deer park and lake.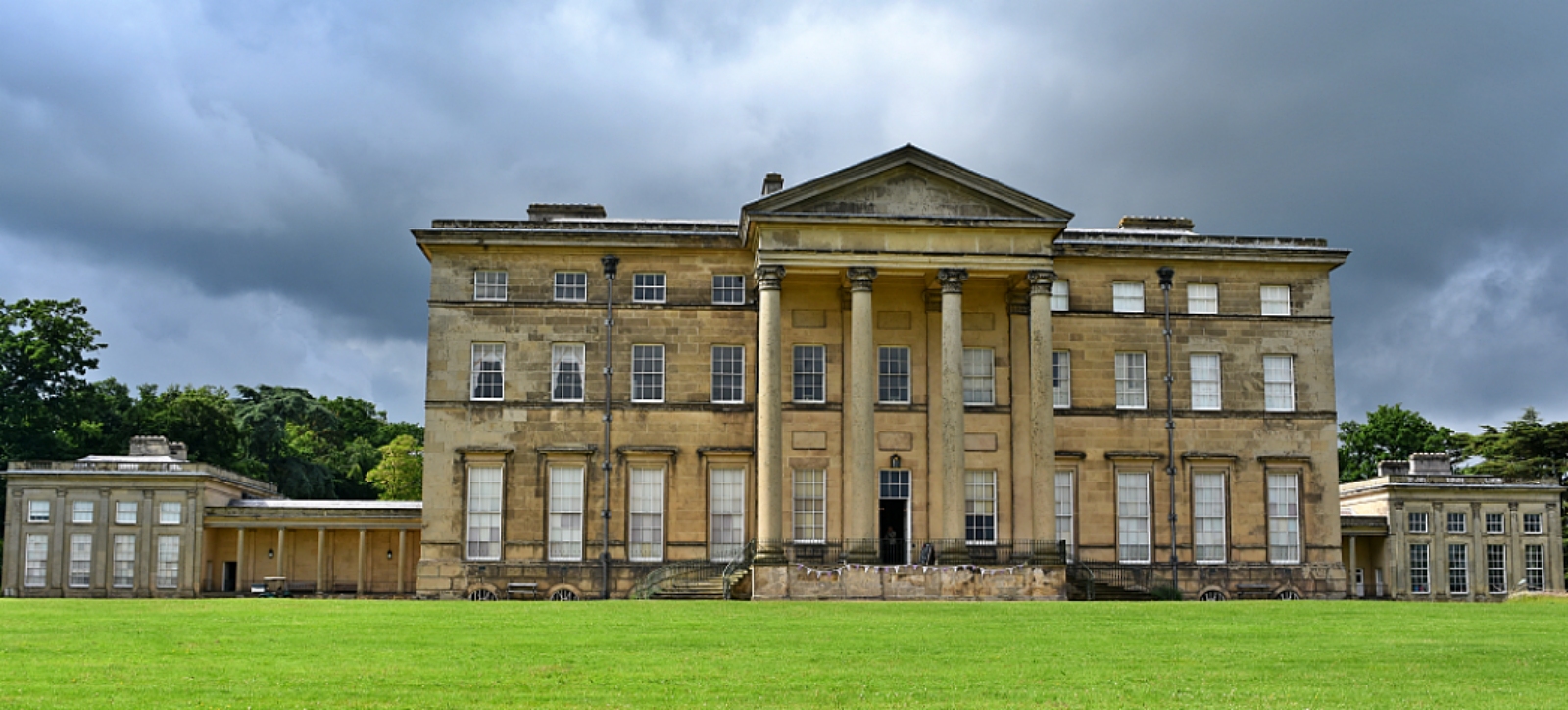 Attingham Hall © essentially-england.com
History of Attingham Hall
The 1st Lord Berwick, Noel Hill, was a successful politician and upon his marriage to Anne in 1768 they were given Tern Hall as a wedding present.  In 1782 he commissioned Scottish architect George Steuart to build a new home for his growing family. The design was to build around Tern Hall, extending in all directions. The new family home was called Attingham Hall. As was fashionable at the time, the house featured symmetrical halves, a feminine side on the east with rooms decorated in soft colours, with pictures of birds and flowers, and on the west, a masculine side where strong colours were used.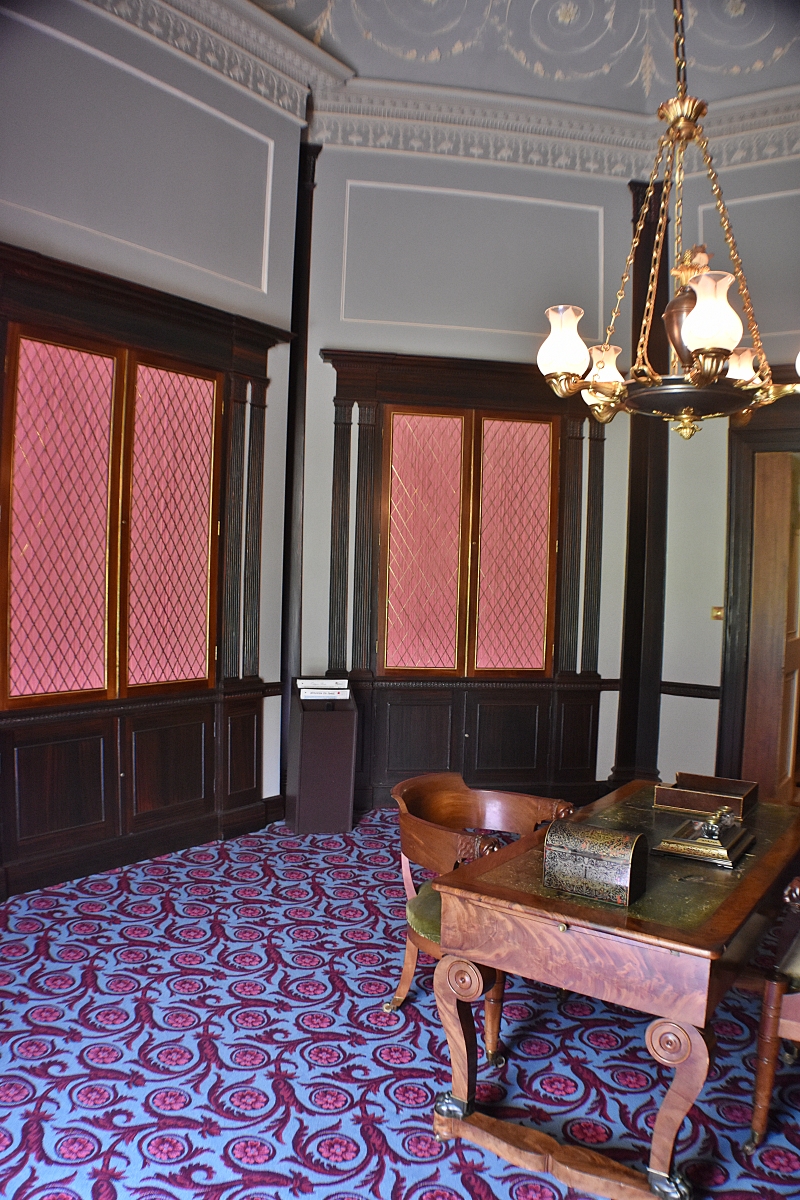 The Masculine Octagon Room
© essentially-england.com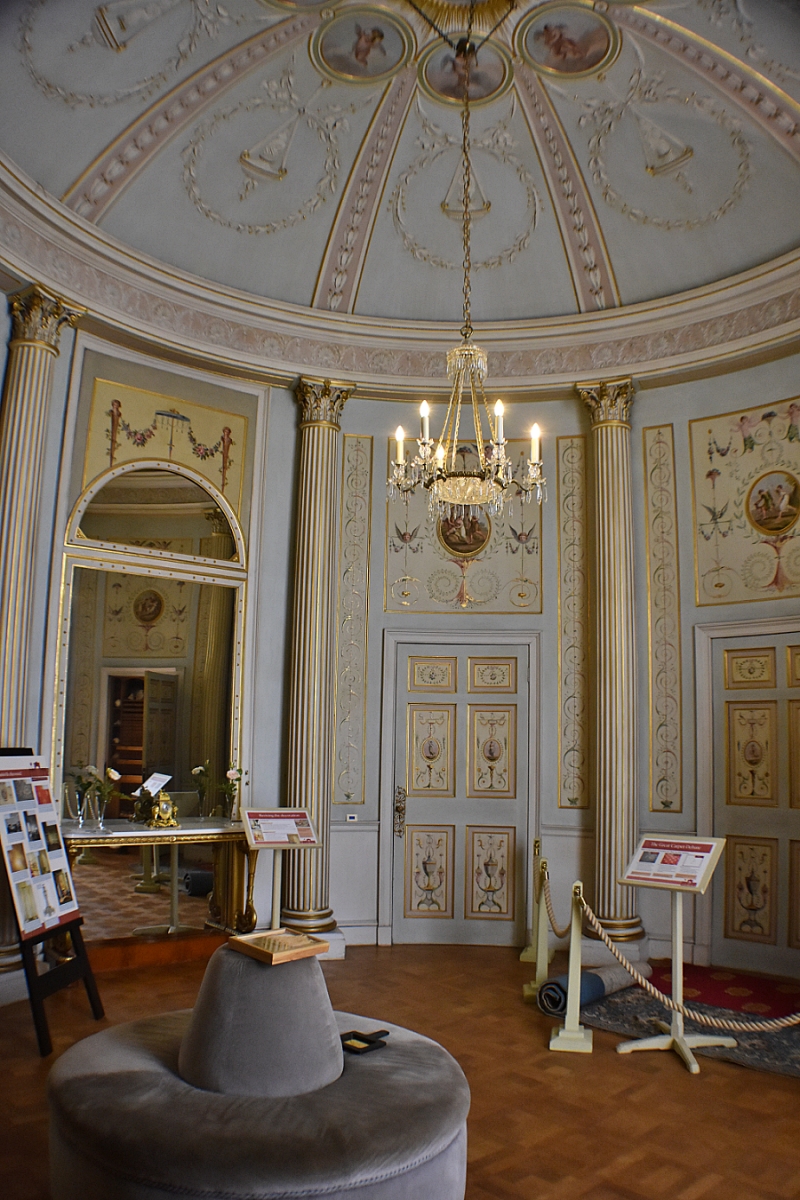 The Feminine Boudoir
© essentially-england.com
In January 1789 the 1st Lord Berwick suddenly died and his eldest son, Thomas, inherited Attingham Hall and the title of 2nd Lord Berwick at the age of 19. Thomas loved art, books, and architecture and - as was fashionable - went off to Italy on his Grand Tour. He returned with many acquisitions and set about redesigning his home to display the new paintings and books. The renowned Regency architect John Nash built a new picture gallery and libraries. The improvements continued outside. Thomas bought more land, increasing the estate to over 8000 acres, and commissioned famous landscape gardener Humphrey Repton to redesign the gardens. It was spend, spend, spend!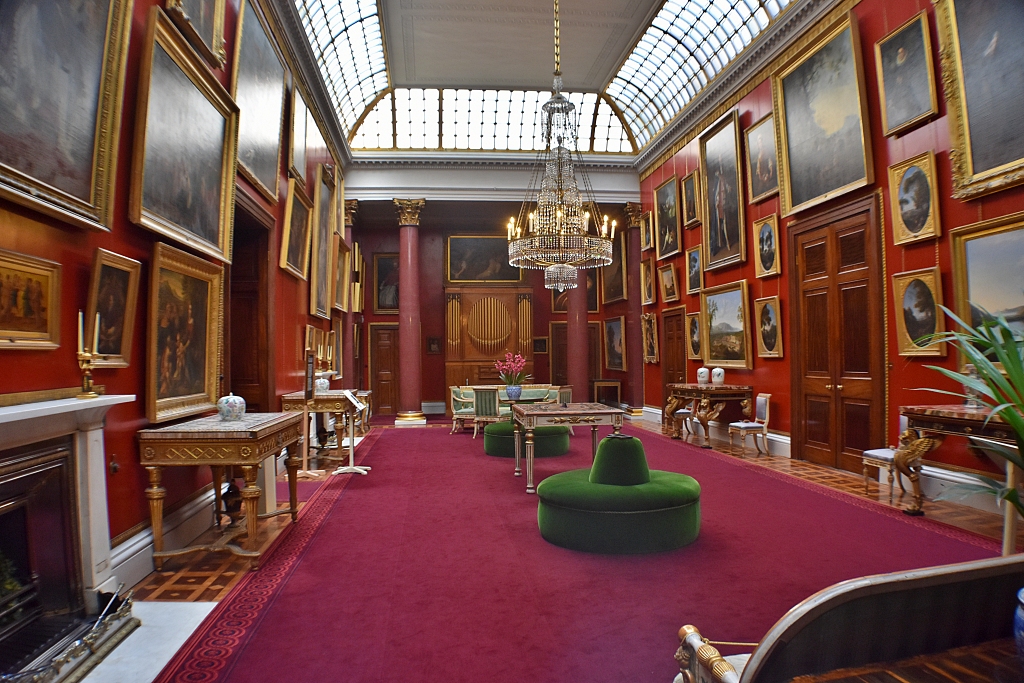 The Picture Gallery at Attingham Hall © essentially-england.com
At the age of 41 Thomas married a seventeen-year-old former escort called Sophia Dubochet. Together they continued to spend beyond their means until they, eventually and unsurprisingly, went bankrupt.
In 1827 and 1829 Attingham's contents were auctioned to help pay off their debts. After the auctions, Thomas and his wife moved to Italy, where in 1832 Thomas died. With no heirs, the Attingham estate and title went to William, the younger brother of Thomas.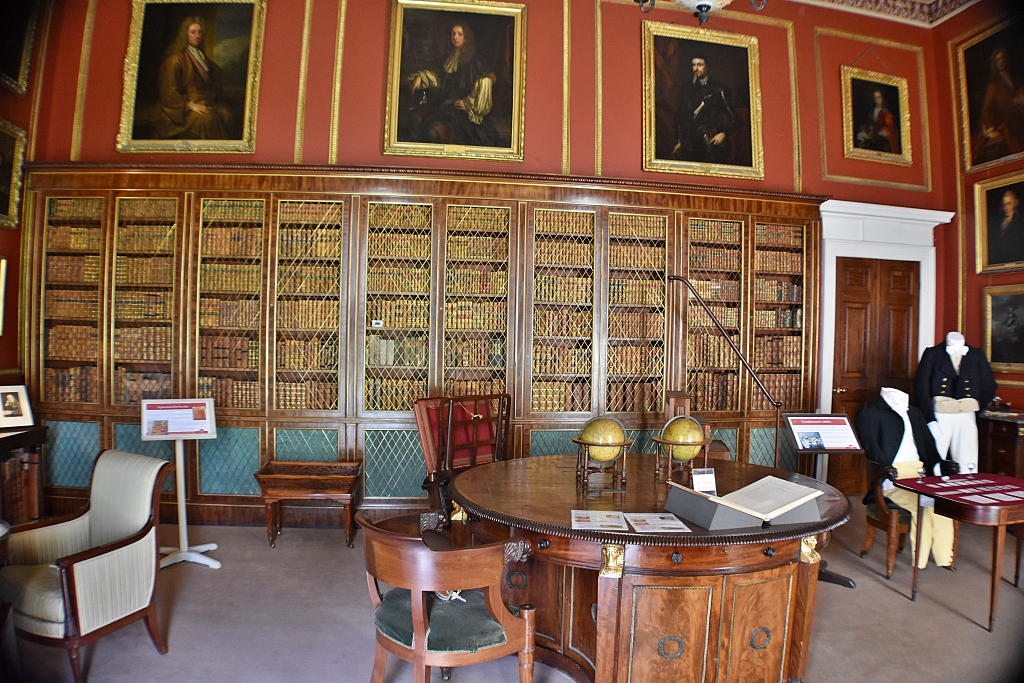 The Library at Attingham Hall © essentially-england.com
William was an ambassador living in Italy at the time that Thomas and Sophia were auctioning the contents of Attingham. He rushed back to England to buy back the best paintings and furniture, and also agreed to lease Attingham Hall. On becoming the 3rd Lord Berwick, William moved back to save Attingham and brought with him a fine collection of furniture and art, some of which is still displayed in the house. He never married but did have children with his Italian mistress. However, his children would not inherit.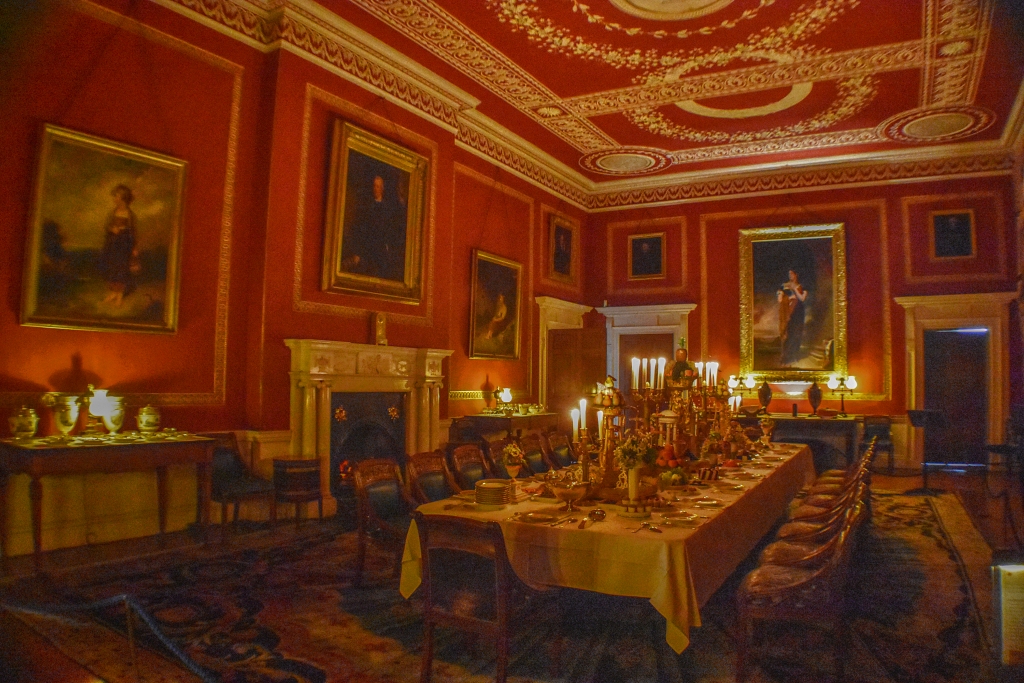 The Dining Room at Attingham Hall © essentially-england.com
In 1842 William died and his younger brother, Richard inherited the estate and title of 4th Lord Berwick. Richard was 68 years old and never expected to become Lord Berwick. He was Rector of Berrington, which is on the Attingham estate, and enjoyed the outdoor life of an English gentleman.
Richard used the house as it was. He did not buy artwork, redecorate, or make improvements. In fact, when he died six years later, he'd left no sign of his time in Attingham.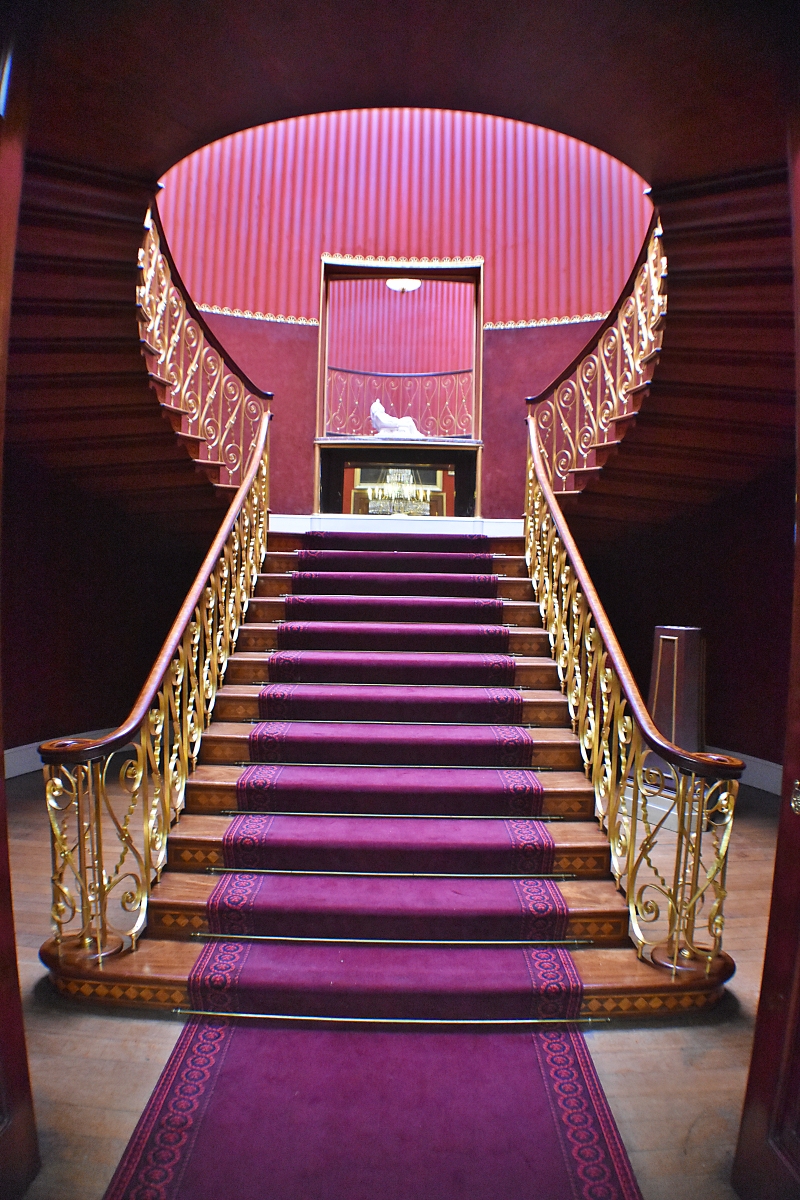 The Grand Staircase © essentially-england.com
Richard's eldest son, another Richard, inherited the Attingham Estate and title in 1848. Having also been to Italy on his Grand Tour, he appreciated Attingham Hall's style and worked to preserve it.
More careful with money, he changed the farming techniques, and cleared the estate's debts. He also made repairs and improvements to the house, and - strangely - lived in Cronkhill, an Italian-style villa on the estate rather than the Hall.
The 6th Lord of Berwick was William, younger brother of Richard. He was 60 years old when he inherited the estate and title in 1861. A lifelong bachelor and army colonel, he only used Attingham for occasional entertaining. He lived in Springfield House near Shrewsbury, which was part of the estate.
In 1882 another Richard became the 7th Lord Berwick. He was one of William's twin nephews, and also a soldier, but left the army due to his debts. He and his Swedish wife Ellen loved sailing and probably spent more time in the Mediterranean than at Attingham. Richard also liked his countryside sports and did come to Attingham for hunting and shooting.
The last Lord Berwick to inherit the Attingham estate was Thomas, in 1897. Brought up as an orphaned child with his sister Mary, he lived on the estate with their aunt. Educated at Cambridge, he went on to become a diplomat in Paris and enjoyed collecting French artworks and furnishings. To fund his purchases, he re-mortgaged parts of the Attingham estate. In 1919, he married Teresa Hulton, and they returned to save Attingham.
By now, Attingham was in a poor state. The 6th and 7th Lords of Berwick had not really maintained the property, and whilst Thomas was away the Hall had been rented out. Thomas and Teresa made it their life's work to rescue Attingham Hall, and eventually gave it to The National Trust.

They didn't have the Hall and estate to themselves, though. During the Second World War, the pupils and staff from Edgbaston Church of England School found a home at Attingham Hall, and towards the end of the war the Women's Auxiliary Air Force moved in. Lord and Lady Berwick stayed at Attingham throughout the war, occupying a few rooms in the east of the Hall.
Thomas died in 1947 and gifted the Attingham estate to the National Trust with a wish "that it should be shown as a good example of eighteenth-century architecture with such contents in the principal rooms as a nobleman of that period would have had".

The Servant Bells © essentially-england.com
Life Downstairs - The Servants' Quarters
One of the things that stood out for me as we walked around Attingham Hall was the servants' quarters, which offer an interesting take on life belowstairs. We didn't count the row of bells while we were there, but on one photo we found 25 bells. Just imagine the commotion at breakfast time or as the gentry were getting ready for dinner. At Attingham, the servants' life was at its busiest in the early 1800s. The 2nd Lord and Lady Berwick, when in residence, would have had dozens of servants.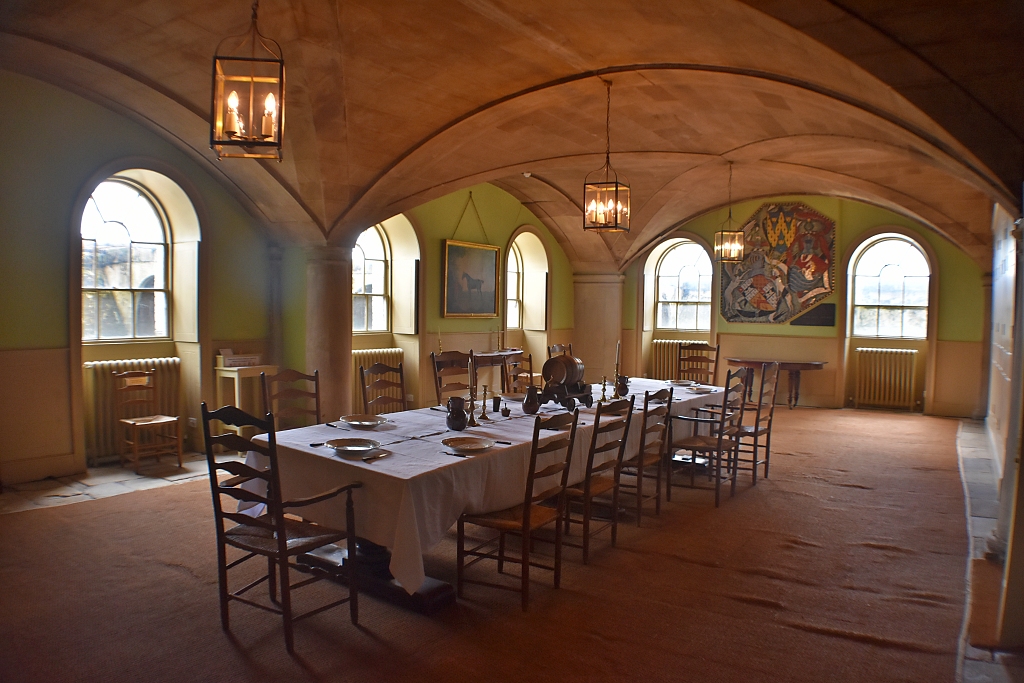 The Servants Dining Area © essentially-england.com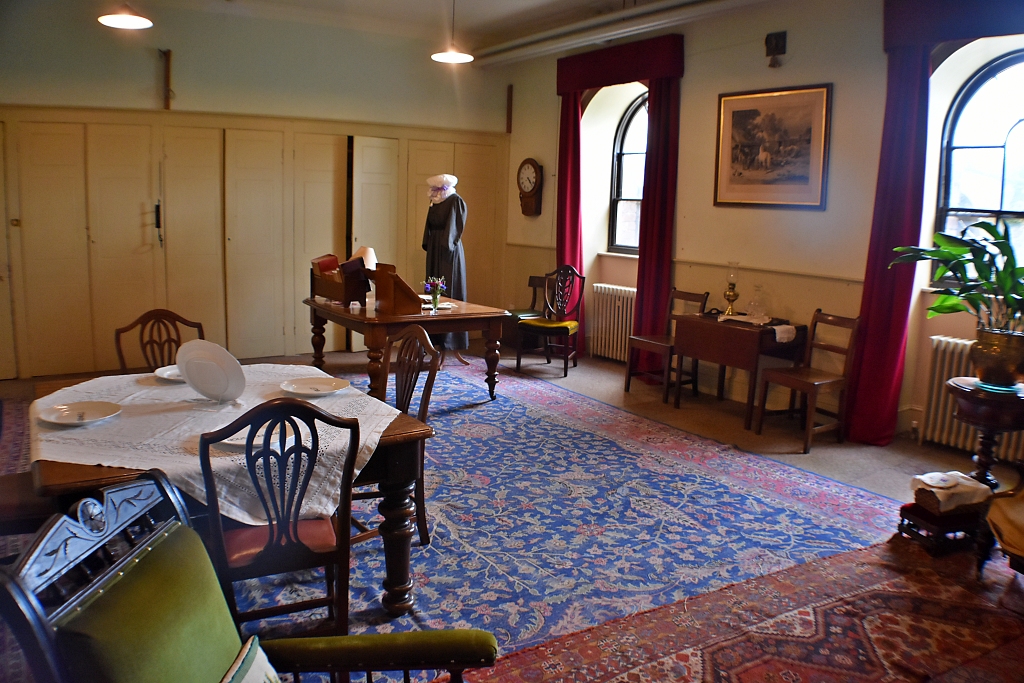 The House Keepers Room © essentially-england.com
The Attingham Estate
The Attingham estate has around 4000 acres of land. There are two signposted walks around the Parkland and walled garden, the Mile Walk, and the longer Deer Park Walk. Both walks go past the walled garden and stables.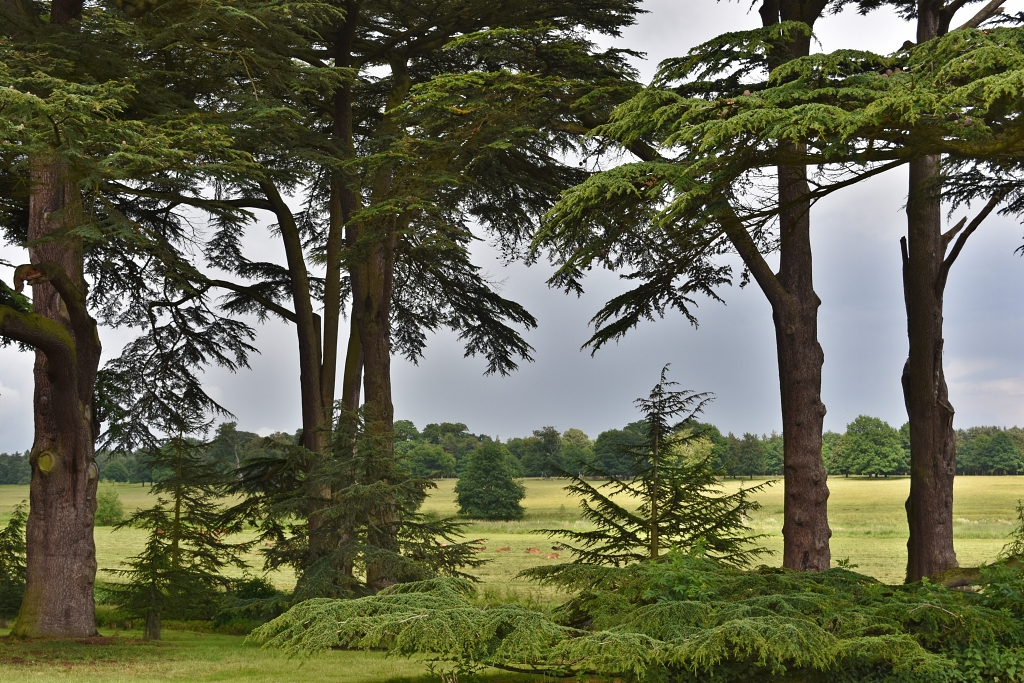 Attingham Estate Parkland © essentially-england.com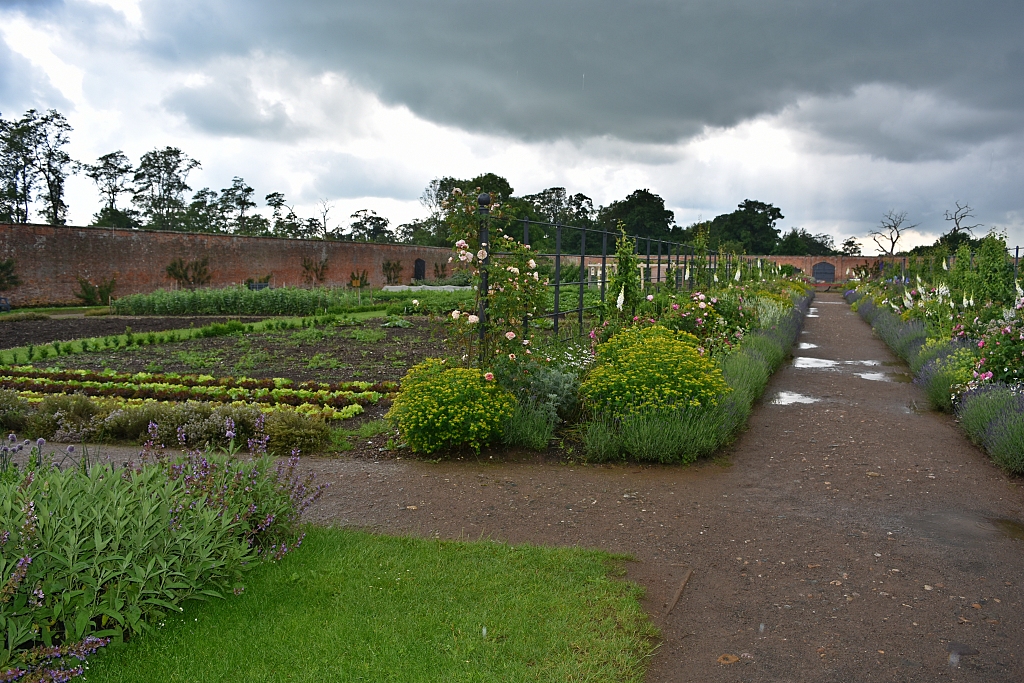 The Walled Garden at Attingham © essentially-england.com
I think you can see from the angry looking sky in our photos what happened on our planned walk through the deer park. Even the cows are lying down in the landscape photo! 
For more information on Attingham, its opening times, and ticket prices please visit the National Trust website here.

Are You Planning to Visit Shrewsbury?

This town is a marvellous place for history and food lovers! There's so much to see and do and taste, that you'll need more than just a short visit. Shrewsbury makes a great base with many historical sites in very easy reach and is surrounded by lovely countryside for walking or cycling.
You could stay in a cottage

Or choose one of Shrewsbury's many fine hotels

On our first visit to Shrewsbury we spent the weekend staying at the fabulous Albrighton Hall, and would strongly recommend it. Choose this hotel if you don't want all the noise of the town, as it is a couple of miles outside of Shrewsbury.

There's so much to in Shrewsbury, you'll be spoilt for choice. But if you need a few ideas, why not start exploring the town and castle before checking out Attingham Park, Wroxeter Roman City, Ironbridge Gorge, the Broseley Jitties and Much Wenlock!
Click here for more great ideas of things to do in Shropshire.