Much Wenlock

Much Wenlock, in Shropshire, is an attractive medieval town that sits below the striking Wenlock Edge escarpment and claims to be the birthplace of the modern day Olympics. It's a town where the old police station was built from specially made blue bricks, citizens enjoyed the gruesome pastime of bull baiting, and the railways visited for 100 years.
The peaceful ruin of Much Wenlock Priory is a popular visitor attraction, but if you're in the area you really shouldn't neglect the town. Much Wenlock is very pretty, has a number of historical buildings worth seeing and some unusual tales to tell. A good way to explore is to either follow the Olympian Trail or the Town Trail, both of which take you around many of the more interesting sites and explain the history of the buildings and details of the how the Wenlock Olympian Games started.
Almshouses in Much Wenlock © essentially-england.com
Town Square and Museum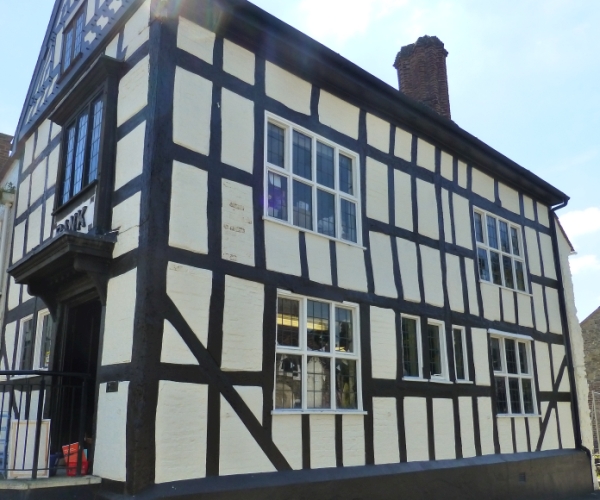 Former Inn, Bank, and now Shop
© essentially-england.com
The Square is a modern feature used by the townspeople as a focal and meeting point. You can sit here and watch town life go bye, as we did, and it was certainly a hive of activity.
The small clock tower was presented to the town by Mayor Thomas Cooke to celebrate the diamond jubilee of Queen Victoria I in 1897. It was positioned off-centre so that it didn't block the view to his grocery shop (now a minimarket).
There is also the free-to-enter Much Wenlock Museum. The museum tells the story of Much Wenlock, starting 430 million years ago, when this area was under water and Wenlock Edge was a coral reef, to the present day.
It's from the square that you can wander into some "shuts", these are narrow passageways that take you through to another area of town. Here are the Mutton Shut and George and the Dragon Shut which lead to pubs of the same name.
And if, while in Much Wenlock, you fancy some refreshment and chose The George and Dragon as your establishment, don't be afraid if you feel a dog breathing or brushing past you when you can't see one around. Apparently the pub is haunted by a large black dog that was used by his owner to guard the beer in the cellar. It was seemingly a lonely task and the much neglected dog now seeks your attention!
The Guildhall

The beautiful, sixteenth century wooden framed Guildhall is still in use as a market place and the council chambers. The stone built end on the far side of the picture is a fourteenth century prison.
Apart from market days, the Guildhall is only open seasonally, so if you get the chance to look around it is worthwhile as there are a number of interesting artifacts from the past. On the oak upright post to the left of the gate are hand irons where offenders were restrained while they were whipped. Upstairs, in the old courthouse above the judge's chair you will find a carving of The Coat of Arms of Queen Elizabeth I with a Latin inscription below, in which the carver has corrected a spelling mistake.
There's also an unusual set of stocks that can be wheeled around town to embarrass offenders who have done wrong even further.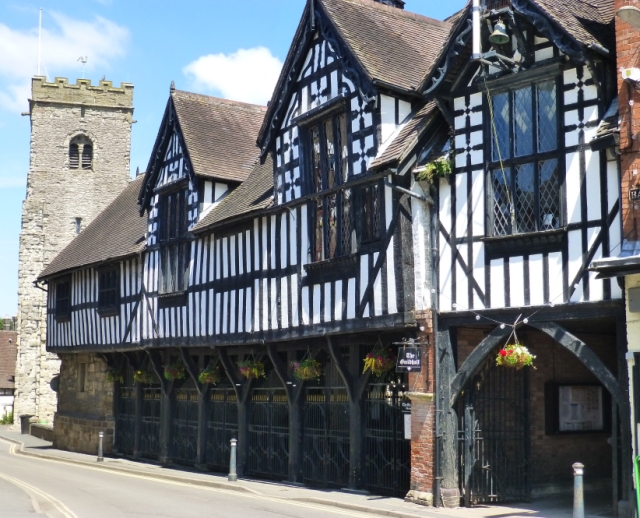 The Guildhall © essentially-england.com
The High Street

Talbot Inn
© essentially-england.com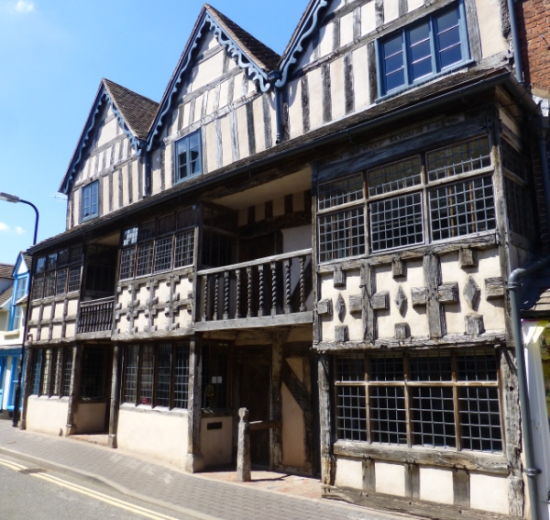 Raynald's Mansion
© essentially-england.com
St. John's Hospital
© essentially-england.com
Walking away from the Guildhall and town square along High Street, you'll find a number of timber framed buildings. Perhaps the most impressive of these is Raynald's Mansion which was built in 1682. This is another likely site if you fancy yourself a bit of a ghost hunter. As darkness draws in, you may see Victorian children playing on the balconies.
Opposite is the Talbot Inn, which has offered board and lodgings since 1361.

A little further along, you can find the former St. John's Hospital which used to be a hostel for "lost and naked beggars". Its most memorable "customer" was King Charles I back in 1642!
Just to the right, at the end of The High Street, you'll find the very small Squatter's Cottage. This gets its name from when if you could build a fire and chimney in a day you were allowed to build a house. You'll notice that this tiny cottage has a rather large chimney base.
The Bull Ring

This wasn't quite what we expected as we thought this had some reference to selling bulls, but as we understand, the Bull Ring gets its name from the recreation of bull baiting. This is where a dog, and they breed a special dog called a bull dog, was to immobilise a bull.
The streets around The Bull Ring also contain some nice buildings, including, the Old Police Station built in blue brick that are thought to have been made in Broseley, St. Owen's Well House, and Bastard Hall which was visited by the Time Team TV series.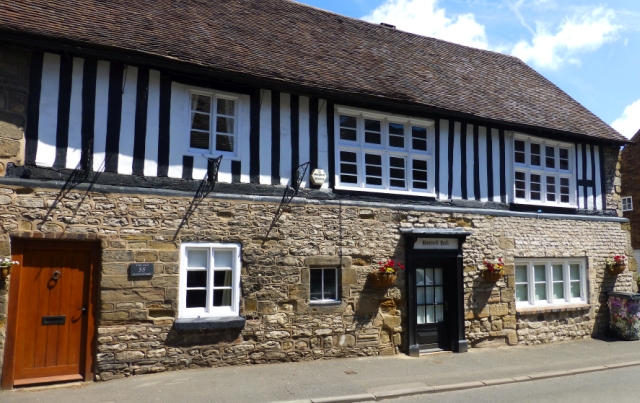 Bastard Hall © essentially-england.com
The Much Wenlocks Wells

St. Milburga's Well is believed to be one of the towns earliest water supplies. There are a couple of old wives tales regarding the well. The first is that it has healing powers and the other is that if a lady wants to get married she is to go to the well on a particular day of the year and splash some of the water over herself. Which one you believe depends on what you want, to get better, or to find a husband.
St. Owen's  Well is named after a French monk that visited Wenlock in the sixth century. This unusual well's outlet is on the front wall of St. Owen's Well House, which itself is a good example of cruck (curved timber) framed house.
Walking between the priory and town you'll pass Priory Hall, the old National School with its square wall tower, and the beautiful little John's Cottage.
This fifteenth century wooden framed house still has an old cobbled pavement outside.
The brook that used to run here had become the towns' open sewer and earned the nicknamed "shit" brook. The brook was diverted, covered, and the road built to aid movement around the town.
John's Cottage
© essentially-england.com
The Holy Trinity Church and the surrounding area are very appealing and calm. The gardens are well kept and in the sunshine looked stunning, especially with the background of the old market buildings.
Holy Trinity Church © essentially-england.com
Dr. William Penny Brookes

Probably Much Wenlocks' most famous resident was Dr. William Penny Brookes. Born in Much Wenlock during August 1809, he followed in his father's footsteps and trained as a doctor. It was upon his father's death that he returned from Europe and took over his medical practice. The home in which he was born and lived his life is 4 Wilmore Street and is identified by a blue plaque on the front wall.
The Brookes Family Home
© essentially-england.com
The doctor was committed to the working people and his local community. In 1841 he became a Justice of the Peace (JP) in the local court, and he also started the Wenlock Agricultural Reading Society to encourage and educate working class people.
He was convinced that physical exercise should be introduced into the school curriculum, and that it would improve the chances of the working class people by making them stronger and fitter for work. In 1850 he organised the first Wenlock Olympian Games, which was a series of sporting events with prizes, and is now acknowledged as the start of the modern day Olympics.
During his lifetime he held a number of important positions, including chairman of the Wenlock Gas Company, Commissioner for Roads and Taxes, director of both the Wenlock and Severn Junction Railway and the Wenlock Railway Company, and manager of Wenlock National School. A couple of successful activities to improve peoples' lives included the installation of gas street lighting and bringing the railway to Wenlock.
He died in 1895 and was buried in the beautiful grounds around the Holy Trinity Church. His name is all around the town and he will be forever associated with Much Wenlock and the modern day Olympic Games.
---
If you fancy a historical novel from this area there is a book titled A Spurious Brood which is based on the true story of Katherine More and the four children taken away from her, put on the Pilgrim Fathers boat, the Mayflower, and transferred to the new world. It sounds like a stunningly tragic story, has good Amazon reviews and is now on my wish list.
---
Are You Planning a Trip to Shropshire?

Shropshire is a marvellous place for history and food lovers! There's so much to see and do and taste, that you'll need more than just a short visit. If food is your thing, head to Ludlow and start exploring from there. For history lovers, Shrewsbury makes a great base with many historical sites in very easy reach.
Where You Could Stay

To see more self-catering cottages in Shropshire click here or check out holiday cottages in other parts of England by clicking here.
If your preference is to relax in a hotel, then here are some examples.

More hotel ideas can be found on our Shropshire Hotels page.
What You Could See and Do

Here are a few places that should go on your must-see list:
Click here for a great list of things to do in Shropshire.
If you would like to read more about Shropshire, please check out the county page here.