Shrewsbury Abbey

The beautiful red stoned Shrewsbury Abbey has a fascinating history going back almost a 1000 years.
The abbey, located close to the River Severn, was founded by Roger de Montgomery in 1083. Roger was one of William the Conqueror's chief counsellors and was created Earl of Shrewsbury and Earl of Arundel after the Conquest, a grant that made him one of the six biggest landowners in England. Besides 7/8 of Shropshire, he also owned most of West Sussex and had estates in Staffordshire, Wiltshire, Surrey, Gloucestershire, Worcestershire, Warwickshire, Cambridgeshire, Middlesex and Hampshire.

Taking over his new domain, he chose to build his abbey on the site of a small wooden Saxon church dedicated to St. Peter. Two Benedictine monks travelled from Roger's homeland in Normandy to oversee the building works and within four years monks were living under monastic rule.
Given the Norman's piety and the violence of the times, many Norman nobles endowed religious houses in exchange for prayers being said for their souls. Roger de Montgomery went a step further. Just three days before his death he took his vows in the monastery he had founded.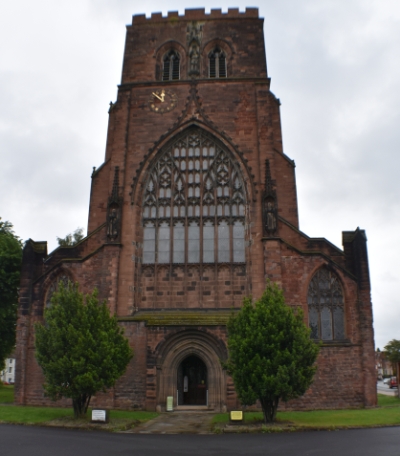 Shrewsbury Abbey
© essentially-england.com
Pilgrims were big business in the Middle Ages. To entice pilgrims, and their money, many religious houses strove to acquire the remains or relics of a saint or special patron. Shrewsbury Abbey was no different. Its abbot sent Prior Robert Pennant into Wales to find a suitable relic. In 1137 he bought back the remains of Winefride, a 7th century martyr.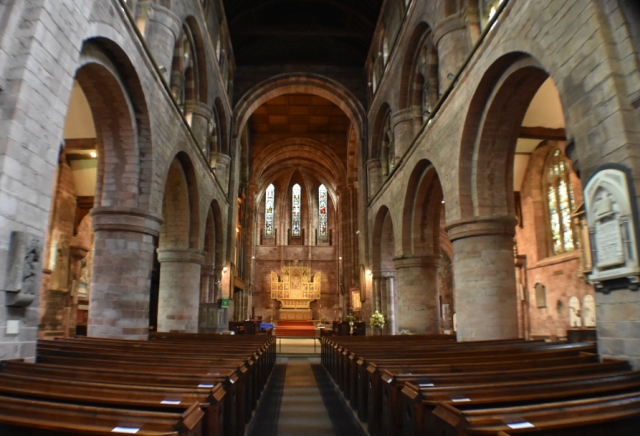 View towards the altar © essentially-england.com
The story of Winefride is rather gruesome and it's taken verbatim from the Shrewsbury Abbey, The Guild of St Winefride. 
Winefride, (Welsh: 'Blessed Stream') was the daughter of a seventh-century Welsh prince. She had taken a vow of celibacy. However, according to legend, Caradoc, a young nobleman, fell in love with her. One day, passions aroused, he made demands upon her which as a virgin and under her vow, she could not accept. She fled and he chased after her. He was so enraged at being rejected that when he caught her, he cut off her head which rolled to where her uncle, St Beuno, was at prayer nearby. At this spot, now called Holywell, a well of pure spring water sprang from the earth. Meanwhile, Caradoc fell to the ground dead, and the earth opened up to swallow his body. St Beuno replaced Winefride's head on her body, and she lived. She became abbess of a nunnery at Gwytherin, North Wales, dying there fifteen years later.
Winefride's reputation, now associated with Shrewsbury, worked well and the abbey became a major pilgrimage site. (And if you like to read a fictional account of what might have happened all those centuries ago, I urge you to read Ellis Peters' A Morbid Taste for Bones!)

As the years passed, the influence and power of the abbots of Shrewsbury grew.
They involved themselves in politics, and undertook many highly regarded roles such as inspecting local militia and the castle, and acting as Justice of the Peace.
At one time the abbot of Shrewsbury even acted as jailer for important prisoners.
Shrewsbury Abbey held parliament in 1283 whilst King Edward I was in the area protecting English land from the Welsh. It was during this parliament that the last native Prince of Wales, David II, was condemned to a horrible death. He was dragged through the streets before being hung, drawn, and quartered.
The abbey was also used in 1398 when King Richard II held the 'Great Parliament'.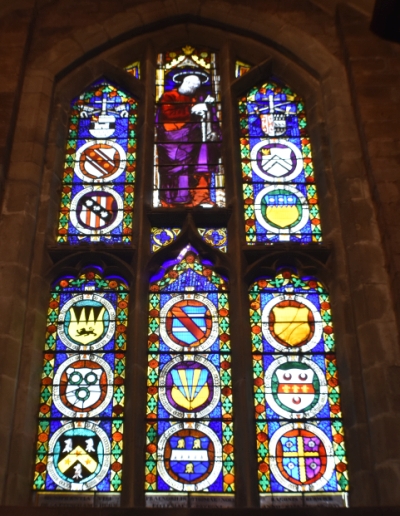 Beautiful Stained Glass Window in Shrewsbury Abbey
© essentially-england.com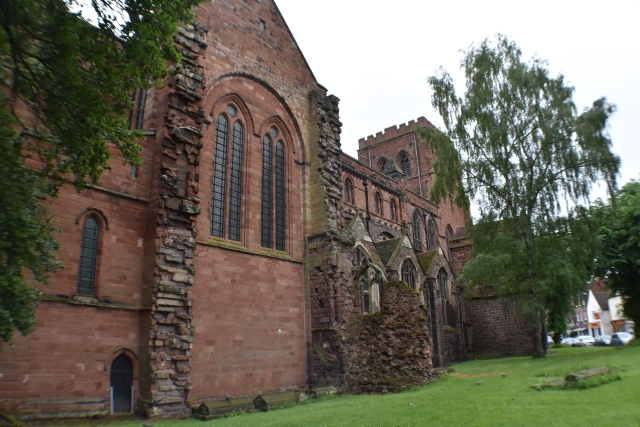 Shrewsbury Abbey © essentially-england.com
In 1487 King Henry VII gave Abbot Mynde a licence to create a Guild of St Winefride whose members would pray daily at the saint's shrine for the long life of the King, Abbot, and the Guild.
All this came to nothing in the end as in 1540 the abbey closed under King Henry VIII's Dissolution of the Monasteries. Only the nave of the church was saved and given to the local parishioners. Most other buildings were pulled down and their stones sold.
The abbey was also involved in a number of Civil War skirmishes as King Charles I's own chaplain was the vicar and would take in Royalist Men. In 1651 it was used as a prison for the defeated Royalists after the Battle of Worchester.
In 1987, 500 years after it was given by King Henry VII, the Guild of St Winefride has been re-established. The Guild members raise funds for the upkeep and improvement of the Abbey.
In the twentieth century the abbey became famous again and sees pilgrimages by people from around the world who have read and watched the fictional Ellis Peters character Brother Cadfael solve crimes and heal the sick. The books and films bring Shrewsbury medieval life alive.
If you would like to visit Shrewsbury Abbey and want more information on opening times and events you can link to their website here.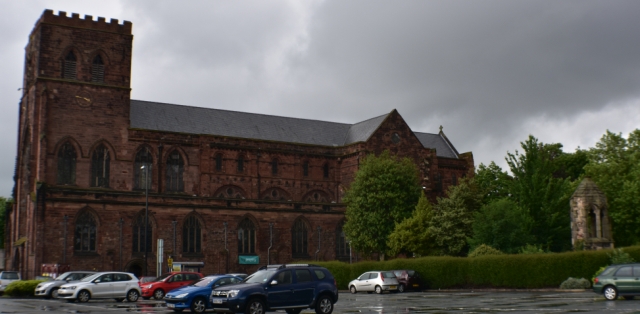 Shrewsbury Abbey © essentially-england.com
And if you're wondering about the structure in the car park... It's a fourteenth century pulpit which Abbot Nicholas Stevens added to the Norman refectory. In 1836 the abbey was split in two parts and buildings destroyed by the great civil engineer Thomas Telford to reduce the travelling time to London for Irish MPs.
Are You Planning to Visit Shrewsbury?

This town is a marvellous place for history and food lovers! There's so much to see and do and taste, that you'll need more than just a short visit. Shrewsbury makes a great base with many historical sites in very easy reach and is surrounded by lovely countryside for walking or cycling.
You could stay in a cottage

Or choose one of Shrewsbury's many fine hotels

On our first visit to Shrewsbury we spent the weekend staying at the fabulous Albrighton Hall, and would strongly recommend it. Choose this hotel if you don't want all the noise of the town, as it is a couple of miles outside of Shrewsbury.

There's so much to in Shrewsbury, you'll be spoilt for choice. But if you need a few ideas, why not start exploring the town and castle before checking out Attingham Park, Wroxeter Roman City, Ironbridge Gorge, the Broseley Jitties and Much Wenlock!
Click here for more great ideas of things to do in Shropshire.
For more holiday ideas check out our Shropshire page!