Baconsthorpe Castle

A Rags to Riches to Rags Story
Baconsthorpe Castle is a beautiful, ruined, moated manor house built in the 15th century by the wealthy Heydon family. It's sitting in a delightfully peaceful space that includes a mere, or defensive lake, and makes a wonderful picnic spot on a sunny summer's day!
The history of the house only spans two hundred years, and is a tale of rags to riches and back to rags. Built as the family's fortunes rose, Baconsthorpe castle declined and fell to ruin due to the Heydons' extravagant lifestyle and overspending. Weighted down by enormous debts, the family couldn't maintain the castle, and by 1650 they'd started to demolish parts of their impressive home to try and sell as building materials. In fact, some of the stained glass from the banqueting hall can be found in Baconsthorpe Church!
Building of Baconsthorpe Castle started around 1450 on instruction from John Heydon, a lawyer and supporter of William de la Pole, the first Duke of Suffolk. John's father, William Baxter, had obtained the land from the Bacon family. And yes, John Heydon changed the family name to hide is low family status!
The earliest part of the castle is the inner gatehouse. As the family grew wealthier, they extended and strengthened their home to display their newfound high status as landowners and knights. John's son Henry was knighted at Henry VII's coronation in 1485.
Baconsthorpe Castle and Mere
© essentially-england.com
Baconsthorpe Castle Site Map (Photo taken from English Heritage information board)
© essentailly-england.com
The Heydons' wealth came from wool production and, around 1500, the family converted parts of their castle into a wool processing factory. It is believed that at one time they owned around 25,000 sheep. Most of the woollen cloth produced was sold to the Netherlands, and the family profits were considerable.
The Heydons spent their money on extravagant living and further home improvements. In 1561 a licence to crenellate was granted to them, and they promptly started to fortify Baconsthorpe Castle, adding the outer gatehouse and a park. Not content with that, they then built an ornamental garden and the mere.
Exploring Baconsthorpe Castle
From the car park, the path heads to the outer gatehouse. This was never meant to be a defensive structure, it's only there to demonstrate the family's wealth. After the decline of the castle, the outer gatehouse was converted into a home, which was in use until the left-hand side tower collapsed in 1920.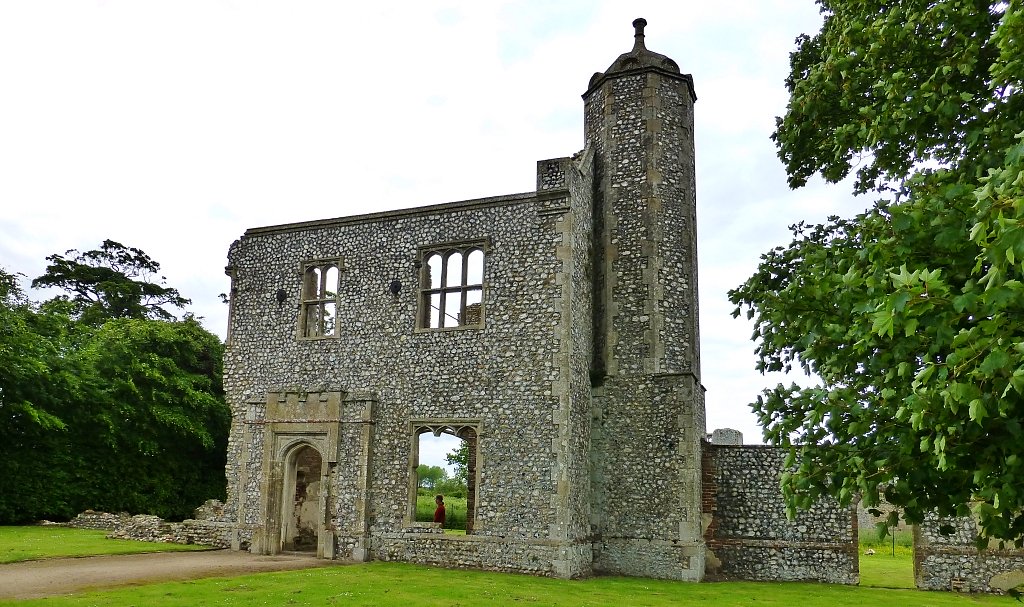 Baconsthorpe Castle Outer Gatehouse © essentially-england.com
As the path approaches the bridge over the moat, you still get the feeling of grandeur that Baconsthorpe castle must have had. The ruined inner gatehouse is an impressive three-storey-high structure. Back in its heyday, it would have been reached via a drawbridge across the moat. The gatehouse was big enough to act as a luxurious family home and be defendable if it came under attack. This mix of home and stronghold created conflicts, as the large windows required to create comfortable living accommodation created a weak point that an enemy could take advantage of.
Baconsthorpe Castle Inner Gatehouse
© essentially-england.com
Artist Impression of the Inner Gatehouse
(from English Heritage Information Board)
© essentially-england.com
The area inside the castle was split into two halves. The left-hand side was the main house which would have included the great chamber where the family lived and the great hall where they entertained guests. There would also have been small lodging chambers for the lord's entourage.
On the right-hand side was the service court which housed the kitchens, bakehouse, brewhouse, stables, and servants accommodation.
Baconsthorpe Castle Inner Gatehouse and Inner Court © essentially-england.com
For opening times and further information follow the link to the English Heritage website.
All you need to do now is pack that picnic…
Are You Planning a Holiday in Norfolk?

Where You Could Stay

Norfolk has no shortage of fabulous holiday accommodation whether you want to spend time on the beach, love boating or want to explore inland. You may covet a tiny fisherman's cottage like the one in Blakeney we kept returning to. You may like something larger and more modern like a loft overlooking the Norfolk Broads, or the right place for you may be a chic city apartment perfectly placed to explore Norwich...

To see other holiday cottages in Norfolk click here. Or check out holiday cottages in other parts of England by clicking here.
However, if you fancy a hotel how about some of these...

To view more hotels in Norfolk click here or you could try our Booking.com search box.

What You Could See and Do

It's next to impossible to be bored in Norfolk, there's just so much to do and see. The list below includes some of our favourite places

For more holiday ideas return from Baconsthorpe Castle to the Norfolk page.