Norfolk Walks

A Stroll from Blakeney to Morston
along the Norfolk Coast Path
For three of our four Norfolk holidays we've rented a holiday cottage in Blakeney as it's our favourite north Norfolk village. One of the many reasons we chose Blakeney was its location, which made it a fabulous base for Norfolk walks. From our cottage, we had easy access to the salt marshes, where we enjoyed many a relaxing evening stroll after our days out. We didn't need anything too taxing, but wanted lots of space, great views, and the chance to spot the wildlife (not that we are experts!).
In one direction we could walk towards Cley-next-the-Sea, where we could even walk a circuit, or part of it, and in the other direction we could walk to Morston. Both directions were along the well-trodden Norfolk Coast Path, so there was no need for tricky navigation and no danger of getting lost.

One of our many Norfolk walks is this gentle walk from Blakeney to Morston. It's three miles there and back, so if you're stopping to watch the wildlife or take photos, it will take you around 75 minutes or so. I'm sure once you get to Morston you'll want to explore around the quay area a little more, or you could even walk up from the quay into the small village and look around the flint walled houses, the church, and the hotel/restaurant Morston Hall.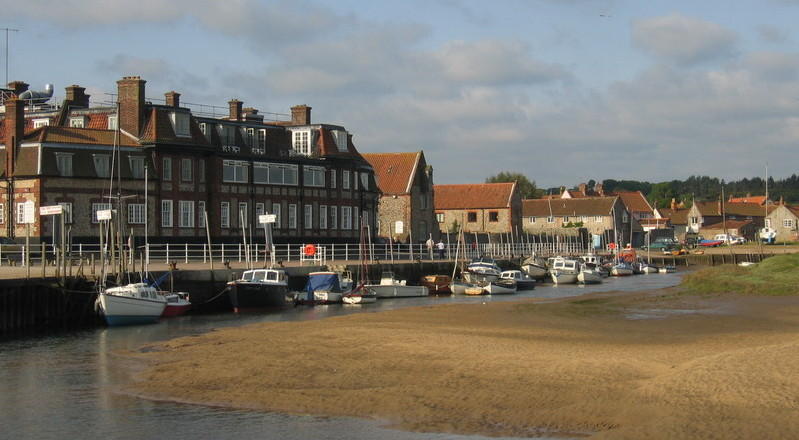 Blakeney Harbour © essentially-england.com
Norfolk Walks Map: Blakeney to Morston

If you use Komoot.com GPS mapping software to plan and guide your Norfolk walks, then you can download our walking route here or copy the gpx file.

Our walk starts from the car park next to the harbour in Blakeney. The car park is free to National Trust members who remember to bring their membership card, but non-members must pay for parking. There is free car parking around the village hall at the top of High Street.
Norfolk Coast Path Leaving Blakeney
© essentially-england.com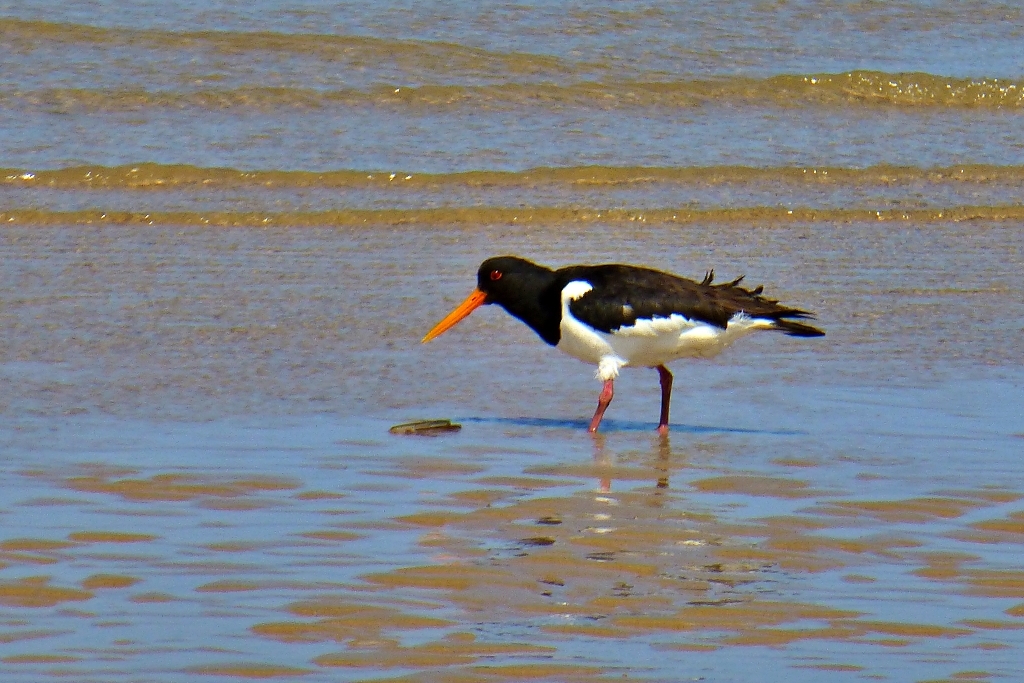 An Oyster Catcher - See if You Can Spot One
© essentially-england.com
Walk along the harbourside, past the Blakeney Hotel on your left-hand side, to a gravelled area with a Blakeney village signpost and a couple of wooden benches. There is a wooden signpost directing you onto the Norfolk Coast Path, but this could easily be missed as it can get hidden by cars and boats parked in the area.
The gravel path we need to take is obvious and goes between a brick wall and hedging and through a wooden gateway next to North Granary.
After swinging left, the very clear path leaves Blakeney and takes you out into the saltmarshes. Now it's just a matter of following the main path until you reach Morston Quay, which has a lookout building and plenty of moored sailing boats.
Norfolk walks tend to be peaceful with huge skies, wide-ranging views, and plenty of wildlife to spot. We don't often visit in the main holiday season, but even then, this walk won't get crowded, and there will always be long stretches of path where there's just you, the sky, and the marsh.

The Coastal Footpath at Morston Quay
© essentially-england.com
View to the Old Lifeboat House on Blakeney Point
© essentially-england.com
At higher tides there is the chance to take a boat trip out from Morston Quay to go seal watching. Two different breeds of seals have their pups on Blakeney Point, the common seals visit around May-June, and the grey seals October to January. The grey seal colony that visits can have over 3000 pups born each year and has become the largest seal colony in England. We enjoy watching the seals and have started to drive up from Northamptonshire on Christmas Day to walk towards Blakeney Point from Cley Beach.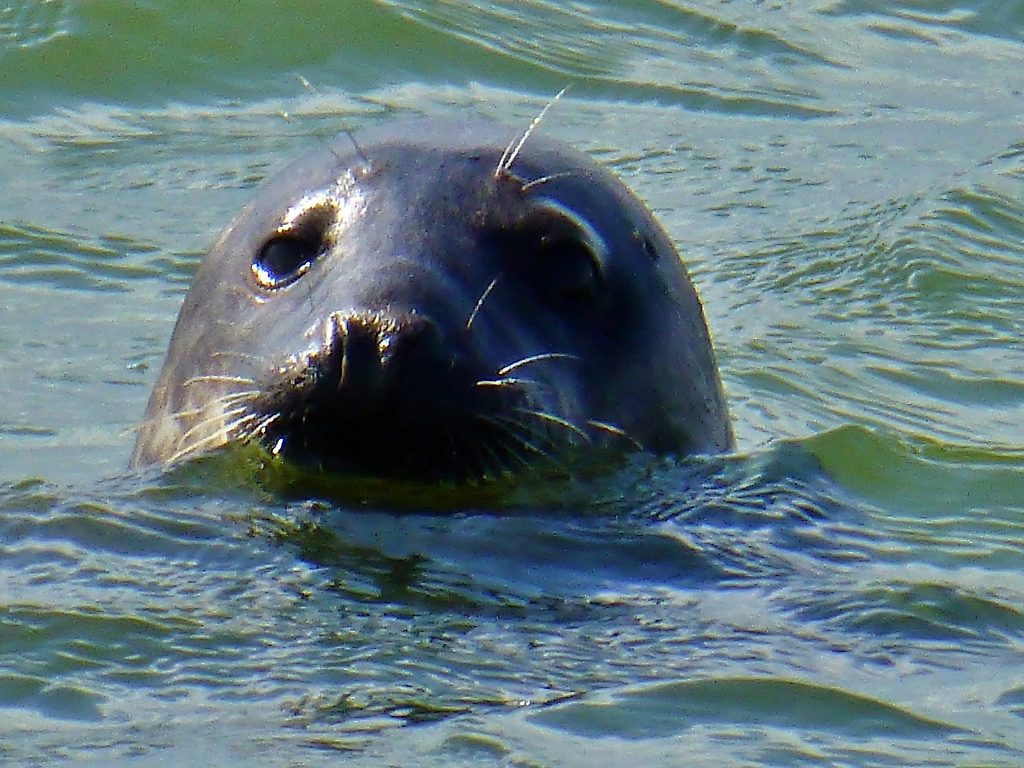 Common Seal Swimming off Blakeney Point
© essentially-england.com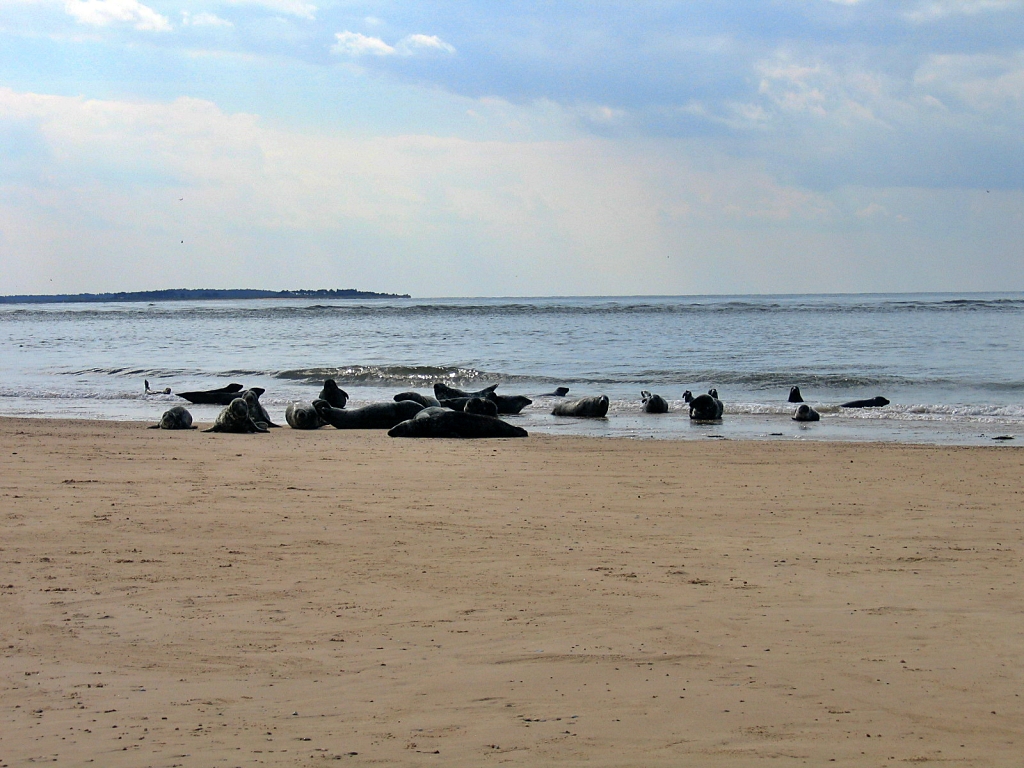 Common Seals on the Beach on Blakeney Point
© essentially-england.com
The return walk is the opposite of the walk into Morston, unless of course, you want to walk into the village and explore and then catch the bus back to Blakeney.
We found this a very enjoyable and relaxing walk and loved the views across the saltmarshes. It was particularly nice to do this walk as the sun was setting on the way back into Blakeney. Take a camara and binoculars if you've got them as I'm sure you're going to love the landscape and wildlife!
Blakeney Harbour at Sunset © essentially-england.com
Are You Planning a Holiday in Norfolk?

Where You Could Stay

Norfolk has no shortage of fabulous holiday accommodation whether you want to spend time on the beach, love boating or want to explore inland. You may covet a tiny fisherman's cottage like the one in Blakeney we kept returning to. You may like something larger and more modern like a loft overlooking the Norfolk Broads, or the right place for you may be a chic city apartment perfectly placed to explore Norwich...

To see other holiday cottages in Norfolk click here. Or check out holiday cottages in other parts of England by clicking here.
However, if you fancy a hotel how about some of these...

To view more hotels in Norfolk click here.
What You Could See and Do

It's next to impossible to be bored in Norfolk, there's just so much to do and see. The list below includes some of our favourite places

For other Norfolk walks and more holiday ideas, return from our Blakeney to Morston walk to the Norfolk page.