Wells-next-the-Sea

One of our favourite places to visit, Wells-next-the-Sea is one of the larger towns along the north Norfolk coast, which is an Area of Outstanding Natural Beauty. There are sandy beaches, salt marshes, and wonderful "big sky" landscapes right on its doorstep. With a lot of the area being protected land and nature reserve, there is also the chance of birdwatching, seal watching, fishing, and generally meeting the local wildlife.

The town's focal point is the harbour area, where you can watch the fishing boats coming and going, and try to identify their latest catch. It's also the place to find two great fish 'n' chip shops, and there is nothing better than to sit on the quay looking out over the boats and salt marsh eating your fish and chips. You won't be alone!
Excellent crabbing - which appears to be a real family sport! - can be had right from the quayside. You don't even have to bring your own line and buckets, as these can be hired locally. When watching, I'm never sure who is having the most fun, the kids or their parents! Having the right bait is crucial, and we have it on good authority that crabs like bacon. So make sure you bring some bacon with you if you want to be successful.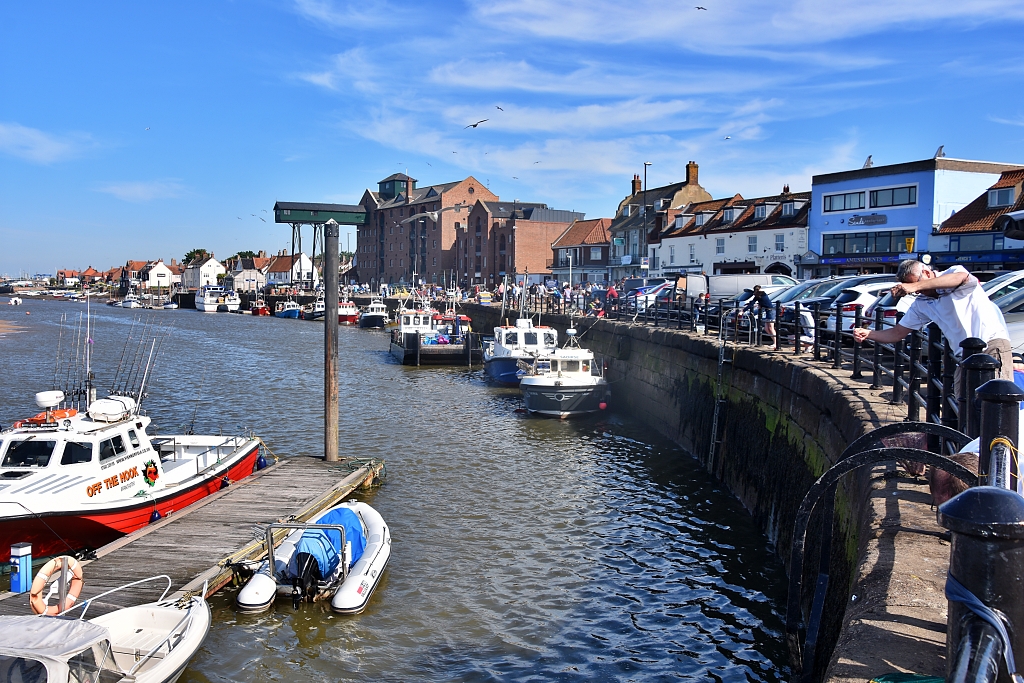 Wells-next-the-Sea Harbour © essentially-england.com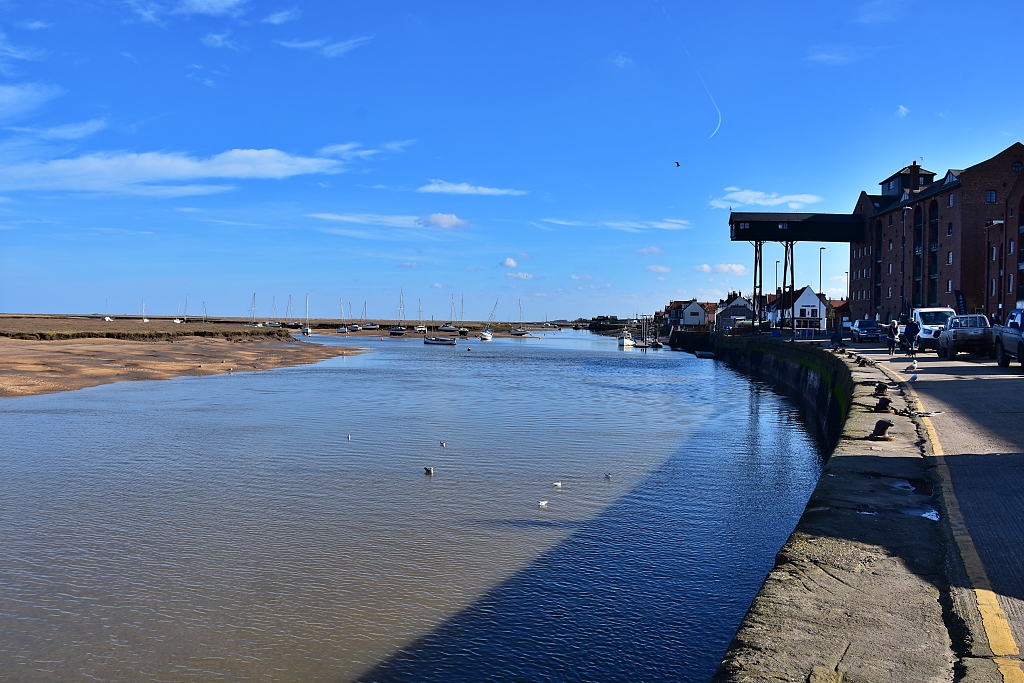 Fine Views at Wells-next-the-Sea © essentially-england.com
Like most seaside towns, Wells has a range of artisan and sea-side shops, an amusement arcade, a skateboard park, and of course, a pitch and putt golf course! From the edge of town, you can also take a ride on the Wells and Walsingham Light Railway. With the great sandy beach, wildlife, and sea-side town activities, Wells-next-the-Sea has become a very popular holiday destination or, just a good day out.
Fish 'n' Chips on the Quayside © essentially-england.com
Staithe Street in Wells-next-the-Sea © essentially-england.com
We found Wells-next-the-Sea on one of our first tandem rides in Norfolk. Naturally, we had to stop and have fish 'n' chips before continuing our ride back to Blakeney. It became one of our "must do" days out on the tandem each holiday after that, and now that we live closer to North Norfolk, it has become a much loved (and socially distanced) day out with the added chance to enjoy fish 'n' chips. Our recent day trips have also used Wells-next-the-Sea as the start point for a walk.
The Stroll Down to Wells Beach © essentially-england.com
Wells Beach © essentially-england.com
From the harbour area, you can take the one-mile walk down Beach Road to Wells' famous expanse of sandy beach. The path is smooth tarmac, has benches along its route, and offers views of the channel coming into the harbour. It is a very popular stroll that can be taken before or after fish 'n' chips, though there's also a café at the end of Beach Road, opposite the new life boat station.
Alongside the Beach Road passed the Wells Harbour Railway, which ran narrow gauge trains between the harbour and caravan park/beach. Unfortunately, this had stopped running the last time we were there - early 2022 - and we're not sure if it will ever run again.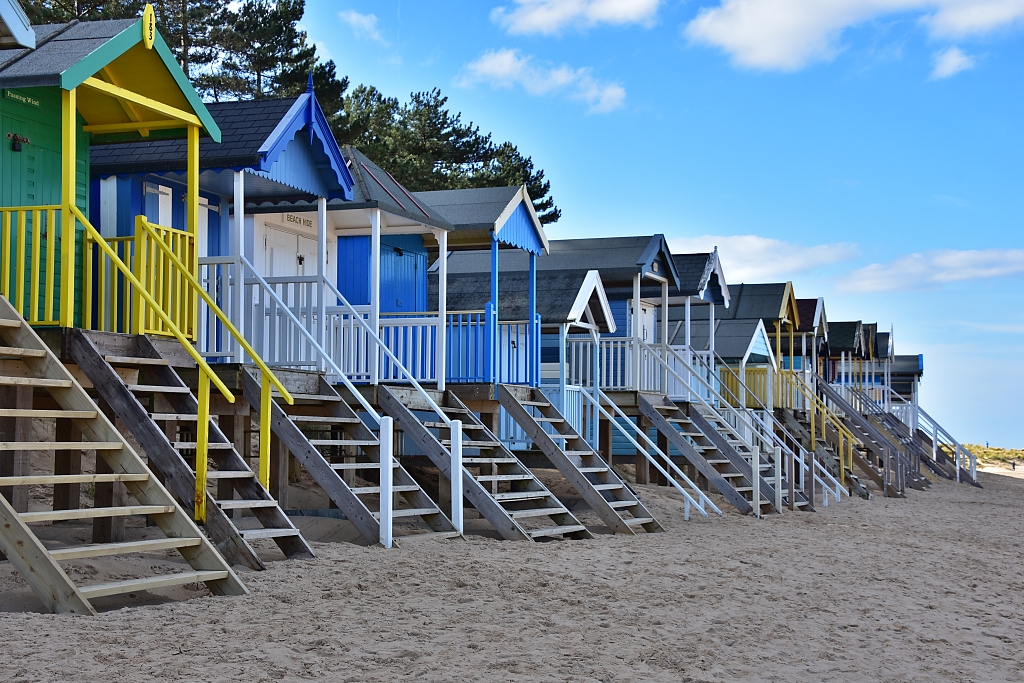 Beach Huts on Wells Beach © essentially-england.com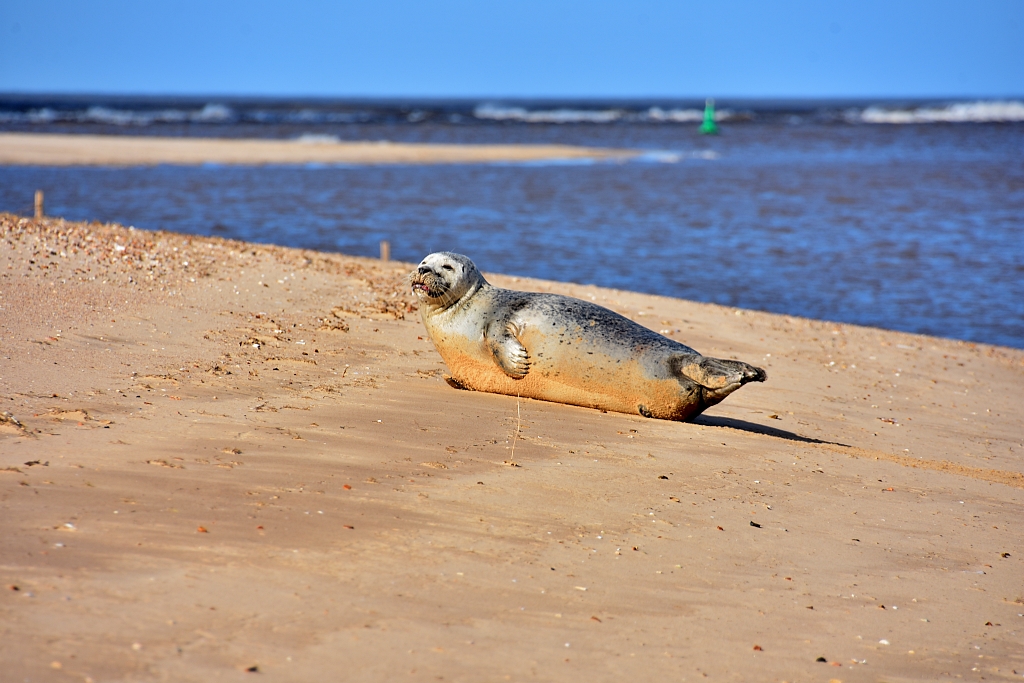 A Seal Basking on Wells Beach © essentially-england.com
At low tide, Wells beach is vast! The perfect place for sandcastles, kites, and picnics. At the top of the beach is the famous line of multi-coloured beach huts. Behind the huts are pine woods which offer shade on the hot sunny days. If you're lucky, like we were on our last visit, you may even see seals basking in the sun near the water's edge!
We have found Wells-next-the-Sea a good starting point for a walk as there is a variety of terrain. The easiest walk is the promenade to the beach. Alternatively, you could go east through salt marsh towards Blakeney on the North Norfolk Coast Path, or west along the beach to Holkham Beach or further, and back through the pine forest. You can even go inland and onto the Holkham Estate. There are plenty of great views and a chance to get some solitude and peace, even when the harbour and the beach are teeming.

Where to stay in Wells-next-the-Sea

This is a very popular part of the north Norfolk coast and so at peak times you will have to book well in advance of your planned stay. Luckily, there is plenty of choice if you would like to stay in Wells-next-the-Sea, although there are no big hotels. The type of accommodation can be on a camping site, a caravan holiday park, or holiday cottages and B&Bs. A couple of holiday cottage suggestions are...
or you could use our Booking.com link to search for somewhere to stay.