Steak and Kidney Pudding
A True English Classic
Steak and kidney pudding is a steamed pudding where diced beef and kidney are enclosed in a case made from suet pastry. While the pudding steams, the seasoned meat and onions mingle, creating a tempting, fragrant pool of gravy.
Traditionally served with mashed potatoes and green peas, this is cold-weather food at its best. The suet-crust pastry is substantial and very filling and the most appetising aroma fills the kitchen when you turn out the pudding and cut it open. It's also one of those dishes that leave you free to do other things round the house while it cooks. And it's good-natured enough not to mind if you leave it 10 minutes too long ... as long as there's water in the pot, that is.
And far from being regarded as a culinary fossil, steak and kidney pudding is reappearing on the menus of pubs across the country. Served with mashed potatoes and steamed vegetables, it makes a warming, filling dinner.
Suet Crust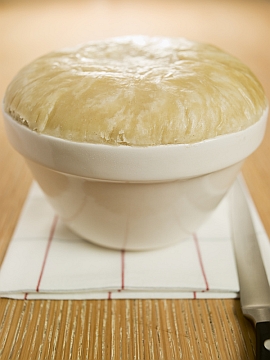 Steamed suet pudding
© Monkey Business Images | Dreamstime.com
Unlike most other pastries, which are baked, suet crust is usually boiled or steamed and works well for both sweet and savoury dishes. According to Mrs Beeton the pastry can also be baked, but in the process looses some of its richness.
Suet crust pastry is made from suet, flour, salt and water. It always contains baking powder as a raising agent. Self-raising flour works well when making this pastry, or you can add 4 tsp of baking powder to any 450g / 1lb of plain flour.
Suet can be bought in ready-to-use packets or fresh from the butcher. When using fresh suet remove the skin and shred the suet finely before using.
Basic Recipe for Suet Crust
This quantity of suet crust pastry is enough to make a 15cm / 6in pudding, which will feed four people.
225g / 8oz flour
75-100g / 3-4 oz suet
2 tsp baking powder (omit if using self-raising flour)
1 tsp salt
cold water
If using block suet, remove skin and shred finely. If using packet suet, weigh out quantity required and follow instructions on the packet.
Sieve flour, baking powder (if using) and salt together and add the suet.
Mix with cold water to a soft, but not sticky dough.
Turn out onto a lightly floured board and roll out as required.
Pudding Ingredients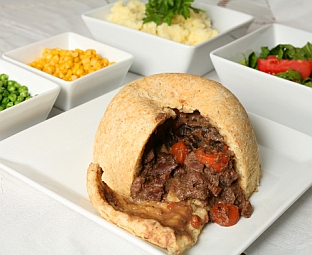 Steamed steak and kidney pudding
© Paul Cowan| Dreamstime.com
There are recipes for steak and kidney pudding the length and breadth of England and not two of them are alike. The only things they have in common are suet crust pastry, stewing steak and kidneys.
Optional ingredients include onions, button mushrooms, turnips, peas and even sundried tomatoes, even though the latter is most likely a recent invention by an adventurous gastropub landlord.
Most people I quizzed agreed that vegetables should be served on the side rather than in the steak and kidney pudding, but that onions and button mushrooms can add additional flavour to the wonderful gravy produced inside the pastry crust.
This dish also has a number of versions without the kidneys ... so feel free to experiment to find your own favourite.
To get you started, here's a recipe that should feed four people comfortably:
1 quantity suet crust pastry
450g / 1lb stewing steak
100g / 4oz kidneys
2 onions
100g / 4oz button mushrooms
2 tbsp Worcestershire sauce
salt, pepper, a little water or stock
You don't need much in the way of equipment to make a traditional steak and kidney pudding, but for best results you'll want a decent pudding basin or steamer.

This Master Class Non-Stick 2 Litre Pudding Steamer is a really excellent piece of kit. It's close to indestructible, and available in 1 litre and 2 litre sizes. So you can feed the family with tasty puddings for years to come without having to worry once if they'll come out of the tin!

How to Make Steak and Kidney Pudding

Grease your pudding basin and line it with 3/4 of the pastry.
Skin and core the kidneys and cut into dice. Dice the steak. Toss both meats in a tablespoon of seasoned flour.
Dice the onion and mushrooms. Mix the meat with the onions and mushrooms and fill into the lined pudding basin.
Mix the stock or water with the Worcestershire sauce and pour over the meat and vegetables.
Roll the remaining pastry into a lid and cover the basin. Make sure the edges are well sealed.
Cover the pudding basin with greaseproof paper, leaving room for the pudding to expand.
Place into a steamer or saucepan 1/4 full of simmering water and cook for approx. 3 hours.
Leave to cool for a little while before turning the pudding out onto a large plate. Serve with mashed potatoes and peas and carrots.
Looking for a dessert to serve with your steak and kidney pudding?
Check the recipe section for ideas.