Blists Hill

A Living Museum Victorian Town
The Blists Hill Victorian Town living museum re-creates the life of a Shropshire industrial town of around 1900.
The 50 acre site is based on the old Madeley Works site and is one of the ten museums that make up the Ironbridge Gorge World Heritage Site. The town is made up using a clever mix of original, transposed, and copied buildings and knowledgeable costumed re-enactors demonstrate working skills and the life of the era.
The experience is extremely well done and was as if you had just travelled back in time.
So imagine it's the year 1900, Queen Victoria is in the 63rd year of reign, and you're in the small town of Blists Hill in the Ironbridge Gorge, Shropshire. Once famed for its industry, the area is now slowly falling into decline. Today is a rare day off for you. You had to see the doctor about your bad back and thought it would be nice to wander around town, visit the bank, look around the shops, and see what everyone else was up to. Maybe you'll even treat yourself to a drink in the New Inn…


Victorian Letter Box
© essentially-england.com
Your first port of call is the letter box, just outside the Lloyds Bank.
After posting your letter it's just a few steps and into the bank as you need to change some money.
It's not fancy Euros or Dollars you want when you step into Blists Hill's bank. In this Victorian town you can  can spend old style, pre-decimal pounds, shillings, and pennies - provided you can work them all out.
Not that you have much money anyhow, as the average annual wage of the time is only £42 pounds.
And the bank you're just leaving is very similar to a surviving Victorian bank in Broseley on the other side of the River Severn.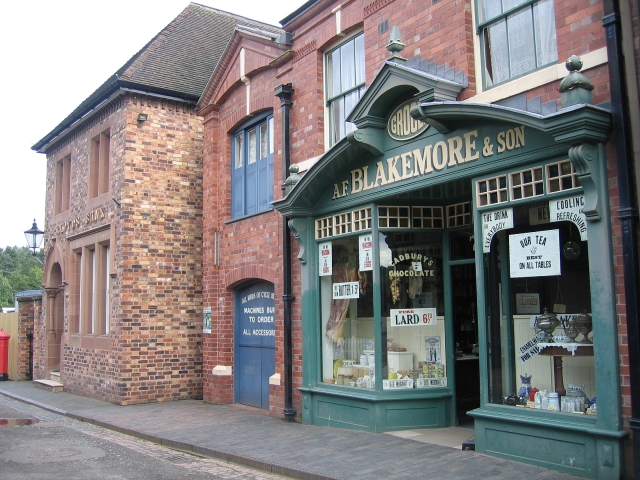 Llyods Bank, Cycle Shop, and Grocer © essentially-england.com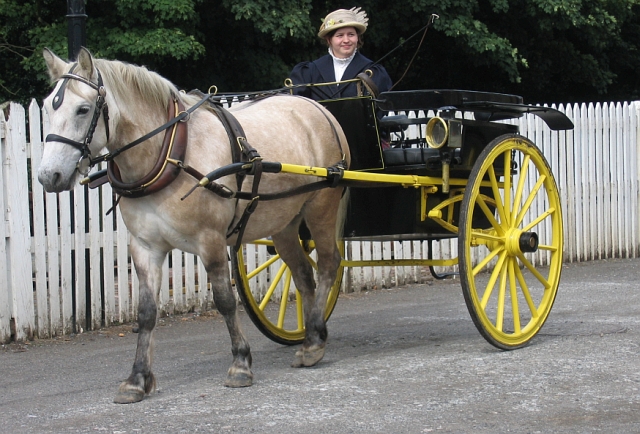 Horse and Carriage
© essentially-england.com
As you walk along the street you dream about the shiny, new bikes in the cycle shop, before the grocers shop - a replica of the one in Oakengates - catches your eye and you quickly stop and wonder whether anything is needed for tonight's tea.
Off on towards the doctors' surgery which is down near the iron works and fair ground. Mrs Smith calls out a greeting as she passes you in her horse drawn carriage. Although cars have been invented, very few people own one.
The doctor asks you to sit down in his surgery while he runs a quick errand. You take the time to glance around the room and wince at the sight of some of his 'tools of the trade'.
The doctor prescribes some tablets for you, so a stop at the chemist is required on your way home. You're not to know, but the doctor's nice home and surgery is a rescued Sutherland Estate cottage from Donington.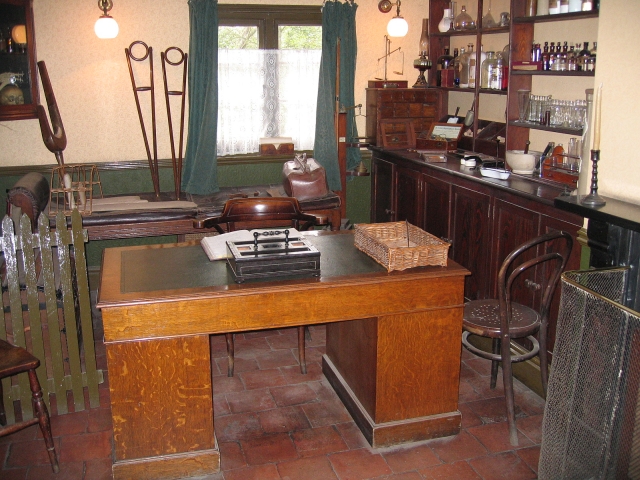 Victorian Doctor's Surgery © essentially-england.com
The New Inn beckons, but first you promised your wife to get some candles and some blue ribbon for her hat. Luckily for you the candle makers shop had been relocated from Madeley so it saved you a rather long walk.
The Candle Maker
© essentially-england.com
Victorian Outfitter
© essentially-england.com
After a jolly lunch spent with friends in the New Inn, it's time to pop to the chemist for your tablets and then get home and put your feet up as the back is starting to ache again. The chemist reaches for your tablets which sit on shelving rescued from a Victorian chemist shop in Bournemouth. Leaving the chemist's you're attracted to the story telling given by a few travellers. The roadside crowd gathered appears to be enjoying their yarns and jokes, so you stop for a little while to listen.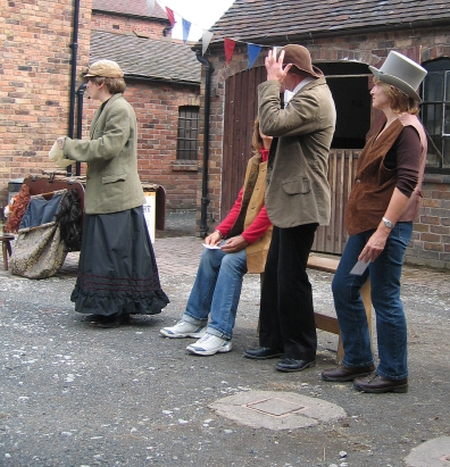 Travelling Story Tellers
© essentially-england.com
Victorian Town Scene
© essentially-england.com
Your back is getting very painful after all that walking, so it really has to be home time. As you enter your garden you remember there is just one small job to do before you can rest. Pick the vegetables for tonight's tea…
Blists Hill Victorian Town

You could easily believe the above happening as the town is very lifelike and is more than costumed re-enactors just going about daily life around a group of rescued shops and houses.
Between the late eighteenth and early twentieth centuries this area was a successful industrial site. It had tile and brick works, blast furnaces making iron, and coal, iron, and clay mines. The Shropshire Canal ran past the site and the Hay Incline helped raise and lower the canal tubs from Coalport.
Blists Hill is a large museum and depending on the day and demonstrations available, you're bound to spend quite some time here.
Blists Hill Blast Furnace
© essentially-england.com
David and Sampson Blowing Engine
© essentially-england.com
The Madeley Wood Company blast furnaces and buildings are original. Pig iron was produced in these blast furnaces between 1832 and 1911. The David and Sampson blowing engine housed in a nearby building is not from this site. This huge beam engine was used to generate the blast in the blast furnace and it's so impressive to see how the technology had moved on from Abraham Darby I's water wheel driven bellows in the Coalbrookdale Iron Works.
The Mine Shaft
© essentially-england.com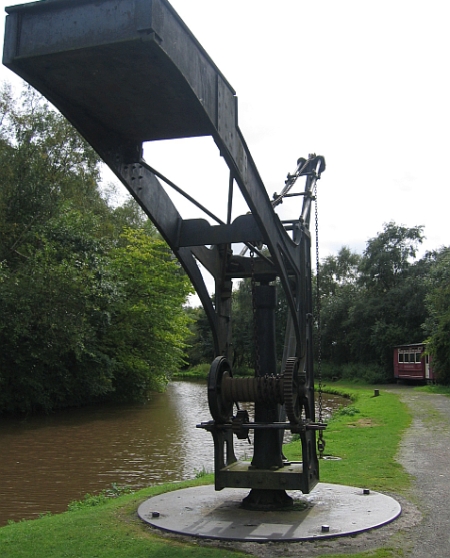 The Shropshire Canal
© essentially-england.com
The mine shaft is also original to the site. On this industrial site they mined coal, iron ore, and clay for the brick works, which is also original. The brick works made the bricks for the blast furnaces as these needed changing around every two years.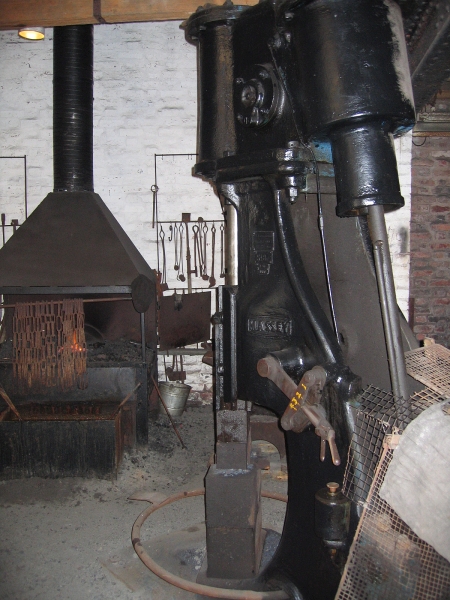 The Blacksmiths
© essentially-england.com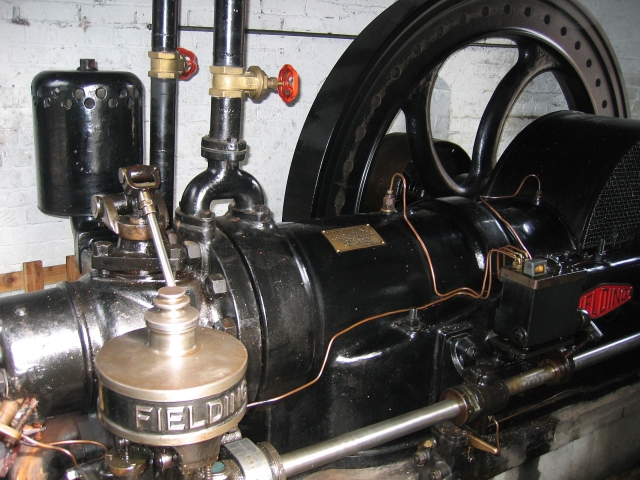 Steam Engine
© essentially-england.com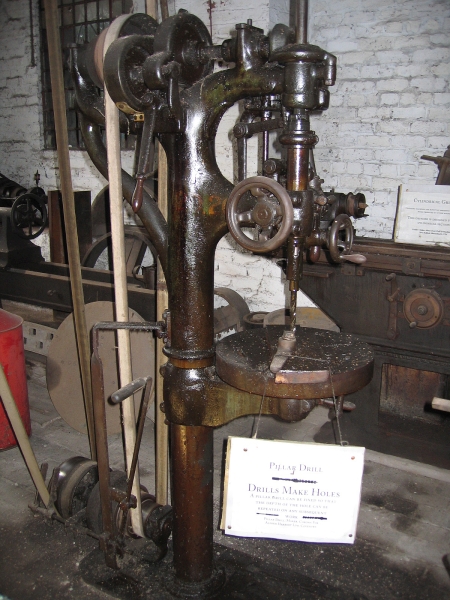 Belt Driven Drill
© essentially-england.com
Demonstrations around the site include the running of small steam engines that drove belts to power tools and machines or even the cage in the mine shaft. There is also a working replica of the first steam engine to run on rails. The original engine was built by Richard Trevithick in 1802 for the nearby Coalbrookdale Company.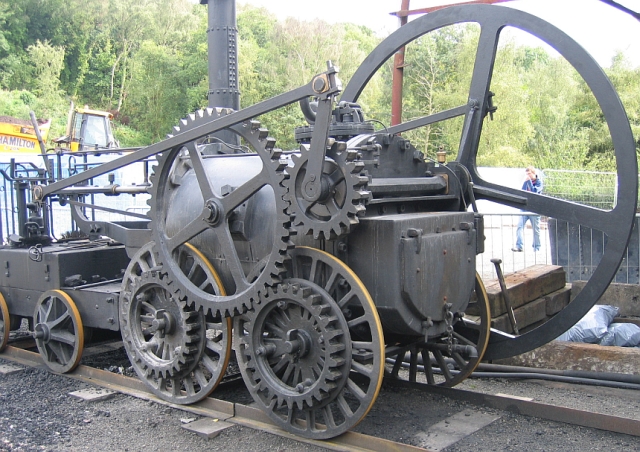 The Trevithick Steam Engine © essentially-england.com
If you still have lots of energy after wandering around looking at all the fascinating historical exhibitions there is always the Victorian funfair to finish the day.
Victorian Swings and Coconut Shy
© essentially-england.com
Victorian Carousel
© essentially-england.com
A visit to Blists Hill Victorian Town is strongly recommended and if you want more information on opening times and events please use this link to their website.
Are You Planning a Trip to Shropshire?

Shropshire is a marvellous place for history and food lovers! There's so much to see and do and taste, that you'll need more than just a short visit. If food is your thing, head to Ludlow and start exploring from there. For history lovers, Shrewsbury makes a great base with many historical sites in very easy reach.
Where You Could Stay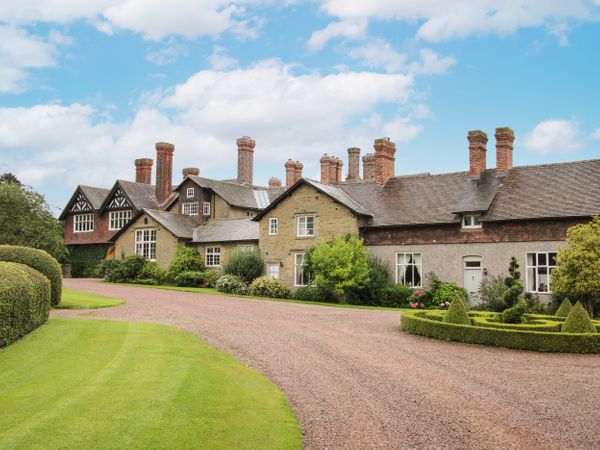 T
he Butler's Quarters
Bourton nr. Much Wenlock
Sleeps 2
To see more self-catering cottages in Shropshire click here or check out holiday cottages in other parts of England by clicking here.
Or, if you would prefer, here are some hotels in Shropshire.

What You Could See and Do

Here are a few places that should go on your must-see list:
Click here for a great list of things to do in Shrophire.

If you enjoyed Blists Hill and would like to read more about the Ironbridge Gorge World Heritage Site then please click here, or if you would like to find out more on what to do in Shropshire please check out this page.