Cantlop Bridge

Muddied Waters under the Bridge
Hidden in a maze of small country roads just a few miles south of Shrewsbury in Shropshire is the simple, but elegant Cantlop Bridge which crosses Cound Brook. It is a single span cast-iron bridge built in 1818 to a design approved by the then Shropshire County Surveyer, Thomas Telford.
The road between Shrewsbury and Acton Burnell was a turnpike route, built by sponsors to improve travel, with the sponsors' investement recouped through tolls. There had been a bridge at this site for a number of years. Originally the bridge would have been a wooden horse bridge, but as coach traffic increased a more substantial bridge was required. The first cast-iron bridge here was built in 1812, but it proved to be unsuitable and was replaced by the current cast-iron bridge.
The design of the bridge is based upon this of the larger Cound Bridge of which a plan is shown below. Cound bridge has been removed from its original location and is now part of the Hall Park Way footbridge in the city of Telford.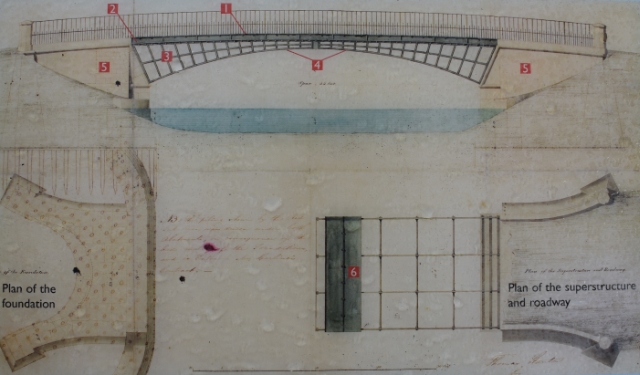 Structural Plan of Cound Bridge © essentially-england.com
Index for Cound Bridge plan:
Flat platform
Cast iron beam
Lattice spandrel
Cast iron arch rib
Sandstone with brick faced abutment
Iron deck plate which is now covered with tarmac and gravel
Cantlop Bridge

Cantlop Bridge © essentially-england.com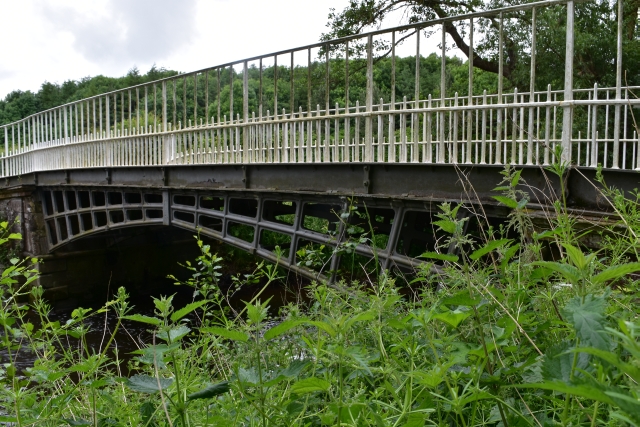 Cantlop Bridge © essentially-england.com
Always ready to explore, our plans for the day had included visits to Langley Chapel, Acton Burnall Castle, and then Cantlop Bridge which are all a few miles from one another. They are also all managed by English Heritage and free to view. We had all the GPS coordinates, but some of the local roads were closed and we were a little lost. So imagine our surprise when we rounded a bend in the road and recognised the bridge!
It's in a lovely remote location and had it been a sunny, or even dry day it could have been a picnic spot.
The river didn't look much and there was no telling whether it had ever been used to transport goods. It flowed enough to make the bridge look necessary, and leaning on the rail gave us a chance to debate how the bridge may have been constructed almost 200 years ago. Cast iron isn't a featherweight material, and with only horse power or water power available, how did Telford's construction crews move the massive pieces? Maybe the little trickle of a river was used for transport after all.

The bridge is now a Grade 2 registered structure and can only be used by pedestrian traffic. One other comment to make is that the original parapets have been replaced with more modern painted iron railings.
However, upon our return to home, further research caused some confusion. Some say that this is the only surviving in-situ Telford approved cast-iron bridge in Shropshire, but the water under the bridge muddies as there is also the Cound Arbour Bridge (not to be confused with Cound Bridge) just a few miles away. This earlier bridge was built in 1797 and still carries road traffic on a minor road between Cross House and Cressage.

Thomas Telford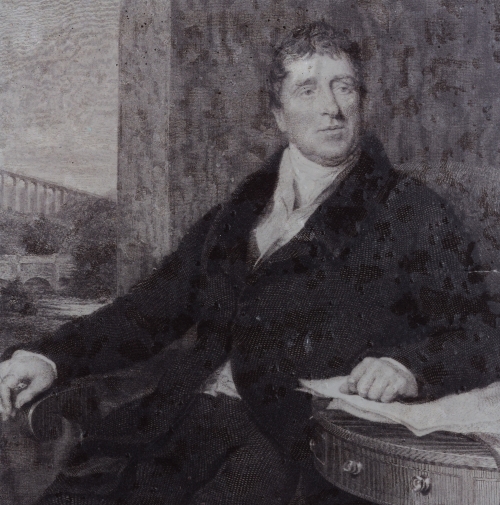 Engraving of Thomas Telford Published in 1831 (National Portrait Gallery, London)
© essentially-england.com
Scottish civil engineer Thomas Telford was employed by Shropshire County between 1787 and 1834 to build bridges in order to improve transportation and communication within the county. He was involved in the construction of 42 bridges, seven  of which were made from cast-iron.
He realised the potential of cast iron as a material for making bridges and used innovative techniques to create a lightweight frame to support the top platform. The advantages of the lighter structure allowed a shallower angled bridge (see its big brother Iron Bridge), smaller foundations, and a single span design that didn't obstruct the water flow or navigation upon the water.
Cantlop Bridge was taken out of use and replaced with a concrete bridge in the 1970's and Cound Arbour Bridge is still in use. These cast-iron bridges demonstrate the engineering design skills of British bridge builders of that time.
Close-up of the Iron Work © essentially-england.com
So we're a little confused about some of the history reported on some of Shropshires cast-iron bridges and it appears another visit is required to view Cound Arbour Bridge. The articles we found report that this bridge is rather invisible in that there are no signs, historic information boards, or any viewing points. We're sure another visit to Shropshire isn't a hardship.

Are You Planning a Trip to Shropshire?

Shropshire is a marvellous place for history and food lovers! There's so much to see and do and taste, that you'll need more than just a short visit. If food is your thing, head to Ludlow and start exploring from there. For history lovers, Shrewsbury makes a great base with many historical sites in very easy reach.
Where You Could Stay

To see more self-catering cottages in Shropshire click here or check out holiday cottages in other parts of England by clicking here.
If your preference is to relax in a hotel, then here are some examples.

More hotel ideas can be found on our Shropshire Hotels page.
What You Could See and Do

Here are a few places that should go on your must-see list:
Click here for a great list of things to do in Shropshire.
If you have enjoyed reading about Cantlop Bridge and our discoveries, and would like to find out more about places to visit, please return to the Shropshire page.