Train Tours From London


Holidaying in London doesn't mean that you have to spend all your time in the capital. We're always surprised how far visitors are prepared to travel to see or do something that is special to them, so why not hop on the train for a day out, too? Some of England's most famous cities can be easily reached by train from London. Here's a list of some of our ideas and some organised tours.

Our Best Train Tours From London


When arranging train travel and booking tickets we always use Trainline. It's easy to use, great for planning a trip, and has never let us down.
1. Warwick and Warwick Castle


We love Warwick and its medieval castle and have visited several times. Warwick Castle is one of the finest in England and has an intriguing history. The first motte and bailey castle with a wooden keep was built by William the Conqueror in 1068. The castle was rebuilt in stone during the twelfth century, and further modified over the years to form the great defensive fortress we see today. Warwick Castle has lots to discover and during the summer months you can enjoy medieval demonstrations including archery, birds of prey, trebuchet, storytelling, and jousting.
You should also plan in some time to explore the town itself, which has lovely old buildings, parks, and riverside walks.
There's a non-guided, organised tour that leaves from London Marylebone Station and includes Warwick Castle entrance tickets.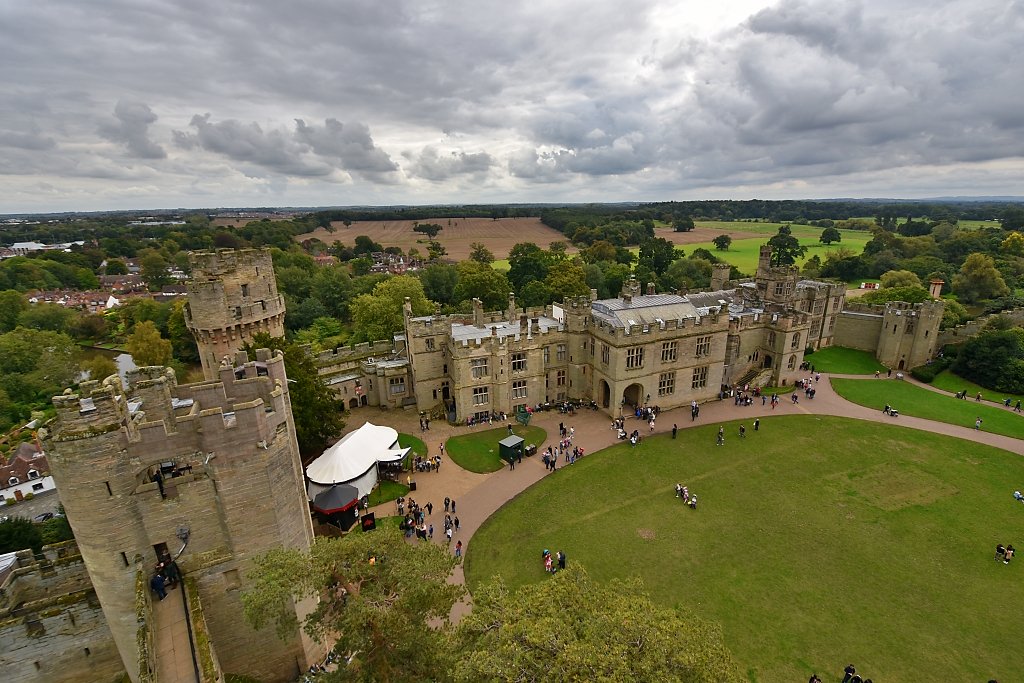 Warwick Castle © essentially-england.com
The Lord Leycester Hospital © essentially-england.com
---
2. Salisbury or Canterbury

How about a day trip exploring one of England's best medieval cathedral cities? Both Canterbury in Kent, and Salisbury in Wiltshire are easily accessible from London, with direct trains from London St Pancras to Canterbury taking about one hour, and from London Waterloo to Salisbury taking about 90 minutes.
In each city, you can explore narrow cobbled streets with timber-framed buildings and quaint shops, as well as the stunning gothic architecture of the cathedrals. Canterbury Cathedral is the headquarters of the Church of England, while in Salisbury Cathedral you can see one of the four surviving original copies of the Magna Carta.
If you want to extend your day out from London, then you could explore the ruins of Old Sarum which is the earliest settlement of Salisbury, and the place where Elanor of Aquitaine, wife of King Henry II, was imprisoned in the castle. Old Sarum is about two miles north of Salisbury. Or you could get a bus from Salisbury Station to Stonehenge, which is about 8 miles away.
From Canterbury, you can hop on a bus to Whitstable, see the castle and gardens, walk along the beach and enjoy fresh fish, smoked fish, and the famous Whitstable oysters.
Salisbury Cathedral © essentially-england.com
Canterbury Cathedral © Inja Pavlic | unsplash.com
---
3. The Cities of Bath and Bristol
Leaving London Paddington Station and heading southwest, you can reach the cities of Bath and Bristol with journey times of about 80 and 100 minutes, respectively. Both cities are brimming with things to do and places to explore, which makes visiting both in one day very rushed. It's going to be a difficult decision to choose just one, perhaps toss a coin!
Top of the sightseeing list in Bath must be the Roman Baths, where around two thousand years ago the Romans were exercising, socialising, and bathing. You can experience a modern twist on this at the Thermae Bath Spa complex with its rooftop pool with warm mineral water. Probably next on the to-do list is the grand Georgian architecture of The Circus and Royal Crescent, then Pulteney Bridge, Bath Abbey, and The Jane Austen Centre. Bath boasts lovely parks to wander in, museums, and riverside and canal walks. If you enjoy your walking, then why not take on the 6-mile-long Bath Skyline walk that takes you up into the hills around Bath.
As I said, there is lots of interest in this wonderful city!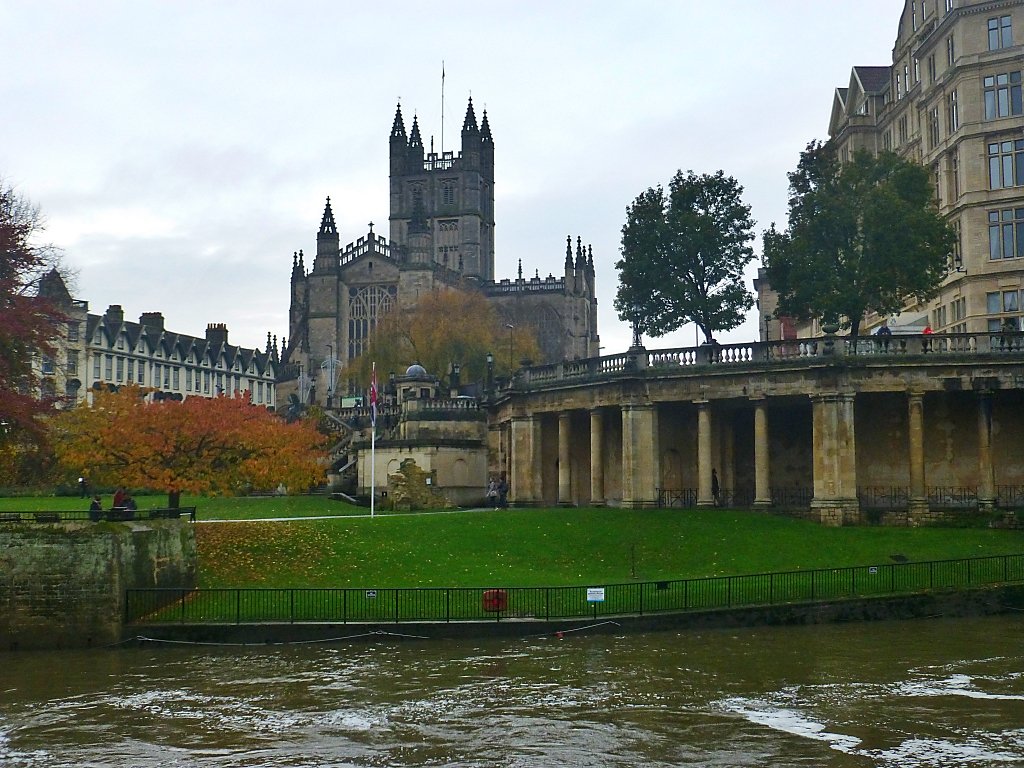 Bath Abbey © essentially-england.com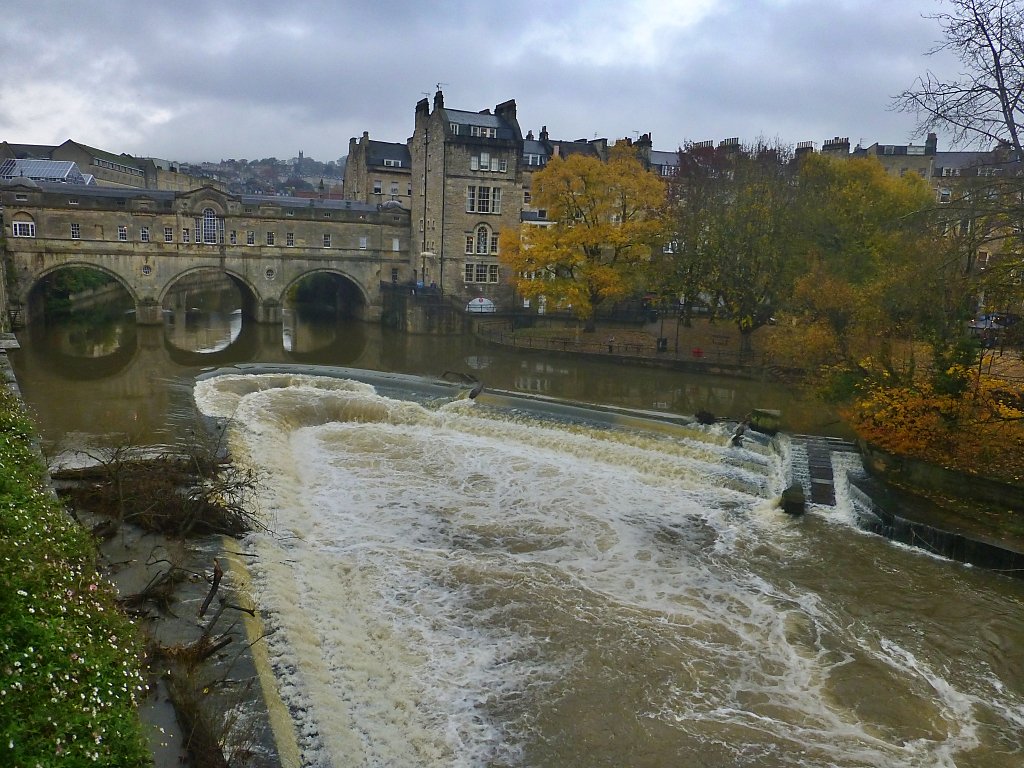 Pulteney Bridge in Bath © essentially-england.com
The port city of Bristol straddles the mouth of the River Avon. It has a strong maritime history, preserved for exploration in its historic harbourside where you can hop on board Isambard Kingdom Brunel's SS Great Britain, the first iron steamer to cross the Atlantic, which has been restored to its Victorian splendour.
Or how about visiting a replica of The Mathew, the ship that John Cabot sailed to discover Newfoundland? It is believed that he named America after his ship's financier Richard Ameryck. Also, in the harbourside area you can find boat trips, the M Shed museum, and Bristol's oldest pub, The Llandoger, thought to be the "local" of the fearsome pirate Blackbeard.
Another iconic Bristol site is Brunel's Clifton Suspension Bridge that spans the Avon gorge.
Other "must see" sites in Bristol are St Mary Redcliffe Church, which Queen Elizabeth I described as "the fairest, goodliest, and most famous parish church in England". Inside the church, The American Chapel houses the tomb of Admiral Sir William Penn, the father of William Penn, the Pennsylvania founder. There is also a whalebone which was brought back to Bristol by John Cabot in 1497 after he sailed from Bristol to discover North America. The story of the discovery is illustrated in stained-glass panels.
For one of the best views of Bristol, climb the Cabot Tower. If you're a film fan, then how about finding the house Hollywood star Cary Grant was born and raised in? It's along Hughenden Road and has a blue plaque on the front wall. Continuing the American theme, the first American Embassy was established at 37 Queen Square in 1792.
And, whilst chasing around Bristol, why not try and find Banksy's artwork as well?
Gosh, I'm out of breath just writing this!
Bristol Harbourside Area © Raul Cacho Oses | unsplash.com
Clifton Suspension Bridge © Louisedoeslife | unsplash.com
---
4. Norwich

We're big fans of Norfolk, and one day whilst on holiday we took the train down from Cromer to Norwich. Perhaps not on top of the tourist trail list, Norwich was once one of the wealthiest and most powerful cities in England, and it has a rich history and great architecture. There is the imposing Norman castle keep, two cathedrals, lovely timber-framed buildings, narrow cobbled streets, and beautiful parks and riverside walks. The city council has made it easy for visitors and created the "Norwich 12", which is a list of the best 12 buildings in Norwich, and, perhaps surprisingly, some of them are modern!
A welcoming, buzzing city + having fun trying to find all the best buildings = a brilliant day out! Plus, getting to Norwich is easy as there are direct trains from London Liverpool Street station that take about 100 minutes.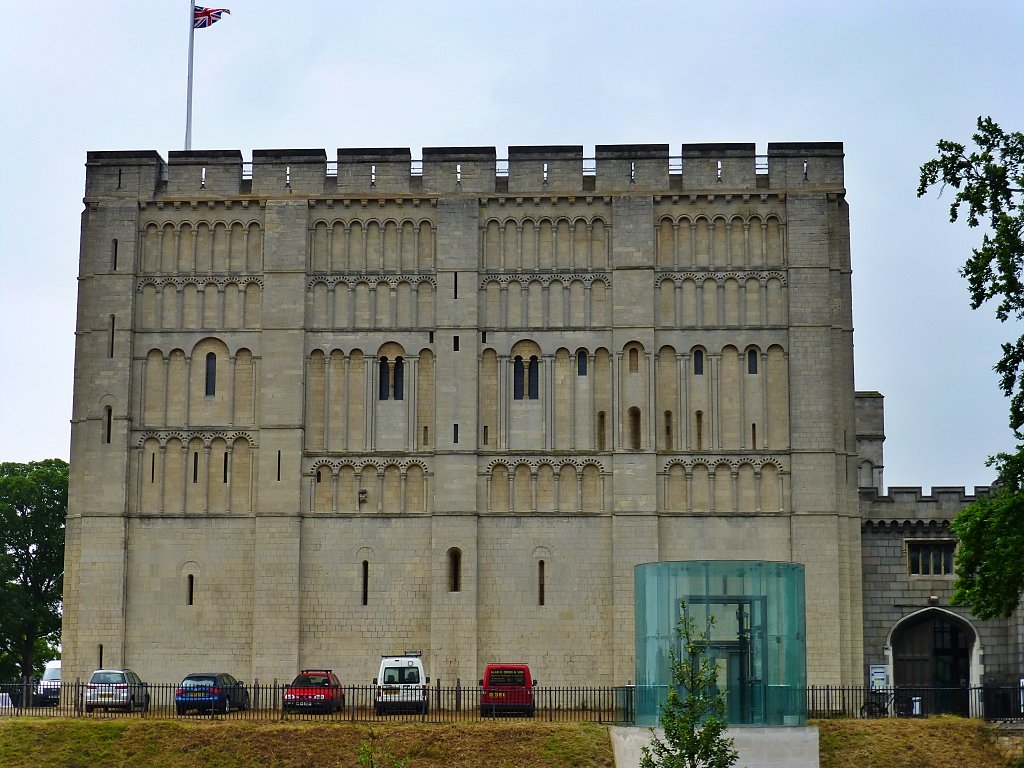 Norwich Castle © essentially-england.com
Norwich Guildhall © essentially-england.com
---
5. Liverpool
Liverpool is famous for being the home of The Beatles and the football club, but this vibrant city has a lot more to offer. Once called the "second city of the Empire", Liverpool has more Grade II listed buildings than any other city outside of London. English Heritage has declared it England's greatest Victorian city.
My experience of Liverpool was on a bitterly cold day many years ago. I remember the dark angry water as I took the ferry across the River Mersey and back, and the Royal Liver Building, Cunard Building, and Port of Liverpool building. Then there's the 2 cathedrals and The Cavern Club. I think by then I was frozen.
Regular direct trains run from London Euston Station and take about two and a half hours.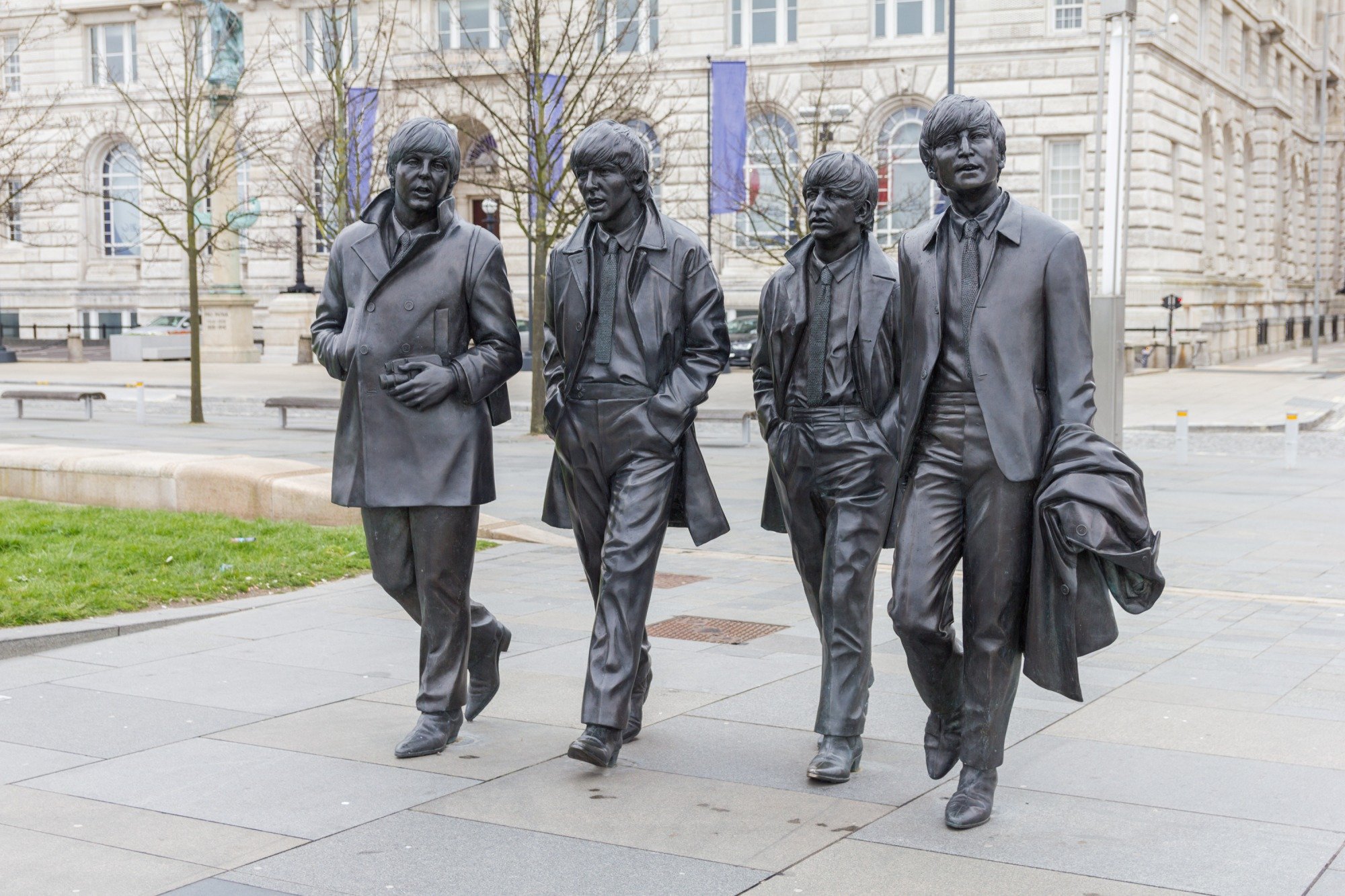 Statue of the Beatles © Giancarlo Liguori | depositphotos.com
There is an organised non-guided train tour to Liverpool where you discover the story of The Beatles. The tour includes visiting the UNESCO World Heritage docklands area, and tickets to The Beatles Story and the Magical Mystery Sightseeing Tour where you see their homes, schools, and locations that inspired their bestselling songs. The day out in Liverpool ends at the famous Cavern Club before travelling back to London.
This must be one of the most exciting train tours from London, and for Beatles fans, this sounds like a great day out!
---
6. York
Another city that should be high on anyone's list is York. We're not really city folk, but did rent a cottage just a 20-minute walk from the centre of York and really enjoyed it. There is a lot to discover including York Minster, the city walls and gates, Clifford's Tower, The National Train Museum, the Viking Centre, and the old shopping streets of The Shambles. And don't forget the pretty parks, riverside walk, and many other historic buildings and museums. For a really unusual experience, you could even explore a nuclear shelter from the Cold War!
Trains leave London King's Cross Station and take about 2 hours.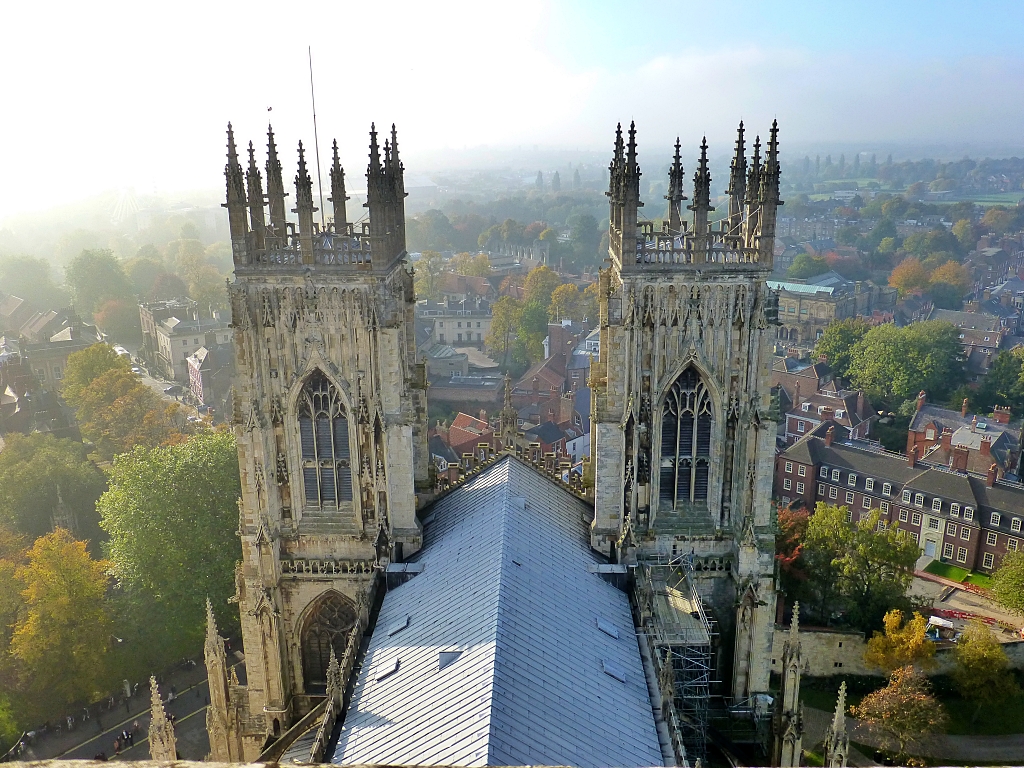 View from York Minster Tower © essentially-england.com
Clifford's Tower in York © essentially-england.com
---
7. The Lake District
I must admit, I've never thought of the Lake District being a destination for a day out from London!
But many people wish to see the Lakes, even if their time in England is short. For those visitors, there is an organised train tour that leaves London Euston Station at a reasonable 8:30 in the morning. This direct train takes just over two and a half hours to reach Oxenholme Station in The Lake District. This must be one of the most beautiful train tours from London, as the mountain and lake scenery is amazing!

Lake Windamere Scene © Jonny Gios | unsplash.com
From Oxenholme, you can join a guided tour around the picturesque Lake District, visiting Hawkshead and Beatrix Potter's home at Hill Top Farm. The tour includes a cruise on Lake Windermere and a cream tea in the Lindeth Howe Country Hotel, also once owned by Beatrix Potter.
Leaving the scenic Lake District at 18:30 you arrive back in London at 21:20. Wow, what a glorious day out!
---
There are some great ideas here, and we hope they'll inspire you to build your own holiday of a lifetime. I was surprised to find a couple more train tours from London which left England. You could try a day out in Edinburgh, Scotland, Paris in France, or Brussels in Belgium. That would certainly spice up your London holiday!
Happy travelling, and let the train take the strain.

For more holiday or day out ideas return from our train tours from London page to the England Holidays page.