Watercress Soup Take III
The Hearty Lunch
Not everybody likes the peppery flavour of raw watercress. But very few people object to the flavour and colour of watercress once it has been tempered by heat.
This is why both watercress soup and watercress sauces work so successfully. Not to mention that the rich colour is simply beautiful whether in a simple bowl of soup or paired with a slice of steamed pink salmon.
Watercress needs very little cooking, so it's excellent for our busy lifestyles, too. This watercress soup is a more substantial version of the light lunch recipe. It makes a warming lunch or even a light dinner, served with crusty bread, and strawberries and cream or a hot pudding to follow.
Compared to the other recipes, it takes a little longer to cook - about 20 minutes - but it still does not rank high on the difficulty scales, so give it a try. Again, add the watercress leaves right at the end when blending the soup, so as to preserve the colour.
For four you'll need: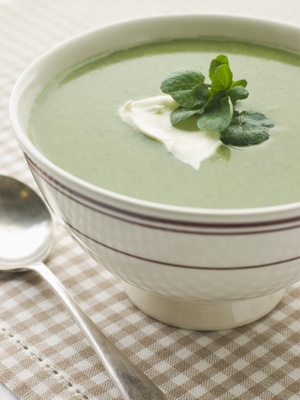 Hearty Watercress Soup
© Monkey Business | fotolia.com

25g (1oz) butter
1 onion, peeled
2 stalks of celery, peeled
2 medium potatoes, peeled and diced
1 litre (approx. 2 pints) of light chicken or vegetable stock
2 large bunches of watercress
salt and pepper
2-3 tablespoons of double cream (optional)
How to Make Hearty Watercress Soup

Wash the watercress, pick and reserve the leaves, and chop the stalks.
Chop the onion and celery and soften in the butter over a low heat with the watercress stalks.
Add the diced potatoes, stock or water and a little salt.
Bring to the boil and simmer until the potatoes are tender. This can take 15-20 minutes.
Take the soup off the heat, add the watercress leaves and blend until smooth.
Season with salt and pepper, stir in the cream (if using) and serve immediately, with sandwiches on the side.
The Very Best Soup Recipes

Check out more watercress soup recipes here...