Chocolate Yule Log
Yule logs, brought into the house to burn in the hearth during the darkest part of the year to bring peace and good luck for the coming year, were a tradition that came to England with the Angles, Saxons and Vikings and - for the most part - pre-date Christianity.

Chocolate yule logs are a more recent invention, and ideally suited to those of us who can't boast an open fireplace, but who can consume untold quantities of chocolate over the festive period.
A chocolate log is nothing more complicated than Swiss roll, a cocoa sponge, filled with chocolate cream, rolled up and covered in more chocolate cream. Decorated with chocolate shavings to look like tree bark and holly leaves and berries, it makes a stunning centrepiece to your Christmas tea table.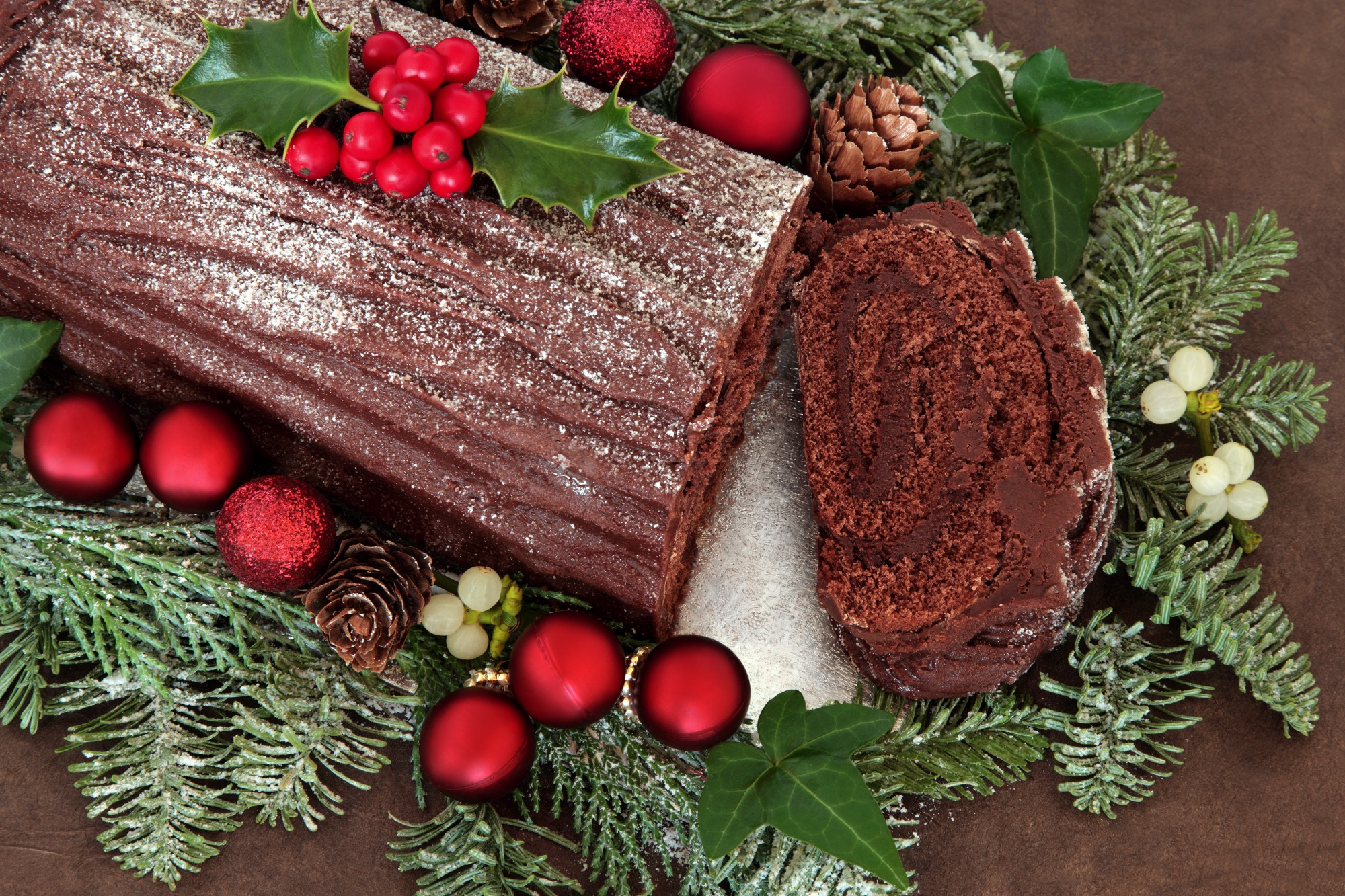 Celebrating the spirit of Christmas with a Chocolate Yule log © marilyna | 123RF.com
Sponge
Start with a basic sponge as if you were making Swiss Roll, but replace one quantity of flour with cocoa powder.
75g (3oz) caster sugar
3 eggs
pinch of salt
50g (2oz) plain flour
25g (1oz) cocoa powder
To begin, line a 18 x 28cm (7 x 11in) Swiss-roll tin with baking parchment and grease well. Do this, even if you're using a non-stick Swiss-roll tin.
Pre-heat your oven to Gas 4/180°C/350°F.
Beat the eggs and sugar until pale and fluffy. They will increase in volume, so make sure you use a large bowl. You're done when you lift your whisk out and it leaves a ribbon trail.
Now gently fold in the flour and cocoa powder. Use a big spoon and work quickly. You don't want to knock out too much of the air that you've just worked so hard to put in.
Pour the mixture into the prepared tin and spread out.
Bake for approx. 20-25 mins. It's done when the centre of the cake springs back when lightly pressed.
Remove the sponge from the oven and turn out onto another sheet of greaseproof paper that you've sprinkled with sugar. Leaving both sheets of paper in place, gently roll up the sponge. Place somewhere safe and leave until completely cooled.
Meanwhile, make the filling.
Filling
For the chocolate filling you can either make chocolate butter icing or mix a thick chocolate cream. Choose whichever you like better.
Chocolate Butter Icing
Chocolate Yule Log © Christopher Elwell | Dreamstime.com
This is easy to make. Just mix
75g (3oz) butter
150g (6oz) sifted icing sugar
2 tsp cocoa powder
1-2 tbsp water
together until light and fluffy.
Chocolate Cream
Somehow, this comes out lighter than the butter cream mixture. Make sure you use really good dark chocolate (at least 70% cocoa solids) for the cream. Cheap chocolate does nothing for your yule log.
You need:
284ml carton whipping cream
200g (8oz) best dark chocolate
Break up the chocolate into chunks and melt over a bowl of hot (not boiling!) water. Make sure the water does not touch the bowl or the chocolate will curdle.
In a small pan heat the cream. When close to boiling point, take off the heat and stir gently into the melted chocolate until completely combined.
Leave to cool, then place in the fridge to chill.
When ready to use (and very cold) beat the mixture until fluffy. Go careful here, you don't want to end up with chocolate butter!
What You May Need
To get the best sponge mix, the ingredients need to be well beaten. A hand-held electric mixer makes this part of the preparation much easier. The baking tray can either be solid or flexible. The advantage of using a flexible baking tray is that you do not have to remove greaseproof paper from your thin sponge when constructing your swiss roll, as you can roll straight from the tray.
Assembling the Yule Log
When ready to assemble, carefully unroll your sponge and peel off the greaseproof backing paper.
Spread about 1/4 of the filling over the sponge, then roll up carefully with the help of the second, sugar-covered paper.
Place on a large plate or tray, join underneath.
Cover with the rest of the chocolate cream. You can do this quite roughly with a spatula. Alternatively, use a fork to mark the covering into the resemblance of tree bark.
Dust with a little cocoa powder or sprinkle dark chocolate curls and shavings over the top.
Decorate with holly leaves and berries.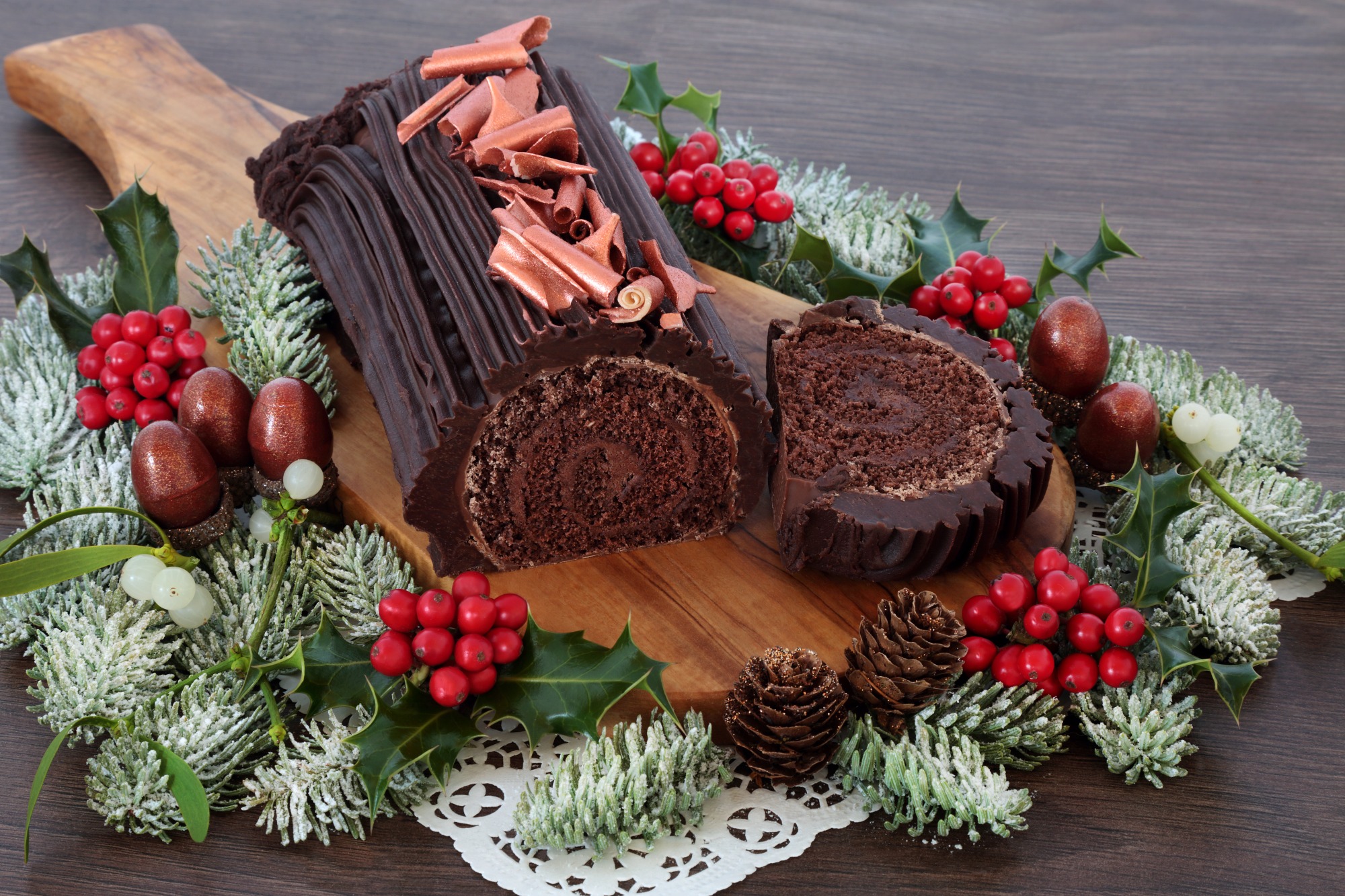 Need more Christmas recipes?
Return from the Yule log recipes to the Recipes page
Or check out the following pages for more information: