Blanchland


Blanchland is a small village surrounded by glorious moorland fells in the North Pennines Area of Outstanding Natural Beauty and is often tagged as one of the prettiest villages in England. It grew up around a medieval monastery, and was rebuilt during the eighteenth-century using masonry from the ruins of that site. We visited during a short break in Northumberland where we were concentrating on the Roman-built Hadrian's Wall. We learnt of Blanchland from the visitor's book in our lovely holiday cottage near the village of Slaley. There were so many comments about the fantastic walking in the area and the enjoyable lunches at the pub that we choose to have a quick look around as it was a part of Northumberland that we were not that familiar with.
We'd spent a lovely autumn day exploring Chesters Roman Fort, Corbridge Roman Town, and Corbridge. On the drive back to our holiday cottage, we decided to continue a few miles onwards and wander around Blanchland. It was late afternoon when we arrived, and the sun was very bright and quite low, casting long shadows and making for difficult photography conditions (my excuses over!).
What we found, though, was a beautiful and historic village in a breathtaking setting. The walking in the area would have been amazing, it was such a pity we were so late in the day. We now understood why there were so many comments in the visitor's book.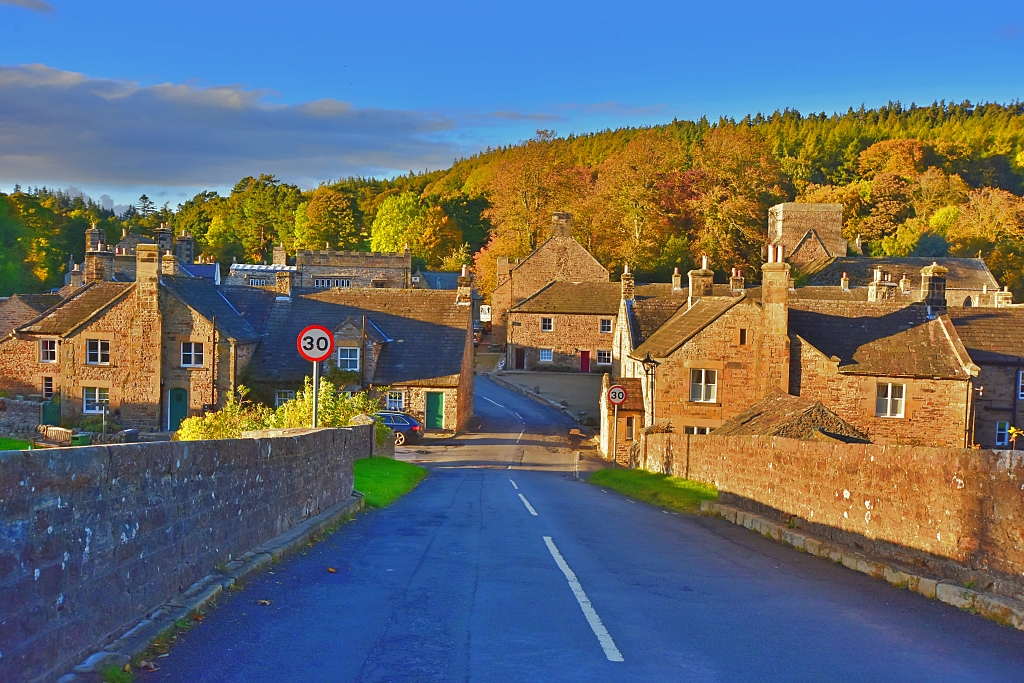 Blanchland Autumn Scene © essentially-england.com
We parked in the village car park which is signposted up the small road beside the old village schoolhouse, now the popular White Monk Refectory Tearoom. Parking is free, but there is donation box which helps towards the site's upkeep. There is also a notice board with a village map and brief details of the more historic buildings.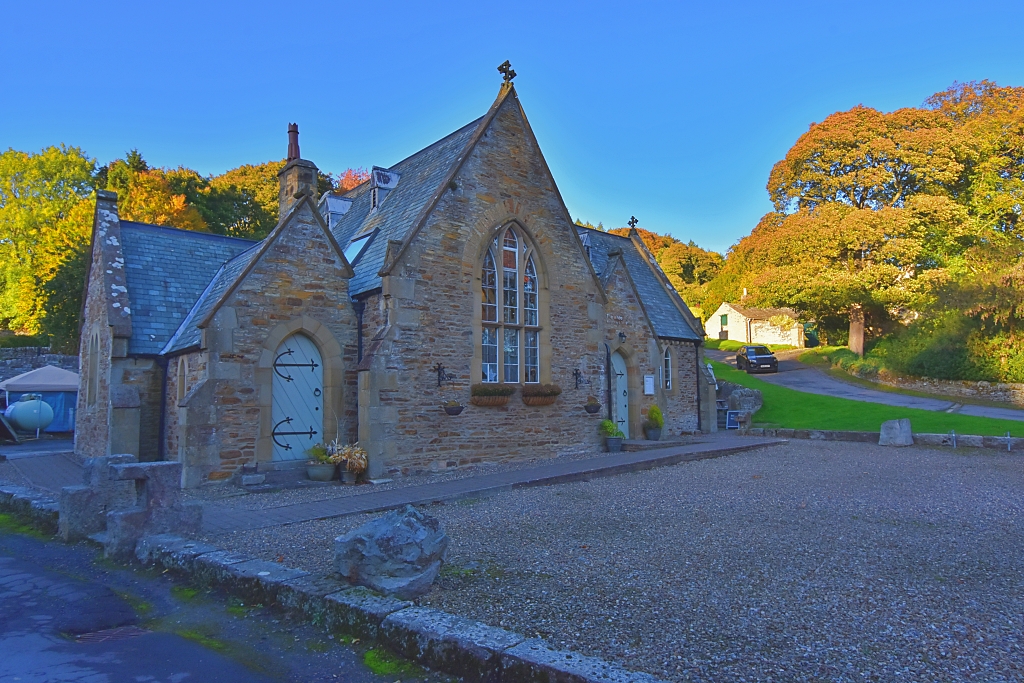 The Old School Schoolhouse © essentially-england.com

A Short History of Blanchland

Blanchland first came to prominence in 1165, when Sir Walter de Bolbec gave some land to a group of Premonstratensian canons from Northeastern France to establish an abbey. This abbey became home to an abbot and 12 canons who wore ghostly white robes, preached and worked in the nearby communities, and offered shelter to travellers. The white robes worn by the canons may be the origin of the village name as "blanche" is white in French.
Blanchland Abbey © essentially-england.com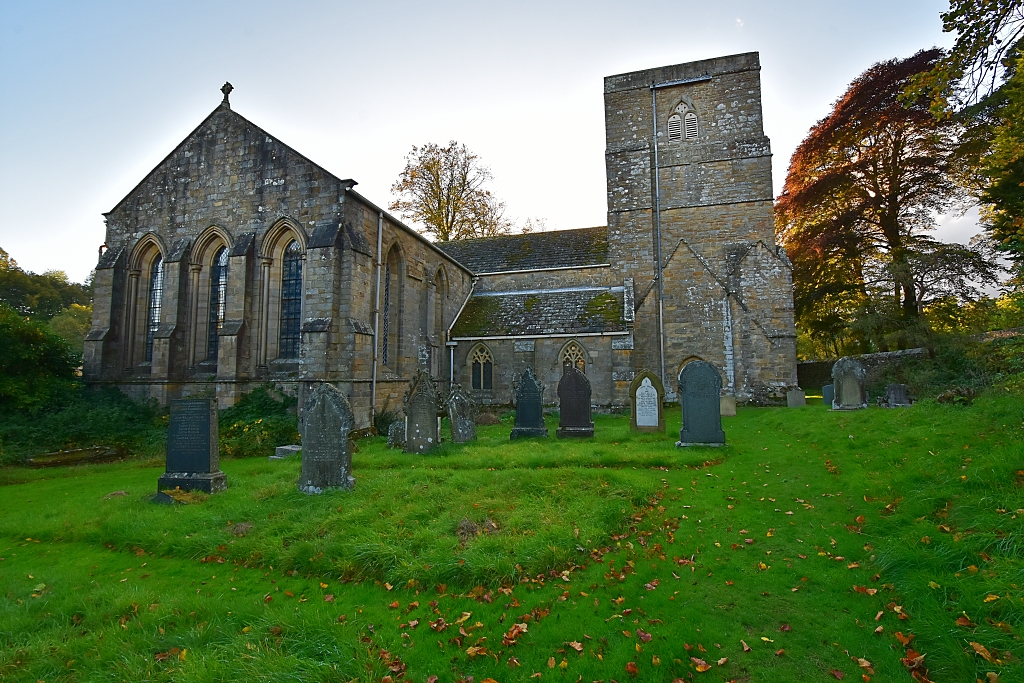 Blanchland Abbey © essentially-england.com
Not much is known about the abbey, although it is reported that King Edward III visited during July 1327. He stayed to make his confessions and prepare for battle with the Scottish army. The two armies watched one another, but never fought in the area, and the cost of looking after the king and his hungry soldiers almost ruined the abbey.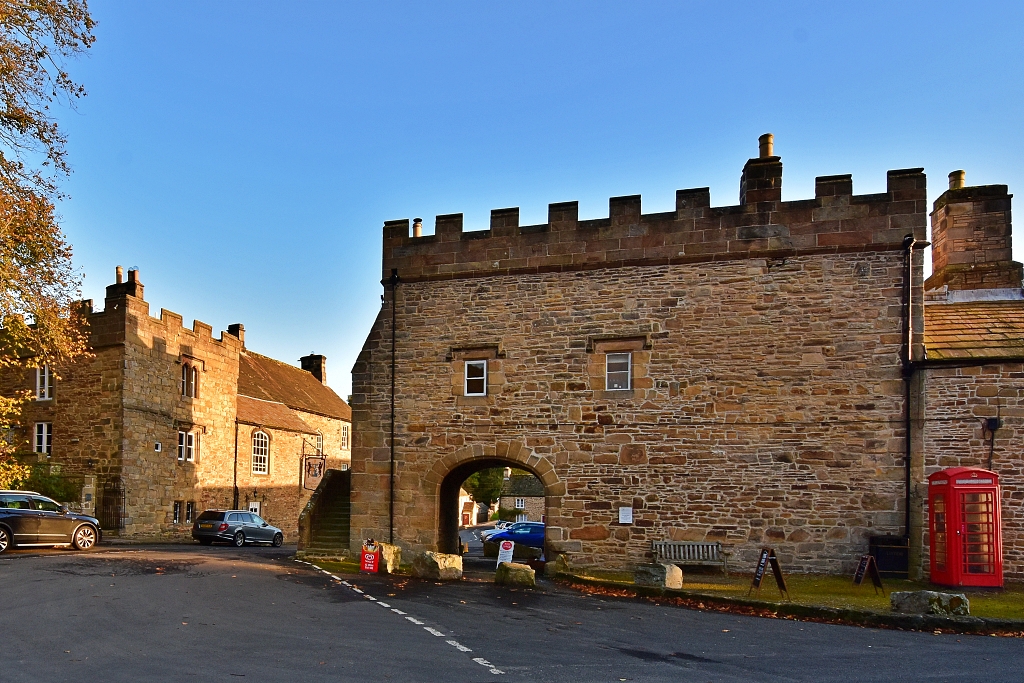 Former Abbey Gatehouse and Abbot's Lodge © essentially-england.com
In 1539, the abbey was dissolved by King Henry VIII, with parts of the complex being destroyed or pulled down. Surviving parts and the abbey estate were either sold off or given as gifts to the Kings supporters. The abbot's lodge became a manor house, and the gatehouse and other buildings formed a village square.
Lord Crewe bought the Blanchland estate in 1704, and upon his death in 1721 left the estate to The Lord Crewe Charity Trust. The trust set about improving the buildings in Blanchland and restoring parts of the abbey church to make a "model village" for the mainly mining community.
The Village Square in Blanchland © essentially-england.com
The 1800's were a boom time for the lead mining industry as water and steam power were introduced to increase production. The local population rose as hundreds of people were attracted from all over the country by the success.
The trust continued to improve village life for the miners and their families and, in 1855, even built a schoolhouse which stayed in use until it closed in 1981!
As the lead mines fell into decline, people moved away, and we're left with the sleepy village we see today. The Lord Crewe Charity Trust still owns and maintains the 9,000-acre Blanchland estate which includes 11 scheduled ancient monuments and 46 listed buildings.
The River Derwent Flowing Through Blanchland © essentially-england.com

Walking in Blanchland

We only had time to walk through the village, but if you plan better than we did, there is plenty of choice to start a gorgeous walk from Blanchland and discover its history and beauty. There is a short wildlife stroll that goes along the riverbank, which is ideal for a young family or if you're interested in the local birdlife. To discover more about the local lead mines there is the circular 3.5-mile long Geotrail which introduces you to fossils, minerals, and the mines themselves, and has great views over the fells and Blanchland.
And for the more adventurous there is the 45-mile, long-distance "Way of Light" route that passes through Blanchand as it travels between Heavenfield and Durham. I must admit this looks like a fantastic route.
I also looked on the mapping software I use to plan walks and there are plenty of other suggestions for walks, including the Derwent Reservoir. And from what we saw of the glorious countryside as we drove through, it is certainly an area we want to return to!
Aren't you pleased that we're nosy?
If we hadn't looked through the visitor's book, we would never have known about Blanchland and now we've added it to the long list of places we want to revisit. Perhaps next time, we'll have a great walk, get to see inside the church, and possibly have a nice pub lunch.
And now we've spread the word too!

Where to Stay
We stayed in Moorgair Cottage near Slaley which is about 6 miles from Blanchland. It was a beautiful, cosy cottage that we would highly recommend to anyone staying in the area. It was also very handy for visiting Hadrian's Wall and its many Roman sites, Hexham, and Corbridge.
Moorgair Cottage near Slaley
To see other holiday cottages in Northumberland click here or by clicking here.
Are you feeling in need of a holiday yet? Here are a few more pages that might give you ideas...

And if you want to explore more of Northumberland and its martial history, check out this Northumberland Castle Tour.
For more Northumberland sites return from our Blanchland page to the Northumberland page.