Burgh Island

A Sleepy Island and a Famous Hotel
If you like a bit of celebrity spotting while on holiday in Devon, then Burgh Island is a good place to start. Its famous Art Deco hotel - gleaming across the water towards the seaside village of Bigbury on Sea - has been a haunt of the famous and not so famous ever since it was built.
It inspired Agatha Christie, who set two of her novels here. And the Queen of Crime rubbed shoulders with Noel Coward, who apparently came for three days and stayed three weeks.
When Edward and Mrs Simpson came to stay the hotel became part of the backdrop to one of the greatest love affairs of all times.
Even the Beatles rented it once, to get a little peace from their adoring fans while on a concert tour in Devon.
So what is it that makes Burgh Island so desirable and that induced music hall singer George Chirgwin to build the first hotel here in 1895?
Burgh Island is no ordinary island.
It's so close to the seaside village of Bigbury on Sea that at low tide you can reach it on foot over a causeway.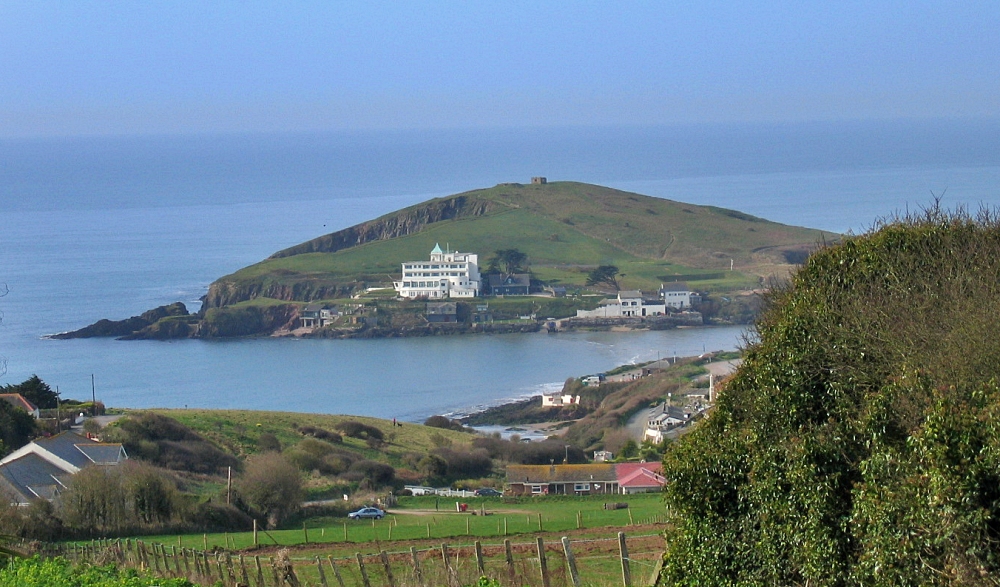 Looking Down to Burgh Island © essentially-england.com
Arrive during high tide, tough, and you'll have to take the Sea Tractor - a funny-looking contraption with giant wheels and a lofty seat for the passengers - or get your feet wet.
Being cut off from the world twice a day added a certain mystery to a seaside holiday and in 1927 the original hotel was sold to Archie Nettlefold, who built the Art Deco gem we know today.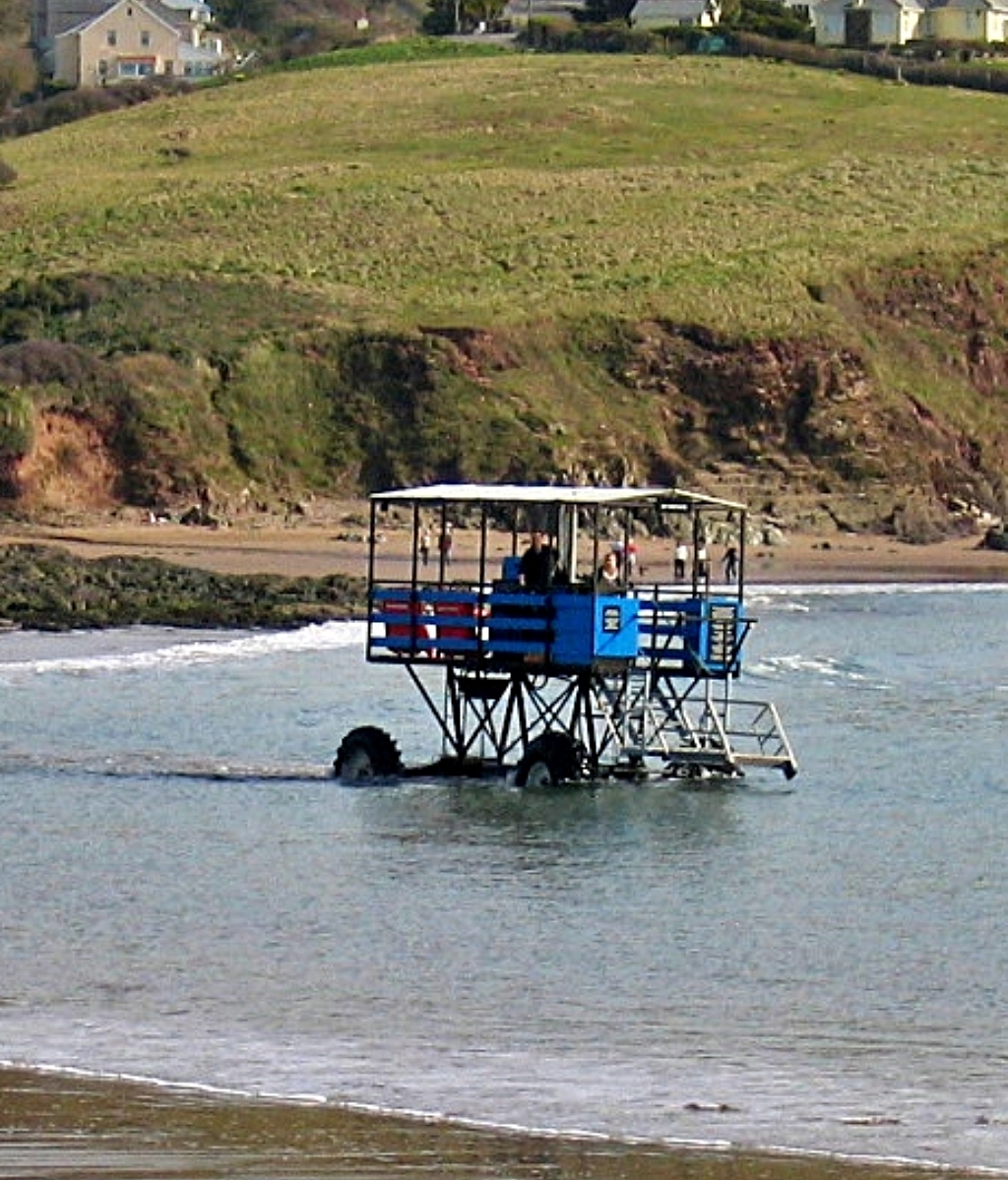 Burgh Island Sea Tractor
© essentially-england.com
The famous clients who soon flocked to the hotel revived the sleepy island, which had previously been home to monks and pilchard fishermen. Check out the website of the hotel and you'll realise - from the names given to the rooms - that anyone who was anyone in the 1930s and 1940s must have come to Burgh Island at least once.
Amongst the names that stood out for me are aviatrix Amy Johnston, dancer and resistance fighter Josephine Baker, and Broadway star Gertie Lawrence - women who left their mark in times of change and upheaval.
The island has been many things over the years:a home of monks and fishermen, a hideout of smugglers - one of whom is still said to haunt the island looking for his loot, a place to spend the weekend, to see and be seen.
But most recently, after a restoration in the 1990s, the island has re-invented itself as a film and TV location, especially for adaptations of Agatha Christie novels. My favourite amongst these has to be the Poirot mystery Evil under the Sun with David Suchet in the title role.
With a body on the beach, proper afternoon tea, changing for dinner and investigations all over the island it shows this unique part of Devon (and this extraordinary hotel, of course) to its very best advantage. And it's a lovely story to boot - Vintage Agatha Christie.
So if you find yourself in the vicinity of Bigbury on Sea, why not chance a ride in the unique sea tractor or wade across and explore a little? There is a short walk around the island which has some stunning views, and you never know whom you might bump into on the beach!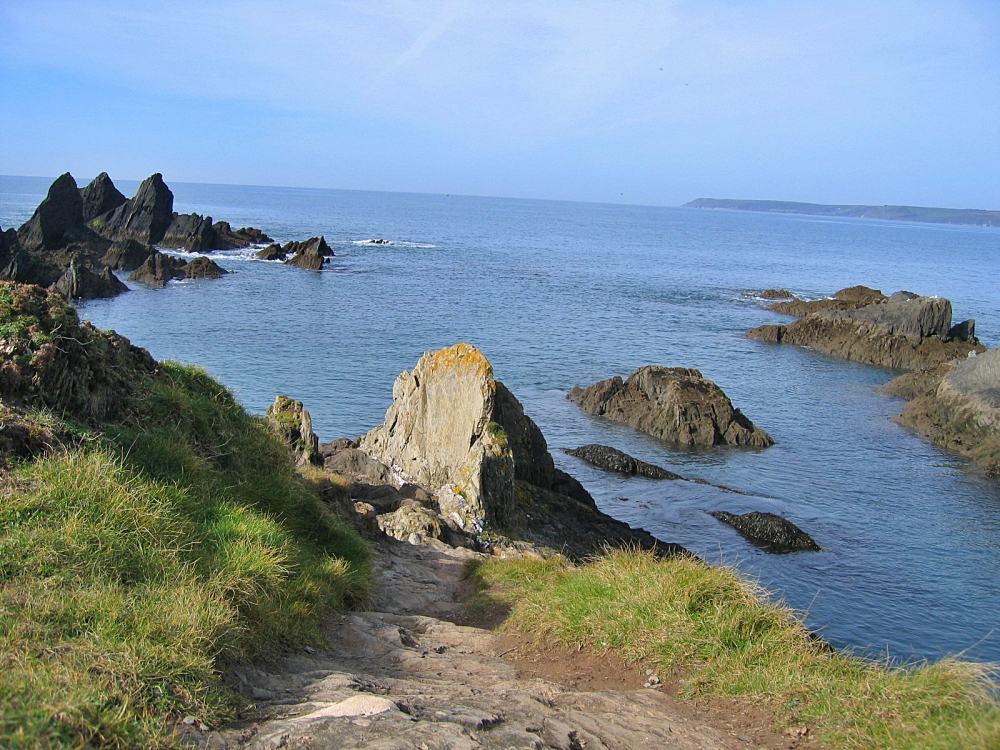 View from Burgh Island Walk
© essentially-england.com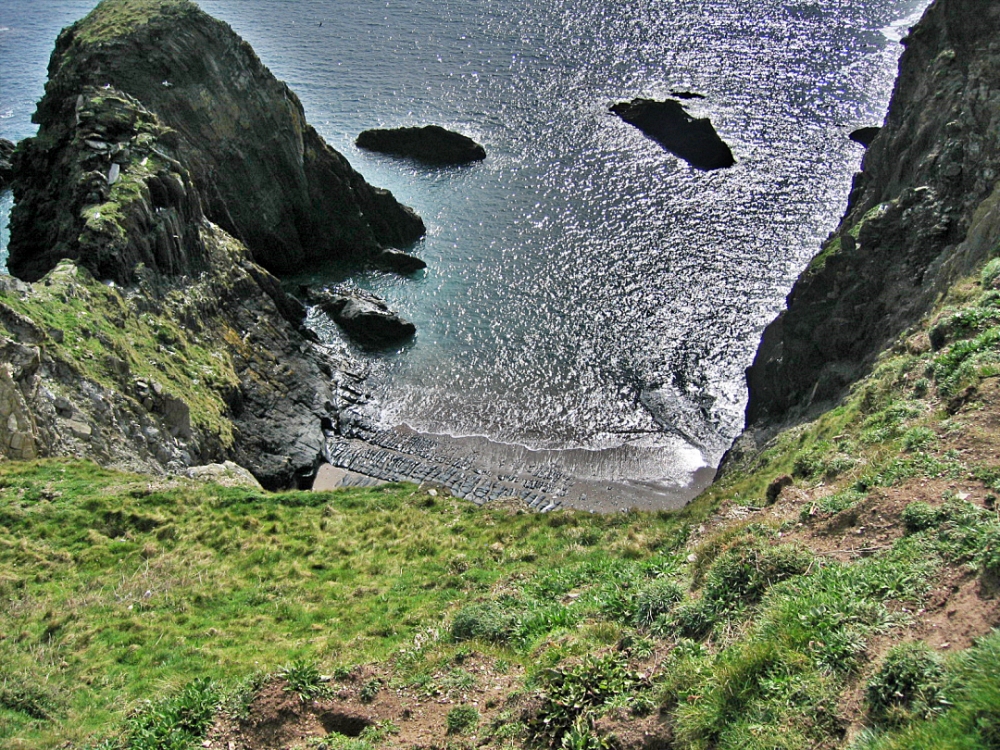 Looking Down into a Cove on Burgh Island
© essentially-england.com
Are You Planning to Visit Devon?

Where You Could Stay

This is such a beautiful part of Devon - with the sea on one side and little villages nestling in green valleys on the other - that many people come for their holidays, often year after year. A good way to explore the area at your leisure is by renting a holiday cottage in Devon.
And here are a few examples of where you could be staying:
To see other holiday cottages in Devon click here. Or check out holiday cottages in other parts of England by clicking here.
Naturally, if you want to be pampered, then you could stay in a hotel...

Are we all getting into the holiday spirit? If so and you are still looking for the perfect stay try using our booking.com search box.
What You Could See and Do

Dartmouth and the South Devon coast are a paradise for sailors of all ages and abilities. So if messing around in boats on the water is your kind of holiday, then you're in just the right place.
But with the coastal path on one side and the Devon countryside on the other, this area is also great for walking. Besides Slapton Sands and its beautiful nature reserve there are villages, hillsides, cliffs and beaches to explore. And just a short drive will take you up to the wilds of Dartmoor, to rocks and endless skies and tales of smugglers and giant hounds.
Why not check out

To explore more of the Glorious County, return from Burgh Island to the Devon page.