Creake Abbey


Tucked down a narrow dead-end road in rural north Norfolk you can find the atmospheric ruins of Creake Abbey. There is no way you're going to travel past it, but if you're travelling along the B1355, plenty of signs let you know it's there. It's the kind of place Essentially England likes to find, and we will plan a circular bike ride to take us there and back.
Creake Abbey was founded in 1206 when Sir Robert and Lady Alice de Nerford built the small chapel of St. Mary of the Meadows in a peaceful valley with the River Burn flowing through it. The chapel was intended for their own use, but in 1217 they decided to extend it into a hospital with a master and four chaplains to look after up to 13 patients. They called this new venture the Hospital of St. Bartholomew.
Within the next decade, the community at the Hospital of St. Bartholomew embraced the Rule of St. Augustine and the hospital became a priory. It was common for Augustinian priories to develop from hospitals, and the Norfolk priories of Great Massingham, Hempton, and Peterstone all started in this way.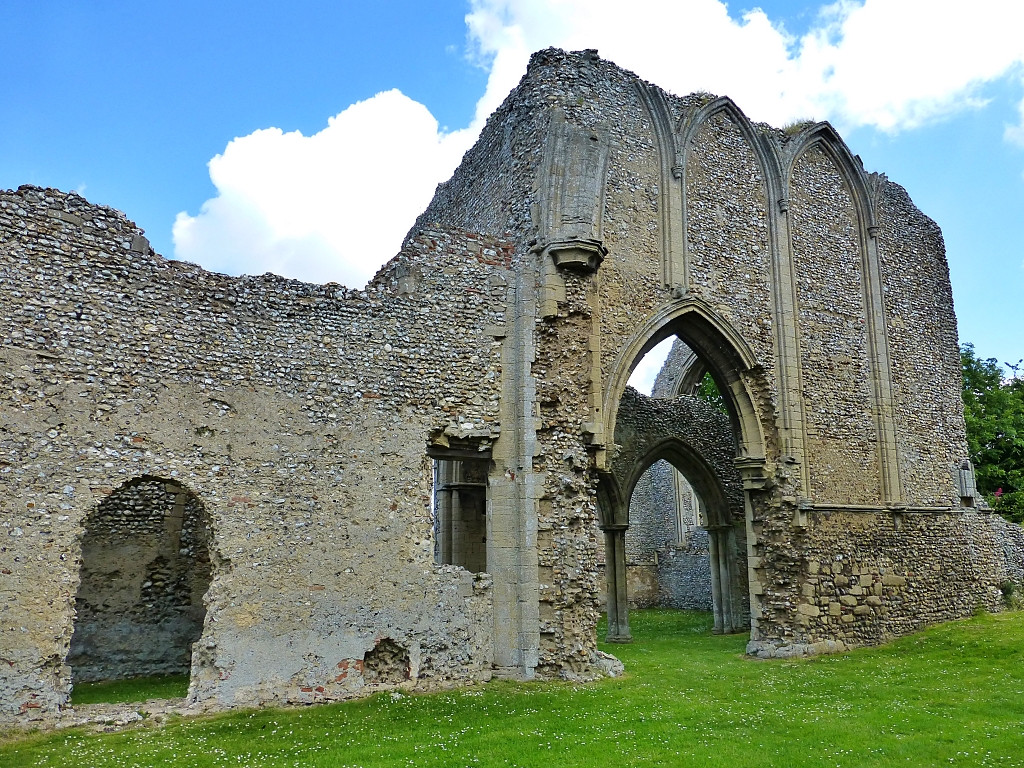 Creake Abbey Church Ruins © essentially-england.com

The Birth of Creake Abbey
In 1225, Lady Alice approached King Henry III and asked if he would be the priory's patron. He accepted and raised the priory to abbey status. Creake Abbey now had royal connections and received generous donations, land, and more privileges including permission to hold markets. The abbey thrived and the local people benefitted from the fresh produce and herbs grown on abbey land.
Things went well for Creake Abbey and the communities it served. And then it went catastrophically wrong.

A Small Chapel at Creake Abbey Ruins
© essentially-england.com
Quality Stonework at Creake Abbey Ruins
© essentially-england.com
For almost 260 years the abbey had been part of local life, when in 1484 a devastating fire swept the site. The damage was so extensive that the canons believed they would have to leave their home. They received a large donation from King Richard III, and ten years later an inheritance from Sir William Calthrope, but these were not enough to return the abbey's glory days.
And little did they know that there was more bad news to come.
In the early 1500's, just after managing to rebuild their community, Creake Abbey was struck by a deadly disease. The abbot was the last of the Augustinian community to die in 1506, and the abbey and its land and property passed to the Crown.
This end to a religious house is a first for me, as I've always written about abbeys and priories being dissolved by King Henry VIII. Creake Abbey didn't even make it to the dissolution of the monasteries in the late 1530's. Perhaps this sad story of the abbey's demise is why visiting it felt so atmospheric.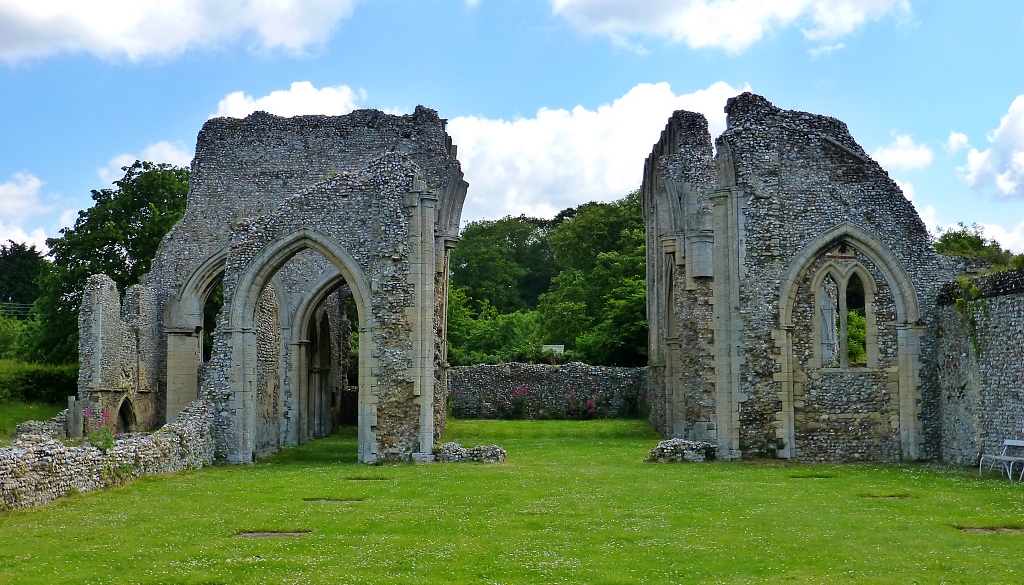 Looking Down the Lost Nave Towards the New Church Entrance After the 1484 Fire © essentially-england.com
For more information about Creake Abbey and it's opening times please visit the English Heritage website.
---
---
Are You Planning a Holiday in Norfolk?

Where You Could Stay

Norfolk has no shortage of fabulous holiday accommodation whether you want to spend time on the beach, love boating or want to explore inland. You may covet a tiny fisherman's cottage like the one in Blakeney we kept returning to. You may like something larger and more modern like a loft overlooking the Norfolk Broads, or the right place for you may be a chic city apartment perfectly placed to explore Norwich...

To see other holiday cottages in Norfolk click here. Or check out holiday cottages in other parts of England by clicking here.
However, if you fancy a hotel how about some of these...

To view more hotels in Norfolk click here or you could try our Booking.com search box.

What You Could See and Do

It's next to impossible to be bored in Norfolk, there's just so much to do and see. The list below includes some of our favourite places

For more holiday ideas return from Creakes Abbey to the Norfolk page.